Can't Hold It In? These Bathrooms Wipe The Competition!
Published: February 12, 2009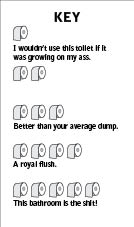 Finding an accessible and usable public bathroom around Lincoln Center is not easy. Sure, there's a Starbucks on every block, but we all know the lines are killer. In my four years of commuting to Fordham College at Lincoln Center (FCLC), I've often had to get creative when looking for a public restroom. Until now, I've kept my findings on the DL, but as I'm nearing the end of my undergraduate tenure, I feel it's due time to make the ultimate sacrifice and spread the wealth.
My co-Features editor Gabby selflessly joined in this effort to further research and evaluate the best local bathrooms, so the FCLC ladies could benefit too (I volunteered to explore the women's rooms as well, but the editorial board felt I shouldn't risk having to write this article from jail.) So after hours of scouting bathrooms, we bring you the very best. Whether you're on your way to class, walking in the park or stumbling back to campus in the early morning hours, here are your best bets for public bathrooms:
1. Lowenstein 12th Floor
Bathroom
These facilities are recently renovated and fitting of "presidential suite" status. Take the service elevator (Elevator 6) to the 12th floor or any other elevator up to the 11th floor, and then walk the rest of the way. It's a little jarring coming off the elevator: the floors are carpeted, the walls a fine cherry-wood color. We were like, "Where the hell are we? This can't be Fordham."
HERE'S THE DIRT:
Men's Room:
Two urinals, three stalls and four sinks—all spotless!
Automatic hand dryers and paper towels
Automatic faucet and soap dispenser (which has the fanciest soap in the building—a turquoise liquid soap)
Two electrical outlets (in case you want to charge your iPod while you're doing your business)
Strong water pressure (but no temperature adjustment so it's freezing cold)
Women's Room:
The same fancy amenities as the men's room
A wooden bench and a mirror above it, both of which span an entire wall of the bathroom
A separate room with another mirror and a vanity
VERDICT: This is by far FCLC's best bathroom and, until now, largely a secret. Get there before it's trendy!
RATING: 

2. Bathroom Near the Mail Room (McMahon Hall)
These aren't the most spacious bathrooms on campus, but they're really convenient if you're a resident on your way in or out of McMahon. Many commuters may not know about these restrooms, and while they may be out of the way of your classes, this was one of the cleaner pairs of bathrooms on Fordham's street level.
HERE'S THE DIRT:
Men's Room:
One toilet, one urinal
New waterless urinals and high-velocity hand dryers (both of which are more effective and environment-friendly than their predecessors)
Strong water pressure (both hot and cold water)
Women's Room:
One stall
Manual soap dispenser
VERDICT: Hey, you gotta do what you gotta do.
RATING: 

3. Bathroom Outside the Kehoe Studio Theatre
(the Old Black Box)
This bathroom is located next to the old Black Box, now known as the Veronica Lally Kehoe Studio Theatre. If you're a non-theatre person, walk from the library down the hall towards the Pope Auditorium, and you'll find it on your left. These bathrooms are small, but cleaner than average (and the acoustics are great if you're rehearsing a scene).
HERE'S THE DIRT:
Men's Room:
Very private. In my own experience, this bathroom is almost always empty.
Two urinals, one stall, three sinks
Hand dryer and paper towels
Cheap soap
Weak water pressure (it comes out sprinkler style) but has both hot and cold
Women's Room:
More crowded than the men's room, though it is larger
Three stalls
There was an abandoned pair of shoes by the sink, toilet paper on the floor and the soap and paper towel dispensers were empty.
VERDICT: It depends if you're a guy or a girl. The rating would be higher had the women's room not been so disappointing.
RATING: 

4. Time Warner Center
(on the Third floor)
The Time Warner Center, every FCLC student's favorite indoor shopping mall, is home to many impeccable bathrooms, the best of which is located on the third floor next to MontMartre. If you are able to contain your excitement (and your bladder) during the multiple escalator rides, your self-control will be rewarded.
HERE'S THE DIRT:
Men's Room:
Three spacious stalls (practically handicap-size)
Three urinals
Four sinks
The Dyson Airblade automatic hand dryers, which are insane. It's been described many ways: "A physical piece of air," "A waterfall of air coming at you from both sides horizontally invigorating." Basically, you insert your hands in the machine and magic happens.
Women's Room:
Eleven stalls. Eleven!
Marble countertops
Automatic soap dispensers
VERDICT: Where has this bathroom been all my life?
RATING: 

5. Hecksher House
(62nd Street, mid-park)
This is open during park hours year-round. The Hecksher House has one of the lesser-known bathrooms in the area, but it's very accessible and a pretty cool find. The brick building has a classy, welcoming vibe, though the mood was momentarily killed as we approached and got a whiff of a strong stench. We feared the worst, but were relieved to discover it was only the smell of chlorine, which bodes well for this bathroom, as they must clean it somewhat regularly.
HERE'S THE DIRT:
Men's Room:
Five urinals, three stalls and plenty of sinks
Well-lit overall
Two radiators
Soft toilet tissue and foam soap
The hand dryer was out-of-order
Women's Room:
A little smaller than the men's room
Four stalls, one with yellow caution tape on it
A framed picture of the Hecksher Ball Field on the wall
VERDICT: If you're pissy in the park, the Hecksher House is the place to be!
RATING: 

6. FAO Schwartz
(E. 58th Street at Fifth avenue)
Even though we try to avoid having to go into stores just to use their bathrooms, sometimes it's necessary. The great thing about FAO Schwartz is that, unlike restaurants, you don't have to buy anything to use their facilities. No one actually ever buys anything at FAO Schwartz anyway, right?
Getting to the bathroom unfortunately requires getting past a creepy drummer boy-man who greets everyone at the entrance of the store. His dopey smile and stupid eight-foot-tall black hat creeped me out. "There goes one roll," I immediately noted. Once you've passed him, it's easy. Walk to the back of the store, go down the escalator and make a left.
HERE'S THE DIRT:
Men's Room:
Two urinals, two stalls, two sinks
Hot and cold water
Foam hand soap
Stacks of soft paper towels (we took some for the road)
Women's Room:
Medium-sized and very clean
Three stalls
Tranquil, low lighting and plants
VERDICT: Quite nice. The drummer-boy-man grew on us a little as we left, telling us to "Stay warm, now" and winning back half a roll in the process. FAO is cheerful, if nothing else, and you can celebrate your relief by checking out some toys on your way out!
RATING: 

7. The Central Park Arsenal
(E. 64th Street at Fifth Avenue)
On 64th Street along Fifth Avenue, there is a pathway leading to the entrance of the Arsenal, the second oldest building in Central Park. It looks kind of like a dump, but it's 150 years old—it's a historic dump. Even though we thought they would resent us for being there, since this isn't a public bathroom per se, when we walked in, confused, the first thing they immediately asked was, "Are you looking for the bathroom?"
HERE'S THE DIRT:
Men's Room:
Four stalls (one with caution tape)
Six (nasty-looking) urinals
Uninviting toilets
Foam soap and hand dryers that work
Good water pressure
Women's Room:
Three Stalls
A large mirror
Similar hand-washing amenities
VERDICT: Not the greatest, but it's free. In an emergency, it's better than nothing.
RATING: