Deadbeat Rose Hill Opponents a No-Show for FCLC Team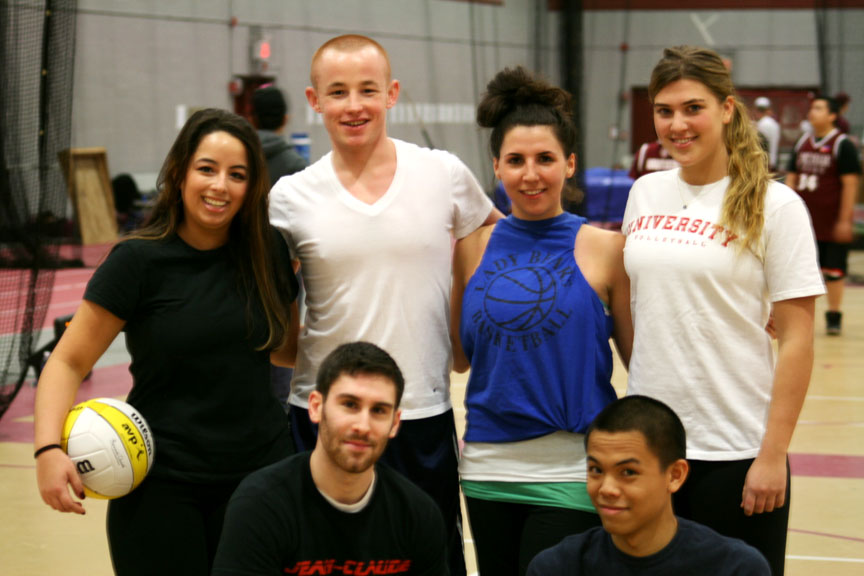 Published: January 29, 2009
Swing and a Miss, Fordham College at Lincoln Center's (FCLC) intramural volleyball team, tightened its grip on the first place spot in the Co-rec Sunday B-League with a win in their match on Jan. 25. The victory puts the team at 3-0 on the season.
The only problem: the team has yet to play a real match. Their undefeated record has come by way of forfeit—the only thing Swing and a Miss has been missing is an opponent. In all three trips to the Bronx, the opposing team failed to show, an occurrence that shows how lightly other teams regard their commitment to playing.
"It says something about our team," said Adam Dexter, FCLC '10, of his team's lack of real competition. "We're willing to travel to Rose Hill for a 45-minute volleyball game, and these schmucks we're supposed to play won't even walk a block to the gym."
Despite the hollowness of their three wins, the members of Swing and a Miss insist the trips have not been entirely fruitless. Seeking any type of game, the Lincoln Center squad usually finds other players for informal scrimmages—a great learning opportunity for a team that was initially unsure about its inexperience.
"We've definitely improved since the first time we met," said Tesah Munoz, FCLC '10, co-captain and admittedly novice player. "It's worth it to go because we end up playing anyway. I really enjoy it."
Don't think Swing and a Miss is hiding behind those forfeits. The team is hungry to play a game that actually counts and prove its first place spot is based on more than just dedication to showing up.
"The few teams we've scrimmaged, we've beaten easily," Dexter said. "But volleyball is a game where it is a lot more fun when it's close. That's what I'm looking forward to: good competition."
Due to busy academic lives and conflicts with other extracurricular activities, forfeits are common in Fordham intramurals, according to Mike Roberts, coordinator of club, intramural and recreational sports for the university. But for three consecutive no-shows to happen to one team is less common, he said. Teams are disqualified from the league after two forfeits, and four of the league's six teams have already suffered this penalty three games into the season.
While other teams may be discouraged by long trips to the Bronx to play absentee opponents, Swing and a Miss is in no danger of losing its competitive streak.
"It's not like we're going to get there and decide 'It's not worth it, let's turn around and go home.' We still get a chance to play," Munoz said. "We're dedicated and starving for a real game."