Strange Sports: Ironing in the Wild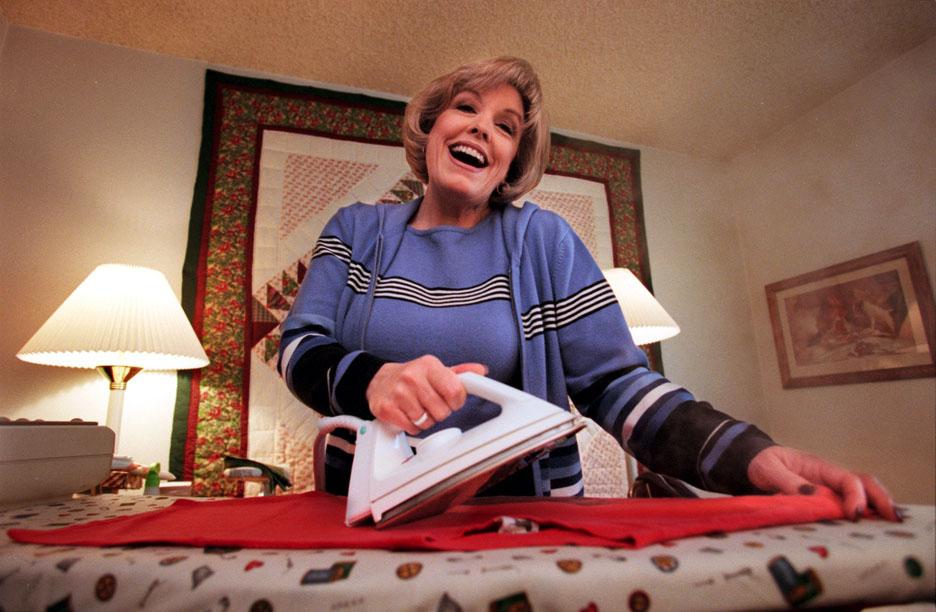 Published: January 29, 2009
Plastic-wrapped ironing boards and brand new irons find their way into Fordham College at Lincoln Center's (FCLC) McMahon Residence Hall at the start of every fall semester. Usually, the boards and irons are packed up and moved out of the dorm without ever seeing the light of day. That may soon change with extreme ironing—ironing while partaking in other extreme sports—taking the laundry world by storm.
In 1997, Phil Shaw, from Leicester, England saw no reason why his household responsibilities should keep him from enjoying his favorite activity—rock climbing. He grabbed a basket of wrinkled shirts, an ironing board and battery-powered iron and took it all with him. That marriage of zealous adventure and commonplace chores birthed a new sport called extreme ironing.
With the recent boom of extreme sports like snowboarding and base-jumping, younger generations are  trying to find new ways to keep the activities edgy and not quite mainstream. Extreme ironing is one way to do that, and the world is taking notice. With a following of over 1,500 on Facebook, there are members from all over the world, including 17 from the tri-state area of New York, New Jersey and Connecticut.
As the official Web site, extremeironing.com, states that extreme ironing is, "the latest danger sport that combines the thrills of an extreme outdoor activity with the satisfaction of a well pressed shirt." Shaw, nicknamed "Steam," brought his roommate, Paul Cartwright (also known as "Spray"), into the madness, as well. Shaw decided to bring extreme ironing to the world, so he formed the Extreme Ironing Bureau (EIB) and launched an international tour, introducing the sport to New Zealand, Fiji, the United States, South Africa and Australia. After meeting up with a group of traveling German extremists in New Zealand, Shaw co-sponsored Extreme Ironing International and the sport officially went global.
In September 2002, the first world championship of extreme ironing took place in Munich, Germany. Ten countries were represented by 80 teams, with two different teams from Great Britain taking the bronze and gold prizes. Australia and Germany wrapped up the individual winnings. Judging was based on how quickly the teams and individual contestants moved through an obstacle course in the shape of an iron, while maintaining speed and creativity and pressing the garment to crisp perfection.
The EIB also held a Rowenta photo contest in 2003. Two South Africans won with a photo of a man suspended between cliffs, carefully pressing a button-down shirt. Currently, participants are training for the next world championship (location and year TBA) by lugging ironing equipment on their own personal adventures.
In 2004, on another tour, Shaw and his fellow ironists ironed in cherry pickers in Times Square. On the same trip, Shaw strapped himself and his board to the back of a taxi and ironed his way through Manhattan traffic.
Many extreme sports have combined with ironing. Thousands of extreme ironing enthusiasts worldwide boast ironing while skydiving, bungee jumping, deep sea diving, in trees, on cliffs, in crowded streets, on rooftops and in mineshafts. And while any one of these environments provides its own set of problems when it comes to powering an iron, most use a travel iron or, for underwater adventures, train to provide the physical pressure needed to rid clothing of wrinkles.
Shaw released a book in 2003, "Extreme Ironing." Even the National Geographic Channel immortalized the eccentric sport in a television film, while individuals continue to document their personal adventures on Web sites like goextremeironing.com and YouTube.com.
Extreme ironing also lends itself to good causes.
On Jan. 10, in Chepstow, Gloucestershire, at least 86 people were videotaped ironing on full-sized ironing boards underwater. The Guinness Book of World Records is currently finalizing the count, but it is certain that the previous record of 72 underwater ironers, held by Australia, was shattered. The divers raised over $12,000 for the Royal National Lifeboat Institution (RNLI). The RNLI saves, on average, 21 lives per day near England and Ireland, through their products and trained rescue teams.
It looks like college students and adrenaline junkies have found a new addiction. At least they'll have freshly-pressed shirts as they climb mountains, jump from planes and dangle from cliffs.