Parisian Problems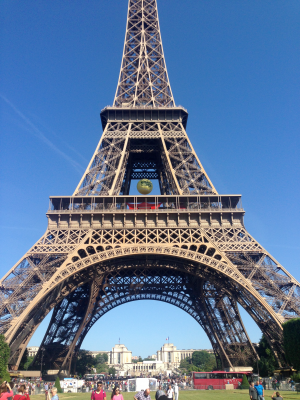 It all started when we got to Gatwick Airport at 7 a.m. on Friday to leave for Paris. Although my email confirmation had said I checked in, I learned otherwise when I went to get my boarding pass. To top it all off, the flight was overbooked, so all I could do was wait on standby in case someone didn't show up. I was anxious because the next flight available wasn't until Saturday. Luckily, after everyone boarded, the woman working at the gate had one last seat open for me.
When we arrived Saturday at 11 a.m., we walked for miles around the city in the 90-degree heat because we couldn't check in to the apartment we rented on AirBnb until 3 p.m. As we lugged our bags around Paris, drenched in sweat, we finally broke down and spent the money on an Uber to bring us to the apartment. It was a good thing we did, since it was located in the 16th Arrondissement, at the edge of Paris—or, as I like to refer to it—the middle of nowhere. Our arrondissement, one of 20, was about a 45-minute walk from the center of Paris. When booking the apartment, I put a filter on the search for specific arrondissements that were recommended for student life and easily accessing touristy hot spots. Despite my efforts, something went very wrong.
On our second day, we decided to take a Hop On Hop Off tour, thinking it would be the most efficient way to see what Paris has to offer. Of course, getting on the bus tour was no easy feat. We bought the tickets the night before and the confirmation email said to print the tickets. Seeing as we weren't staying in a hotel and had no access to a printer, we figured we could just show them the email. Nope. So, we wandered around Paris trying to find somewhere that would print our tickets. Eventually, we gave up and purchased the tickets (again) on-site so we wouldn't need anything printed. We called the company and hoped for a refund (which we eventually did receive) because the tickets were not cheap.
Later that night, while sitting in the apartment, my roommate, Lexi, realized she had booked her return flight for Monday morning instead of Sunday morning. She had to rebook because she would have no place to stay Sunday night. Between my flight going to Paris, our Hop On Hop Off bus tickets and Lexi's flight booking mishap, we were hoping the bad luck would end there. But, it wouldn't be the nightmare it was if it did…
After figuring out Lexi's flight, we planned on going back to visit the Eiffel Tower and the rest of Paris at night to see everything lit up. So, we stayed in our apartment to nap until about 12 a.m. (since it doesn't get dark until about 11). When we woke up, we realized that, unlike restaurants in New York, very few places in Paris are open at 3 a.m. when we would need to have Wi-Fi in order to grab an Uber to the airport. It was also too late to go to the Eiffel Tower and return back to our apartment because the Metro stops running at 2 a.m. Annoyed, we went back to bed until we had to wake up to pack up and leave for the airport.
At the airport, things started to look up for us. We got there with plenty of time to spare, made it through security and both had seats on the plane (evidently our expectations had been lowered over the weekend.) I had a fairly relaxing flight, as I dozed off for the duration (only about 45 minutes).
When we safely made it to London, we thought that there couldn't possibly be any more bumps in our journey. I mean, we were already at the Victoria Tube Station and we just needed to get on the tube to get to our street. But of course, as we tapped into the underground station, we found that the lines we needed were under construction. At this point, all we could do was laugh. We had to resort to a roundabout way to navigate the underground which made the trip an extra half hour long. When we finally got into our flat at 10 a.m., we collapsed in our beds and slept until the middle of the afternoon. Who knew a weekend getaway to Paris could be so taxing?