Five Reasons We Spent Five Hours At Lush
The Store Itself: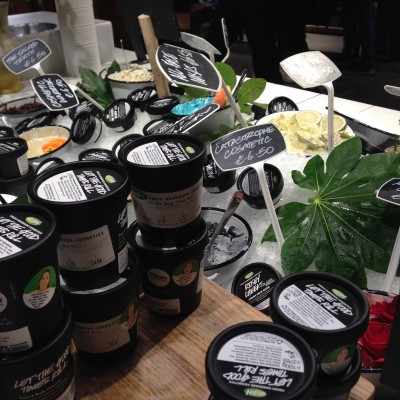 We may seem unoriginal for spending our free time in London at Lush, let alone five hours, but hear us out. Yes, there is Lush back in the United States, and yes, it is a chain store. However, the England-based company's newest flagship on Oxford Street is their biggest location, covering 9,500 square feet. The store spans three stories and includes a Lush Spa, Gorilla Perfume Gallery and Lush party area. To help break up your shopping trip, you will find stations with headphones that feature Lush-approved artists to satisfy your music needs. These are not the only perks to the Oxford Street shop, either. Lush Oxford Street carries over 200 exclusive products, all of which are hand-made, vegetarian and made without the use of animal testing per Lush's brand policy.
Lush Spa: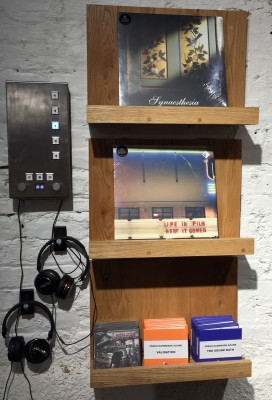 Once we made it to the bottom floor, it was as if we were transported to another world. Although this area was not as large as the others, it provided a sense of serenity that is almost unimaginable when one thinks of an Oxford Street store.  Vintage apothecary chests displaying Lush's unique fragrances lined the walls, while the center display featured a mountain of Lush's signature massage bars. The massage bars are a Lush classic — a unique blend of essential oils that melt when they come in to contact with warm skin. These little bars are relaxation miracle workers, as they relieve your muscles from the stress of everyday life. As we inspected every massage bar with awe, we were approached by Ruth who explained to us how the bars are used at Lush. Upon learning this was our first trip to Lush Oxford Street, Ruth offered to show us around the spa and explain what makes the Lush spa experience so special.
The spa reception room features a traditional farmhouse kitchen, covered in reclaimed wood. The long dining room table was adorned with fresh English flowers, apples and pears. After offering us strawberry and cucumber infused water, Ruth went on to talk about some of the services offered at the spa. The Lush Spa experience really is bespoke. The music in the treatment rooms are unique to Lush and are essential to the experience, as each treatment is choreographed to the music.
The highlight of our tour was when we found out that this Lush Spa is the first fully handicap-accessible Lush Spa in the world! Everything from larger treatment rooms to wheelchair-accessible showers ensure that everyone is able to have a comfortable and welcoming experience.
The Gorilla Perfume Gallery: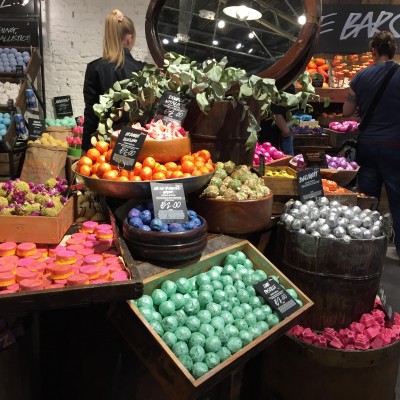 Most know of Lush's perfume collection, but are too intimidated to try these strong and distinct scents.  After touring the spa, Ruth recommended that we go on a tour through the Gorilla Perfume Gallery. The gallery was a maze of black painted plywood sectioned off by different rooms and scents. A particular one,  The Bug, was inspired by the feeling of paranoia and the idea that you are always being watched in the UK.  For us, the earthy and bitter scent did just that. The next room housed three different stalls with three very fun, but distinct scents. Our favorite was the makeshift beach in the next room for the perfume Sun (we all bought a little £5 solid perfume version of it). Inspired by the feeling of driving down a highway in Florida, the citrus-smelling perfume was perfect for the intense summer weather we knew that we would face upon returning home.  The last room was a display of three vastly different scents that combined to make The Smell of Freedom and each had a distinctive and humbling inspiration, which we could mix up to fit our own personal preference.
Although we all bought the same tub of Sun, we'll all smell completely different since each Lush perfume combines with your natural scent to create a unique and personal smell.
Customer Service:
The sales associates at Lush are some of the friendliest people you will ever meet. They're amazing for giving you recommendations on products, but in a way that makes you feel like you're just talking to one of your friends. Browsing through some of the bath bombs upstairs, we were approached by Zoë, who was willing to toss any bath bomb into the sink just for our entertainment purposes. If you get a chance, make sure to strike up a conversation with Zoë, a fellow American with whom we bonded over the Pledge of Allegiance and English food suggestions. Not only are the employees at Lush friendly, but they are never pushy about purchasing their products either. Robert, Victoria, Karti and Liam went out of their way to make sure our Lush experience was fun and informative.  If you ever have any questions or concerns, or even if you just want a personalized beauty regimen, the Lush staff is willing to take the time necessary to help you find whatever it may be that you are looking for. If you meet one of the people we have mentioned, make sure to tell them hello for us!
Exclusive Products: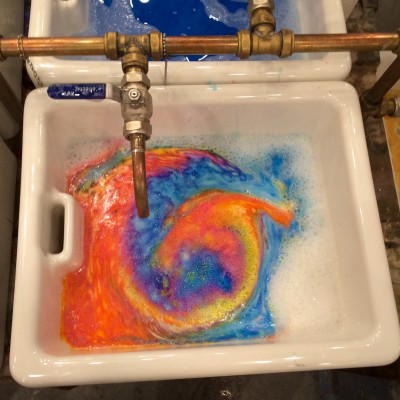 There are 226 products exclusive to this store that are not available online.  Masks, cleansers, soaps, bath bombs, bath oils, body scrubs and hair treatments can only be found here, and lucky for us, the staff knew what they were talking about.  Zoë showed us two new exclusive bath bombs–Frozen and The Experimenter. The Frozen bath bomb will turn your water into a silky and shimmery deep blue color and give it a grapefruit and floral scent for only £3.75.
Downstairs, we gravitated towards the exclusive masks. Abby greeted us and offered to do some treatments.  After venting our some of our skin concerns, she applied different cleansers to the back of our hands.  The cleansers were not exclusives, but they smelled amazing and worked beautifully with the masks Abby suggested.  We had our eyes on the bright blue face mask titled, "Don't Look at Me," but Abby recommended "Rosy Cheeks" for Kitty and "The Man in the Mushroom" for Sydney.  Abby even said that they would last 24 hours without refrigeration so we could bring them home, which was relieving, but still dangerous for our wallets.
Next, we headed for the hair products as we all felt that the London air was not doing great things for our split ends.  We had our eye on the Avocado Co-Wash conditioner which promised deep moisturization for our thirsty locks.  At £9 per 100 grams, it comes at a cost, but we decided it was worth the exclusivity.
On top of that, there are new sheet body washes, make-up products and soaps to explore, too (now you understand the five hour thing). If you find yourself in London, make sure to stop by the Lush on Oxford Street,  as they will make you feel confident in your own skin.