Faces of London: Music Vendor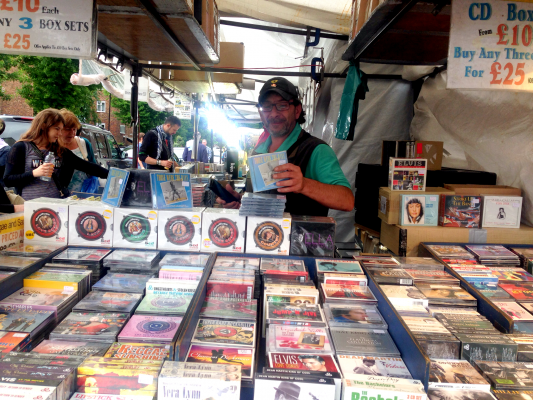 [quote_box_center]
"£10 for one CD box set, only £25 for any three!" the music vendor shouted as he danced to the upbeat tune playing from his stand at London's Portobello Road Market. I eyed the CDs curiously, impressed with the selection that ranged from Elvis Presley to The Rat Pack.
"Do you have a favorite singer?" I asked him while I paid for the Frank Sinatra CD set I could not resist purchasing (especially when it was 75 songs on three CDs for only £10).
He paused before answering, "I have a few favorites, but definitely Dinah Washington! Have you listened to her?" When I said I was not too familiar with her, his mouth opened with in shock.
"Oh, you'll love her, you have to give her a listen!" he said to me as he gave me my change. I promised him I would.
[/quote_box_center]
Portobello Road Market
TUBE STOP: Notting Hill Gate, Circle or District Line
Portobello Rd, London W11 2DY, UK