Faces of London: Scarf Girl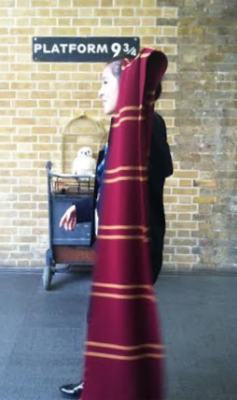 [quote_box_center]
While helping Harry Potter fans with the photo op of a lifetime, the Scarf Girl happily argued with her coworker about which Hogwarts house was better: Ravenclaw or Slytherin. Scarf Girl's job is to hold fans' scarves in the air as they pretend to run through Platform 9 ¾, just like 'the Boy Who Lived' did in the books and the movies.
"It takes great skill!" she said matter-of-factly, as she prepared for a tourist who wanted a Gryffindor scarf.
Apparently, this job is much more difficult than it seems.
[/quote_box_center]
Platform 9 ¾ King's Cross Station
TUBE STOP: King's Cross St. Pancras (Circle, Hammersmith & City, Metropolitan, Northern, Piccadilly, Victoria)
London N1