Faces of London: Rudy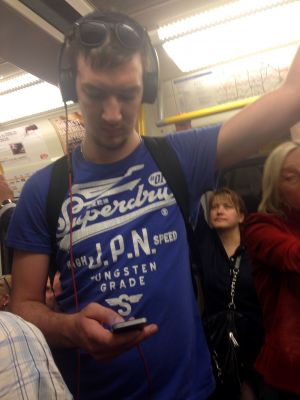 Have you lived in London your whole life?
Yeah, I grew up here.
Do you like living here?
I love it! But it's very expensive to live here. I live above King's Cross Station with a few mates. You need to have roommates if you're going to live in London.
Could you see yourself living anywhere else?
Actually, yes. I'm 26 and am getting to a point in my life where soon I might want to move to the country. Living above King's Cross can be a pain because it's always so crowded. Plus, I have to live with people. It's okay because they're my friends, but it can get crowded. And one of my mates has a girlfriend. And she always seems to be around.
Do you like her?
Well, she's a nice girl. But my mate has gotten boring since being with her. One time we went on a ski trip and it was my mates plus the girl. We all wanted to go out at night but she wouldn't let him! Even on our last night there, when we were all planning on going out, she wouldn't let him. It's a pain because we used to be friends with her, then they started dating, so we lost her as a friend because now we don't like her [chuckle]. And we can't tell my mate that we don't like her, but she's always around. So, yeah. I'll be ready to move out to the country soon.
Circle Line Tube