Clink Prison Museum
While walking through the Clink Prison Museum, I almost forgot I was in a museum. As you enter, you are transported back to the era of The Clink. Everything that could be seen or heard is trying to convince you that you are no longer in the 21st century and instead are living during the 600-year history of the prison.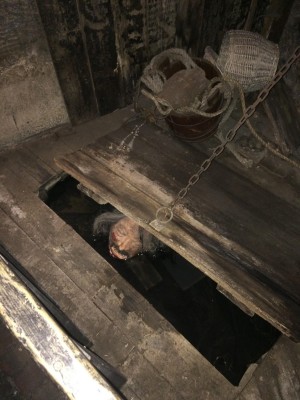 The terrifying experience starts from the moment you open the first door. The wooden doors creek open, sending chills down your back, before you enter into a room depicting a blacksmiths shop. Each room has sound effects or a narration of former prisoners playing in the background, that pulls you even further into the experience.
There was only one time where I was startled by something. I had just entered a room and before could read about it, I saw a head floating in water poking out from the floorboards. I had to take a second look and learned that it was a 'man in the hole.' Prisoners who got thrown into 'The Hole' were often forgotten about and would die in it.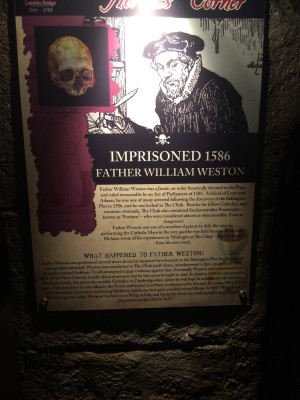 Even though it is billed as one of London's scariest museums, I found it interesting that there were facts on some of the informational boards inside. One surprising thing I learned was that there was even a Jesuit connection at The Clink. In 1585, Parliament ruled being Jesuit was a treasonable offense in response to Pope Pius V's bull requirement of Catholics to rebel against the English Crown. One of the Jesuits imprisoned there was Father William Weston. He was arrested following the Babington Plot, but he was not convicted. The Babington Plot to kill Queen Elizabeth in 1586 and put Mary, Queen of Scots in her place. He was among a number of priests who performed Catholic mass in The Clink.
If you feel like being both scared and cultured, visit The Clink.
Tube: London Bridge: Jubilee Line
Price: £5.50 for Students, £7.50 for Adults
Address: 1 Clink Street, London SE1 9DG
Hours: 10:00 a.m.- 9:00 p.m.