Behind the Scenes of Tower Bridge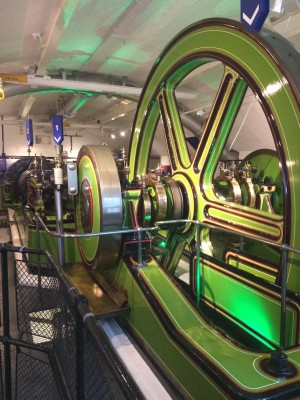 One would think that Tower Bridge and Tower Hill are one of the top tourist spots in London. And you would be right. After taking a tour with a Yeoman guard at the historic tourist trap that is the Tower of London, I decided to make my way out of the hustle and bustle and actually walk across the Tower Bridge. I was impressed by the remarkable bascule bridge design and enormous suspension cables and could not wait to get an even better look of London skyline from 42 meters above the Thames River.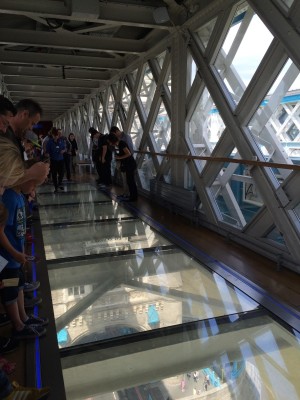 Thanks to my Fordham London ID card, I was allowed to get behind the scenes access at the bridge. In the engine room, I learned how the old steam hydraulic machines, as well as the modern and electric hydraulic machines are used to lift the bridge.  After climbing the numerous flights of stairs, which left me out of breath, I finally made it to the top. I stopped and pictured what London would be like back in 1894, when the bridge was officially opened.
While walking over the glass floor, I was able to watch pedestrians walking and biking around as the typical red London buses dove around the city. I was even lucky enough to see the bridge being lifted before my very eyes. This was a once in a lifetime experience that everyone should without a doubt.
Tube Stop: Tower Hill, Circle Line 
Price: Adult: £6.95 Student: £5.50 Child: £2.95
Hours: 10:00am – 5:30pm
Address: Tower Bridge Rd, London SE1 2UP