Walk in the Hood: Islington
"London is a mix of things—new, refurbished, and stubborn to change," Sara Goldsmith said as we stood outside the Kings Cross tube station awaiting our walk through the borough, Islington in North London. Sara, an American-born editor, moved to London in 2008 with her partner and immediately fell in love with the city. When she moved from the states she thought it would be temporary, however exclaimed, "I now have a citizenship here!"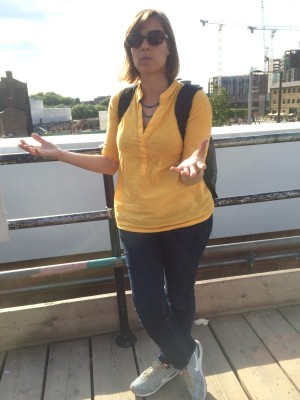 We stood outside Kings Cross, watching the many people in business attire, the cyclists, as well as the those enjoying an early dinner as we were about to begin our journey. Walking into the station, Sara related it to the High Line in New York City because they took something that was "old industrialized" and made it into something new. Throughout the past seven or eight years Sara has lived in London, she pointed out about five buildings that have been established in the general area. Our next stop was the viewing platform near the station, where we climbed up the stairs to see the view of Regents Canal, and cranes used for building the up and coming Kings Cross area. "London isn't a city of skyscrapers, unlike New York," Sara said as we all gazed into the distance.
Making our way down the viewing platform, we then took a nice stroll down Regents Canal, nearly getting run over by runners and cyclists. "The canal is about ten miles long and in the 1820s it was used as a shipping lane for goods in and out of London," Sara said as we walked down the scenic canal. Near the canal we noticed houseboats, little restaurants, apartments, as well as swans enjoying some seaweed for dinner. "My favorite thing about London is that it can be noisy and intense, frantic with activity but then it's just a couple of minutes to a serene area just like this," Sara stated as she described the canal. I can definitely agree with this, especially coming from the hectic New York City to then living in the more tranquil Long Island.
"What kind of place do you live in where you don't have a lot of money?" Sara asked as we made our way to the next stop. "Caledonian Road," she announced as we stood at its entrance. She described to us that this road was once used an "uncivilized" area for prostitution, prisons, as well as a cattle slaughterhouse. "The biggest prison in London is here, Pentonville Prision," Sara stated as we continued our walk. We all trailed down the road noticing different shops, apartments and little grocery stands. I couldn't help but wonder what life was back when the streets were filled with prostitutes.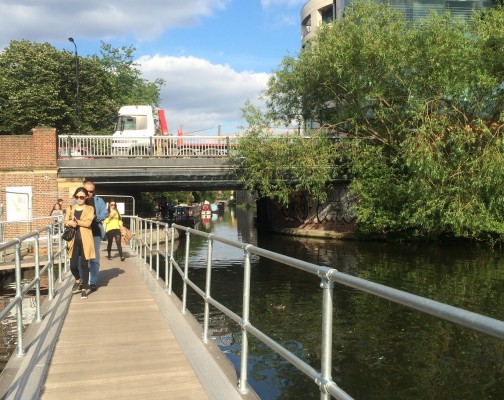 After our tour of Islington, we ended up walking through the town of Barnsbury, which is filled with little parks that tend to make the town a little more 'charming.' This town was originally empty fields, but people started to build houses in the 1840's since they saw that London was beginning to grow. This area is filled with middle to upper class people, and it is a quaint town outside of the hustle and bustle of London. If you're ever in Islington, be sure to take a stroll along the canal, and stop to people watch in the parks.