Stonehenge Rocks
Some people say that Stonehenge is just a pile of rocks. And at one point, they would have been correct. Technically speaking, Stonehenge is still a pile of arranged rocks. As of December 2013, however, the famous monument acquired a $42 million visitor center.  There, you can learn as much as you want about this 5,000-year-old phenomenon.
On a recent Saturday, we bumped along a gravel path on what Golden Tours guide Graham called "a transit trip 5,00 years back in time," riding in one of the shuttle buses from the visitor center to the monument. After roughly six minutes of passing fields dotted with walking paths and strawberry stands, we approached the gigantic stones, which were stunning against the emerald grass and bright blue sky.  Unfortunately though, we could not get closer than 30 feet, since the ground around them has become too weak to support weight without caving in. This could have been as a result of too many people snapping photos with 'selfie sticks' (or whatever else people used back in the day) throughout its history.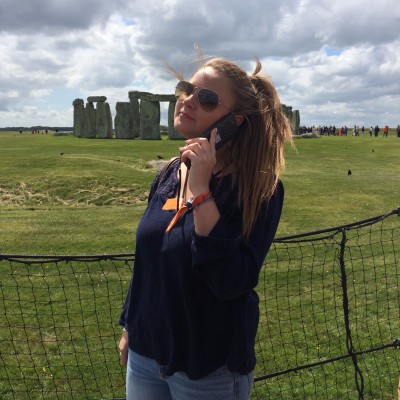 As we continued along, listening closely to our audio guides that resembled 1990s car phones, we began to take in the surprisingly complex history associated with such a simple structure.
For the past 4,500 years, the purpose of Stonehenge has remained a mystery as there are not any objects hinting to the monument's function that have been found on site. Additionally, Stonehenge seems to have been kept separate from the everyday lives of those who created it. The fact that the stones are arranged so that the rising and setting of the midsummer and midwinter solstices appear directly between them, however, does lend some clue to their purpose. Perhaps people gathered at Stonehenge for ceremonies celebrating these events. Still, there is no way for anyone to know for sure. What we do know is that they did have a sacrifice stone, which is pretty cool, if you can get past the creepiness of it.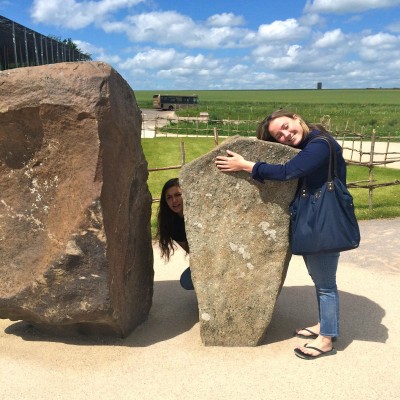 Archaeologists are also fairly certain that the intelligent, organized community that inhabited Neolithic Britain are the people who established Stonehenge. The many citizens who made up the community were needed to move the stones, since moving even one stone required at least 100 of the strongest members. The 'sarsen stone' weighed more than 300 tons and even the smaller 'blue stones' still weighed roughly four tons.
Despite the fact that you are literally traveling to look at a pile of rocks when you visit Stonehenge, there is actually an interesting history surrounding the structure. It can be easy to visit Stonehenge (or any other tourist attraction) just for the sake of going, but you can also learn a lot and have a great time while visiting.