The End of the World: One Big "Dog Act"
Published: January 29, 2009
Jason Zeren on Acting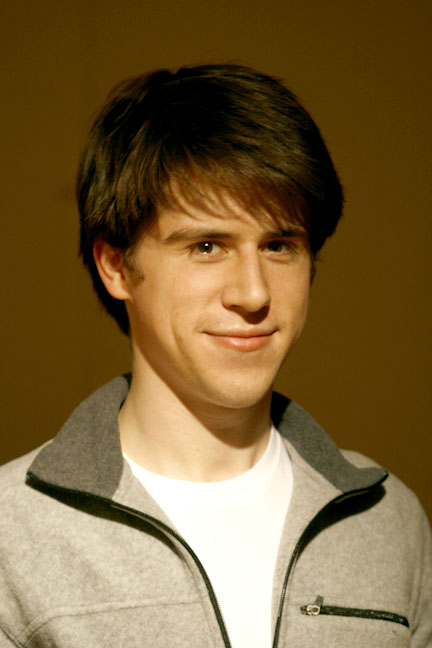 On Feb. 19, Fordham theatre's Mainstage season will premiere the play "Dog Act." It takes place after the apocalypse, when most of the world is destroyed. Zetta Stone is a traveling performer who, when traveling through the American Midwest to a gig in China with her companion Dog (a human who demoted himself to a dog), runs into scavengers. Jason Zeren, FCLC '10, plays Coke the Scavenger. Jason also starred as Eric in "Tales of the Lost Formicans" last November. Here he talks about how he prepared for the role, how he feels about his character and why we should see "Dog Act."
THE OBSERVER: What is your role in "Dog Act" like?
Jason Zeren: I am playing Coke the Scavenger. He is hungry, horny, foul-mouthed and will hunt you down if you stand in his way. He has a very different set of views and morals than others in the post-apocalyptic world of "Dog Act."
Observer: How did you prepare for your role as Coke the Scavenger?
JZ: Over winter break I did a lot of research on various hunter-scavengers that are found in nature. I watched video clips of baboons, birds of prey, hyenas and various wild dogs. I also reviewed notes from discussions that we had with the playwright Liz Duffy Adams, the director Peter Gil-Sheridan and the cast. Now, it is all about bringing what works to the stage and collaborating with the director, designers, fellow actors and allowing Coke to develop from there.
Observer: How is this role different than or similar to other roles you have had in plays at Fordham or elsewhere?
JZ: I have been fortunate to play a variety of different characters here at Fordham. Coke is another unique role. I guess that he is different because he is not a child… or a puppet. He is similar to a couple other roles I have had because he allows me to be a bit larger than life.
Observer: What was it about the themes of the play that attracted you to "Dog Act?"
JZ: Everyone seems to be looking for something—hoping to bring betterment to, their lives, whether it be through virtuous or not-so-virtuous means. The themes of survival, humanity and how people from different outlooks, histories and backgrounds deal with these issues.
Observer: What do you think the audience will like or find interesting about the play?
JZ: I hope they like the performances! It is a play with some very interesting characters living in a very interesting world, and I hope we can bring them justice. The language of the play is something that I found interesting and the rhythm the language gave to each character. There are a few catchy songs too. Don't worry, it's not a musical.
Heather Lanza on Directing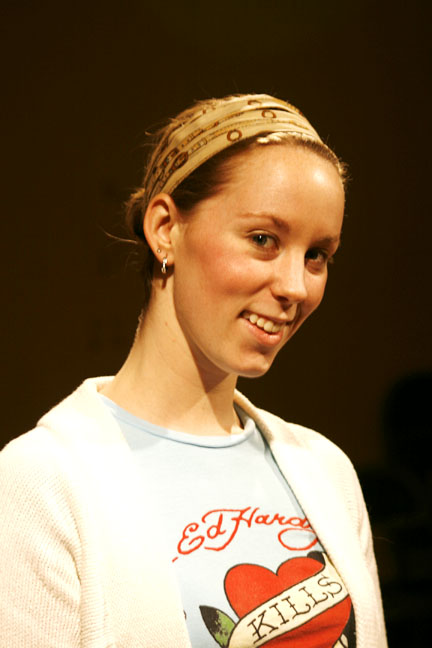 When "Dog Act" premieres in February, the work of its assistant director Heather Lanza, FCLC '09, will be showcased as well. Heather is a theatre major and a visual arts minor. She has most recently directed "All Our Quiet Places" at FCLC, a piece called "What Mommy Told Me" as part of the Estrogenius festival at Manhattan Theatre Source and assitant directed "Man Made" at the Ohio Theater with Creation production company. She also has acted in many Fordham shows, including "Waiting for Left," "La Calle de la Gran Occasion," "The Vagina Monologues," "Eating Out: The Musical," "Exit, Pursued by Bear" and "Maricela de la Luz Lights the World." Here she talks about her role as assistant director of "Dog Act" and the differences between acting and directing.
THE OBSERVER: What do you find most interesting about "Dog Act?"
Heather Lanza: What I find most interesting about this play is what the writer's view of a "post-apocalyptic" world is. I love the references to mankind destroying itself through war and environmental destruction, especially in light of today's political climate. While these references are not necessarily driving forces of the plot, they force the audience to questions the larger consequences of our global actions.
Observer: Why did you decide to become assistant director of "Dog Act?" How do you think your role as assistant director will influence the play?
HL: As assistant director, it is my job to help the director realize his vision of the piece. I am there as a second set of eyes. I help the actors explore ideas and answer questions they might have about their characters or the play as a whole.
Observer: How is directing a play different from acting in a play? Do you use your experience as an actress to help you direct? Is this the first time you have directed a Fordham play? If not, what other plays have you directed?
HL: No, this is not my first time directing a Fordham play. Last semester, I directed "All Our Quiet Places" by Mike Hilton. Along with this, I directed the staged reading of the same play, excerpts from "Three Sisters" by Anton Chekhov and "Through the Looking Glass," a Directing I piece. I have also assistant directed "Frog Prince" and "The Vagina Monologues."
Observer: How do you feel about the theme of "Dog Act"?
HL: Along with this, I love the idea that entertainment and theatre are cherished, timeless arts that should be protected. It is the sacredness of entertainment that still holds true even after the world has fallen apart.
Observer: Do you prefer acting or directing?
HL: I find directing more creatively challenging than acting. When playing a role as an actor, you are forced to think out every detail of your character's existence, but as a director, you are forced to do this for all of the characters while focusing on overall themes and design concepts. This is why I prefer to direct.