A Profile On McQueen's Stephen Wight and Dianna Agron
Sitting on the edge of the stage of the intimate St. James Theatre, Stephen Wight and Dianna Agron were in the middle of a busy Thursday. After having just finished a matinee performance of the new play "McQueen," the actor and actress had to begin preparation for another performance that evening. Wight,an award-winning actor of the British stage, was perched comfortably in his spot drinking a cup of tea, while Agron sat upright with perfect posture.
"It's a little bit tricky," Agron said about the double-show days, "especially because today is two, and tomorrow is one, and Saturday's two as well, so Thursday-Friday-Saturday…"
"It's an ass-kicker," Wight said, laughing.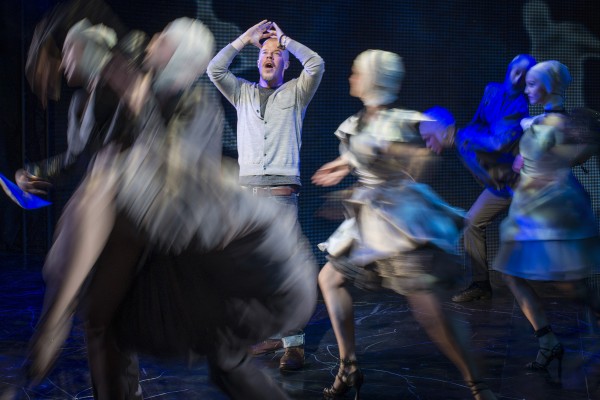 The two certainly have reason to feel that way. In James Phillips's "McQueen," Wight portrays the late groundbreaking fashion designer, Lee Alexander McQueen, who tragically took his own life in 2010. Agron, best known for her role as Quinn Fabray on Glee, makes her British stage debut as Dahlia, a mysterious girl who breaks into Lee's studio one restless night. The pair go on a journey throughout London, exploring the city and their own demons, and delving into the sensitive issues that plagued McQueen throughout his life.
Along with being known for his breathtaking creations and controversial shows, McQueen was infamous in the British tabloids for fooling around with drugs and alcohol. Wight said that this was essentially all he knew about the designer until visiting the Savage Beauty exhibit at the Victoria and Albert Museum and reading Blood Beneath the Skin, a 2015 McQueen biography by Andrew Wilson.
"I was sort of blown away, really, because that's the point of the tabloid press is that they misconstrue and damage people in a way that they shouldn't," Wight said.
Agron, though portraying a fictional character, heavily researched McQueen as well, in order to prepare for her role. "To play somebody, even if [she's] real or not, I felt like I really needed to know Lee."
And knowing exactly who Lee was is a complicated process, according to Wight. "He's spoken about as being quite schizophrenic in nature, and everyone's said that they never really knew the real Lee – his family, his close friends – so he's a very different man with different people."
Though difficult getting to know the real McQueen, who both actors refer to as "Lee," Wight has some real life connections that make the process easier. "My real name is Stephen Gray, and one of his ancestors married a Gray in the East End of London. He was taken to a house after he was born just down the road from where I live, and then where I was born, that's where his family moved to."
Because of McQueen's complex nature and legendary genius, Wight feels the pressure to do the designer justice.
When Wight went to the "Savage Beauty" exhibit at the Victoria and Albert Museum he said, "that was when I saw his creations in the flesh, and I just sort of went, 'What have I taken on? What was in this guy's head?' You're portraying someone who was a genius, an icon, so, from day one, we've felt that pressure trying to add to the McQueen legacy, so that's a very sobering and focusing sort of thing."
It was important for Wight to connect with Lee on a deep level and not to simply do an impersonation. While the audience is taking their seats fifteen minutes prior to the play's start, Wight is alone on the stage already in character as Lee, pacing slowly around the space, and fidgeting with a belt to signify McQueen grappling with taking his own life. "I felt it was important that when people come in that you see Lee and you don't see an actor walk out on stage, so when you come into the auditorium you should be like at one of his shows."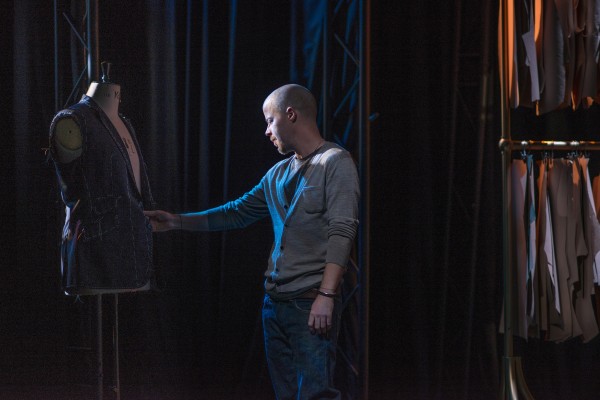 Wight, while alone on stage, usually has his mindset on recent stories in the news. He specifically mentioned a recent event about a thirteen-year-old girl who hung herself, as McQueen ultimately did. These are issues that are addressed in the play and have been reaching audience members who may be going through similar situations. "Sometimes," Wight remarked, "you feel it in the audience, especially with the younger ones, that it's a more common problem than I feel we'd like to admit. We've met a lot of people that have really been touched."
To add to the pressure, McQueen's family was heavily involved in the development of the play. Agron said this aided in getting to know who McQueen really was. "I think because the family's been so involved and so supportive, it's added an extra level of information and closeness."
Wight added, "You don't usually get to put on a production like this and then meet the guy's sister and brother and nephew that knew him when he was living and to perform it to them. It's pretty mad."
The family's seal of approval trumped any opinions from the press, said Wight. "It's a lot like getting an award – more than that. It's better than that."