Skelton Stands Alone as Top Passer in Rams History
Junior Quarterback Sets Passing Record, Ties Completion Record, In Just Three Years with Fordham
Published: December 11, 2008
With the completion of the 2008 Fordham Rams football season, junior quarterback John Skelton, CBA '10, has climbed to the top of the school's record book by setting the all-time passing mark with 6,215 yards. In addition to breaking the record, Skelton also tied the all-time completion record with 518.
As Skelton explains, being the all-time passing leader at Fordham is no small accomplishment.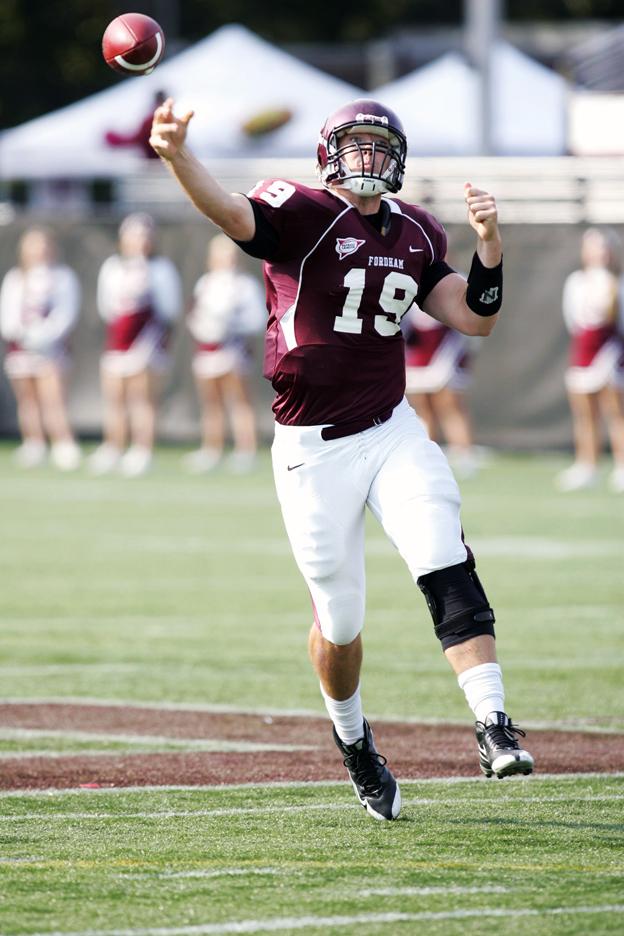 "I feel that at a school with as much of a 126-year football tradition as Fordham has, I am honored to be first in the record books," Skelton said.
The junior quarterback completed 228 passes for 2,605 yards and fifteen touchdowns. Despite Skelton's statistical prowess, the Rams won only one Patriot League contest and  finished with a disappointing 5-6 overall record. As Skelton explains, team performance comes before individual accolades.
"I would give up the record in a heartbeat in exchange for winning games," he said. "I respect the team first before anything else."
Skelton's records are all the more impressive considering the challenges faced by the Fordham offense this year. At one point during the season, the team lost its top four wide receivers on the depth chart and converted backup quarterback Clayton Busch, FCRH '11, and backup running back Nnamdi Onyeabor, FCRH '11, to fill out the depleted wide receiver position.
"It was rough towards the end of the year because there was little continuity between myself and the wide receivers with all of the injuries we suffered.  However, the other guys did a great job at filling in as a necessity," Skelton said.
Even with all of the injuries on offense, Skelton was able to make big passing plays while running the spread offense, a scheme that is quickly growing in popularity at the college level. As Skelton explains, the spread maximizes the playmaking ability of the quarterback by expanding the offensive formation from sideline to sideline, opening many different passing options for the quarterback.
"There are so many ways to hurt a defense in this offense. I can throw long, deep passes to my wide receivers or check down with a short pass to my running back when all the wide receivers are covered," Skelton said.
Skelton has been helped by the presence of a great running game during his career at Fordham. This year, Xavier Martin, CBA '11, has taken the pressure off the passing game with his tremendous running ability.
"Xavier ran hard every down this year by lowering his shoulders every play. It is a lot easier to complete passes when you have a threat like that coming out of the backfield," Skelton said.
While giving accolades to the offense and his teammates for his achieving these records, Skelton is a very talented player in his own right. As Craig Stevens, FCRH '08, explains, the big quarterback from Texas is a physically gifted player.
"What makes John such a great quarterback is his athleticism. He has the ability to be elusive in the pocket which gives the receivers time to get open so he can get them the ball," Stevens said.
As linebacker Nick Magiera, CBA '11, explains, Skelton's work ethic has helped him to achieve these records and gained the respect of his teammates.
"You see a lot of pocket quarterbacks not going all out in sprints or not really pushing it during lifting," Magiera said. "That is not John. He deserves everything he gets and then some because he is motivated to keep working hard."
Skelton was able to reach these records in only three seasons, so he will surely extend his numbers next year. The passing yards record, which was held by former Fordham quarterback Kevin Eakin, and the completion record, which Skelton now shares with former Fordham quarterback Joe Moorehead, were both set in four years.
"There is still more that I can accomplish in the future. Hopefully, I can strive to be a better player every day before my career ends at Fordham," Skelton said.