Fordham Theatre Ends the Mainstage Season With A Classic Greek Myth
In a generation of temporary trends and ever-changing technology, Greek mythology has managed to remain relevant throughout the world. More so, actors portraying these Ancient Greek roles still find its history very rich and relatable today. From April 8-10, and again from April 16-18, actors will tell the classic Ancient Greek myth, "Agamemnon"  by Aeschylus in Pope Auditorium at Fordham Lincoln Center at 8 p.m.
The story of Agamemnon has become one of the most enduring tales stemming from Ancient Greek mythology. In the play "Agamemnon," the aforementioned character returns home from the Trojan War. At the same time, his wife, Clytemnestra, is planning to murder Agamemnon; she believes that Agamemnon murdered their daughter, Iphigeneia, as well as had an affair with his cousin, Aegisthus, who is plotting to take Agamemnon's throne once he dies.
For actors Zachary Hodges, FCLC '15, and Nisarah Lewis, FCLC '15, the challenge of playing these intense characters has been fulfilling. Hodges refers to his part in the production as "unique."  He plays two roles: a watchman on the roof who awaits the sign that Agamemnon and his troops have captured the city of Troy, as well as Aegisthus, Clytemnestra's long-term lover who wants Agamemnon dead in order to take what he feels is his right to be king.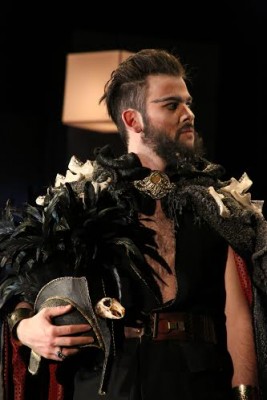 Hodges said, "Because of ancient feuds, Thyestes and Aegisthus have been exiled from their rightful place in the throne of the kingdom. Now that Agamemnon has been sent away in war, now is the perfect time for my character to come back and rightfully claim what was ours to begin with."
"[This play] exists in a completely different realm than something that is contemporary or casual…these plays were originally performed for the Gods, so everything is on an ultra-heightened plan. It was and is an offering for another level of being than just the audience. So, finding ways to approach this story with that kind of sense and that kind of gravitas while also making it applicable and relevant to our modern audiences has been something that we've been working with,"  Hodges said.
Lewis, who plays Clytemnestra, credited the cultural, as well as generational differences between the era in which the play took place and now as one of the biggest challenges.
"Tackling the language as far as knowing the world we are in.  In the beginning process of our rehearsals we spent a lot of time going through the script, line by line, and just knowing who are these references.  [For example] Who is Heracles, or, who is Thyestes? We spent a lot of time doing that, and it was great.  It took a lot of time, but it served as a really great foundation for keeping us engaged in the play," Lewis said.
[pull_quote_center]"Something that I think is really fascinating about the play is that any of the characters can be rightly justified, and it just depends on what side of history you're looking from.  I guess that's with any great story of history, but really, every character in their own right is justified in their actions.  There are different teams of thought that exist in this play, which is really cool," Hodges said.[/pull_quote_center]
Fordham Theatre program closes the curtain on "A Season of Imagining Post-War" with this classic Greek masterpiece, "Agamemnon" by Aeschylus.