Onyeabor Making Impact Everywhere On The Gridiron
After a Late Switch to Football, Sophomore Brings Talent to Running Back and Wide Receiver
Published: November 20, 2008
Beginning his second year of football at Fordham University, Nnamdi Onyeabor, Fordham College at Rose Hill (FCRH) '11, has shown his teammates and the coaching staff why he is one of the most versatile players on the team.
"Coach Masella keeps all of the guys focused wherever we fit in the spread offense. Whether I play running back or wide receiver, the offense plays into my strengths of blocking defenders and catching the ball," Onyeabor said.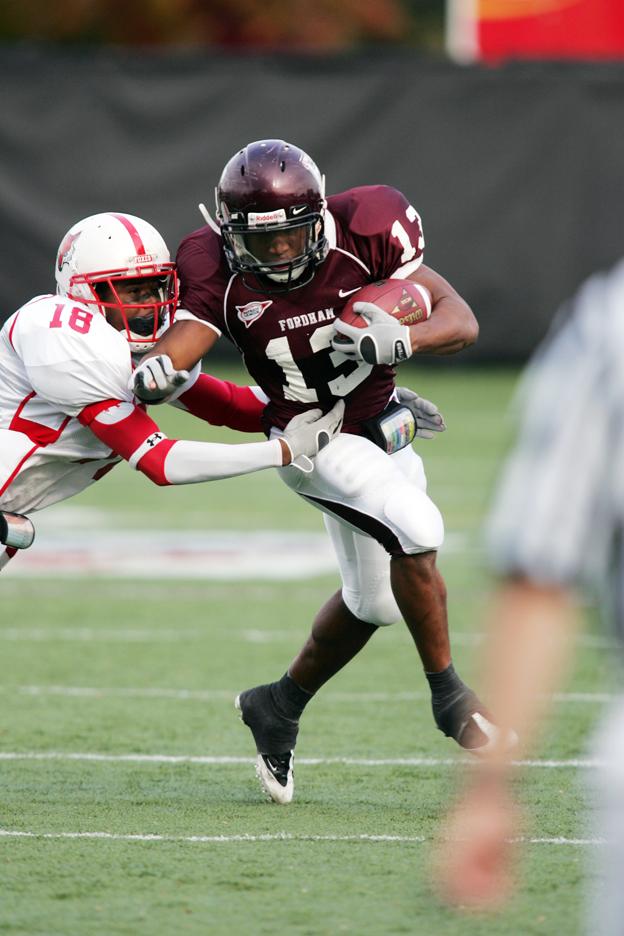 The 5'10", 180 pound sophomore from Texas has been called upon this season to play more of both positions during each game due to injuries that have depleted the team's depth at wide receiver. As running back coach Chris Fusaro explains, the coaching staff has been impressed with Onyeabor's skills.
"His ability to play both running back and receiver at a high level speaks volumes for his versatility and athletic ability. He is willing to play anywhere to help the team," Fusaro said.
While the Rams' season to date has been inconsistent, Onyeabor is turning into a solid performer. On Nov. 1 against Marist, he had one of his best games at Fordham with a season-high five catches for 89 yards in the 45-21 win.
Last year as a freshman, Onyeabor appeared in nine games, seeing limited action at both running back and wide receiver. He was used primarily as a special teams player.
Despite his current success at Fordham, football was not Onyeabor's first athletic pursuit. As a youngster, he played soccer, basketball and track, but not football. When Onyeabor entered middle school, the football coach convinced him to join the football team as a running back even though he had not played before.
"I remember telling the coach that I am a soccer player and I do not know anything about the game of football. However, after I scored a 45-yard touchdown on the first play of the first football game I ever played, I have been hooked on the game ever since," Onyeabor said.
Onyeabor attended Keller High School where he played running back. He also ran track and field in order to keep himself in shape for football season. In his senior season on the Keller varsity football team, he was named 2006 First Team All District 5A and team Offensive MVP rushing for over 1,000 yards and scored ten touchdowns. As Onyeabor explains, the people who live in Texas are passionate fans of high school football.
"Football means everything to the people there. Crowds for high school games can reach as high as 12,000," Onyeabor said. "In Texas, football is morning, afternoon and evening. I even took a class in football in high school."
Because Onyeabor played a high school sport, he was allowed to take football as a physical education class. He was allowed to practice during a class period of the school day and receive class credit at the same time. Along with after school practice, this extra time during the school day allowed Onyeabor to improve his running skills.
When it came time for recruiting, four schools expressed interest in Onyeabor. Both Fordham and Patriot League rival Holy Cross offered him a scholarship to play football while Oklahoma and Texas Tech wanted him as a walk-on player.
Oklahoma's head coach Bob Stoops, whose college football program is currently ranked fifth in the BCS, came to visit Onyeabor at Keller High School. He eventually lost interest in the potential prospect after Onyeabor sustained a partial tear in his MCL during the seventh game of his senior season. Fordham, however, remained determined to bring Onyeabor to the Bronx. They rewarded him with a scholarship when he showed he was able to play effectively on the injured knee the remainder of the season.
"Fordham recruited me after seeing how well I played in the second game of my senior year," Onyeabor said. "They were glad that I was able to play well after sustaining my injury. I am really happy that I ended up here right now." His teammates feel the same way.
"Nnamdi is a hard worker and competitor. I feel that he has contributed a lot to the team, and he has stepped in as a key receiver this year," wide receiver David Moore, CBA '11, said.
"It is not easy to play two different positions in the same game. Nnamdi does a lot of preparation so that he can be ready to play running back and wide receiver," said linebacker Nick Magiera, CBA '11.
Onyeabor's transition to Fordham was made easier by his twin brother Dozie's presence, who is a defensive back for the Rams.
While he has said it would be nice to play in the National Football League (NFL) for his favorite team, the Dallas Cowboys, Onyeabor is not overlooking the importance of the next few years of his college career.
"Every year gives me the chance to improve. The more time I get on the football field the better I will become. I got to keep working hard," Onyeabor said.