"NYC Nervous Breakdown": A Profile of Local Band Hymns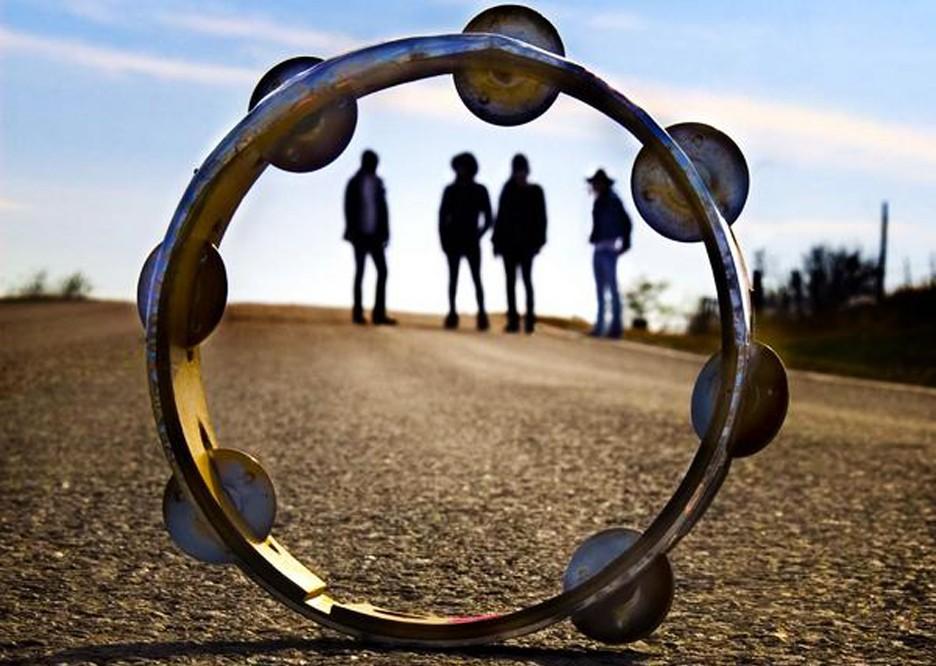 Published: November 20, 2008
With two albums under their belts and having just finished their run on MTV's Choose Or Lose Tour, Brooklyn-based rock band Hymns is quickly becoming a local favorite. With songs combining rock, country, roots and more experimental elements, Hymns stand out in the mountain of current music.
Unashamed of not belonging to the trendy electronic-dance-pop obsession that's currently all-the-rage among many indie New York bands, Hymns craft songs that will stand the test of time. Catchy yet original, their songs sometimes have that innately familiar sound without ever having heard them before. It could be a sign that you were always meant to hear them.
They are also one of the precious few bands that sound just as good, if not better, live as they do on their albums. With some shows supplemented by a small, but energetic horn section and all shows accompanied by Roberts' free-spirited dancing across the stage while playing his guitar, watching Hymns perform live is always a satiating and entertaining music experience.
Jason Roberts, guitarist for Hymns, answered a few questions about his band:
Observer: When did you guys form a band?
Jason Roberts: Brian [Harding] and I started playing together when we were 13! I taught him his first song—"About A Girl" by Nirvana. We played under different names all throughout high school and college, and then we formed Hymns in 2005. Tony [Kent] and Matt [Shaw] joined during the touring for our first record.
Observer: If you had to, how would you classify or describe your music?
JR: This is a tough one, but we always tend to say we play '60s-style country rock. Neil Young meets Pavement. The Band and Gram Parsons meets Wilco.
Observer: Who would you say are your biggest influences as musicians?
JR: We have tons of influences, but I'd say that we're all obsessed with The Band. All the musicians in The Band are just always at the top of their game, and I think that's important in the kind of music that we play. You have to be a good and natural musician first and foremost.
Observer: How has your music evolved over the years, from "Brother/Sister" to "Travel In Herds?"
JR: "Brother/Sister" was very rushed and a very raw-sounding record. No harmonies, not many overdubs, etc. "Travel In Herds" was much more planned out and lush. I think we had grown as a band a lot, and Tony and Matt were in the band when we recorded the second record, so we sounded more like us.
Observer: What are you up to right now?
JR: Well, we just finished the MTV Choose or Lose Tour with our amazing friends, Locksley. I'm going on tour in the U.K. as The Redwalls' guitarist, and we're opening for The Zutons. So I'll be spreading the Hymns across the pond. We're looking to tour again starting in February. We also have some new songs we're working on for a possible EP.
Observer: I remember you once said that you like to refer to Hymns as a "New York City band" as opposed to a "Brooklyn band." Why is this?
JR: Brooklyn bands just have a different sound than other bands. You know? And I don't think that we fit that sound. We're more rootsy. More of a southern thing than an indie/electronic thing.
Observer: Did you always plan on music as a career?
JR: I started playing guitar when I was six, and I haven't been able to imagine doing anything different since. I'm obsessed.
Observer: If you weren't playing in a band, what would you be doing?
JR: I'd probably be dead.
Observer: Do you have a favorite city to play in or a favorite venue?
JR: We love playing New York and Chicago, but we love Austin. Love it. Favorite venue—probably the 9:30 Club in Washington D.C.
Observer: What are your plans for the future?
JR: This is a difficult question because you never know what's going to happen in a band. My hope is that we last. And I think we will. We're a very genuine band. We play music for the sake of playing music instead of playing for money, girls, etc. (although these things are amazing, too). We really want to get on another good support tour and reach more and more fans.
Observer: How do you promote your music?
JR: MySpace, touring, begging people to listen to us.
Observer: Why should people listen to your music?
JR: Like I said before, I think our music is genuine, and I think that on a certain level, that reaches people. Even if you don't think about it, when you hear something that is genuine, you tend to like it or be interested in it. Plus, our music is fun, and I think it reaches people of all ages.