mtvU Hosts Third Annual Woodie Awards at Roseland Ballroom
Performers at the Awards that Aired on Nov. 19 Included Vampire Weekend and The Cool Kids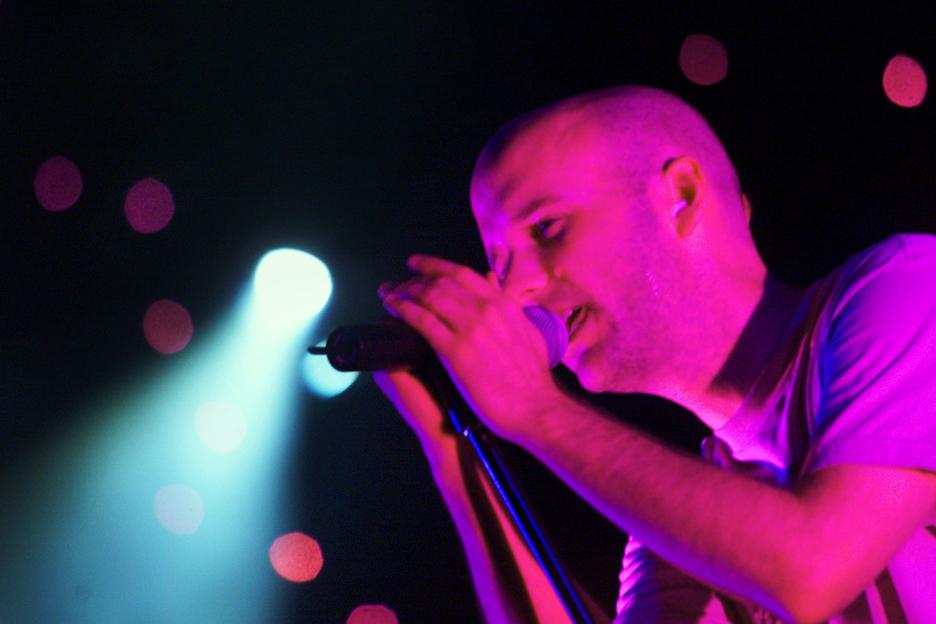 Published: November 20, 2008
"Wait, you go to Fordham? I almost went there!" Moby told me a few seconds after our brief conversation on the red carpet into the 5th annual mtvU Woodie Awards on Nov. 11.
As the only music awards show where college students vote to choose the winners, the mtvU Woodie Awards are known for consistently packing Roseland Ballroom with musicians, college kids and a random assortment of B-list celebrities—and for combining a college party feel (the kind we don't have at Fordham College at Lincoln Center) with star-studded performances of the indie-vein. This year's show lived up to the standards of previous years, plus some extra cool points for its offbeat collaborations.
Hip-hop newbie and recent college grad Asher Roth (who's been called "the next Eminem" and recently graced the cover of Vibe) kicked things off appropriately with his hit "I Love College." Roth was soon joined on stage by Chicago hip-hop duo and Left-Field Woodie nominees The Cool Kids, who picked up the energy with their "Delivery Man," complete with a stage dive from Roth into a sea of students.
Swedish indie-pop songstress Lykke Li kept the collaborations coming, performing "Dance Dance Dance" with Bjorn of Pete, Bjorn and John, before A Tribe Called Quest's Q-Tip joined her for the hip-hop group's classic "Can I Kick It?" and a few others. Santogold (Woodie of the Year nominee and Wesleyan University grad) was next in line.
"College students are the most informed music listeners out there!" she told the crowd. Never one to disappoint, the Brooklyn-based hip-hop princess followed suit with a Spank Rock collaboration on "Shove It," after a well-received run through of her hit "L.E.S. Artists."
Earlier in the night, on the red carpet, many artists—including Chromeo and Kid Sister—were hoping Santogold would take Woodie of the Year.
"Santi is a really good person, and she's a crazy singer! Her voice—have you heard it?" Kid Sister asked me. "It's crazy. She's nasty. Put it on the record!" The guys from Motion City Soundtrack and All-American Rejects, on the other hand, were rooting for MGMT to take the award. Ultimately, it went to Grammy-nominated rock group Paramore (whose second album "Riot!" went platinum in 2007).
The biggest disappointment of the night came from pop-punk newcomers All Time Low, who literally reached an all time low by bringing out a slew of sequined bikini-clad dancers for their set. But with Vampire Weekend headlining, nothing could have brought anyone down. The recent Columbia University grads—who were called "The Best New Band of the Year" by Spin Magazine in March—collaborated with Chromeo for "The Kids Don't Stand A Chance," and closed the show down with their hit "Cape Cod Kwassa Kwassa."
Woodies were presented throughout the night, with Left Field Woodie going to Chromeo (the only performer to take home some wood) and Breaking Woodie going to pop-punk Orlando-natives There For Tomorrow.
"It's going to be cool to watch one of our best friends rise up," Boys Like Girls, presenters of the award who took the title themselves last year, told The Observer. "This was a really cool moment for us last year, and it's gonna be cool to pass that along." The guys say that college shows are their favorite to play.
Best Video Woodie went to Motion City Soundtrack, whose video "It Had to be You" was produced by a recent college grad who won a contest the band held. Performing Woodie went to Atmosphere, and Best Music on Campus Woodie went to Queens-based pop-rock quartet The Bride Wore Black—half of whom are New York University seniors, citing "New Found Glory, the greatest band in the world," as a major influence.
"Music got me through college," Moby, presenter of the Good Woodie and Universtiy of Connecticut grad, told the crowd. The Good Woodie, awarded to the artist who had the greatest social impact this year, deservedly went to Jack's Mannequin for the "Dear Jack Foundation." The foundation, established by the band's lead singer and leukemia survivor Andrew McMahon, aims to raise money for cancer research.
"Our ultimate goal is for research to be happening in the age bracket of 15-22," McMahon told The Observer. "It's an area of cancer and leukemia that's not as well researched because it's not as common. It happens to be the demographic I was in when I was diagnosed."
Performances and awards aside, working the red carpet was the best part of the night. Where else would a mere college journalist get the opportunity to ask Santogold about her favorite bands?