Critic and Author Laura Shapiro Serves Up Feminism and Food at Writing Wednesday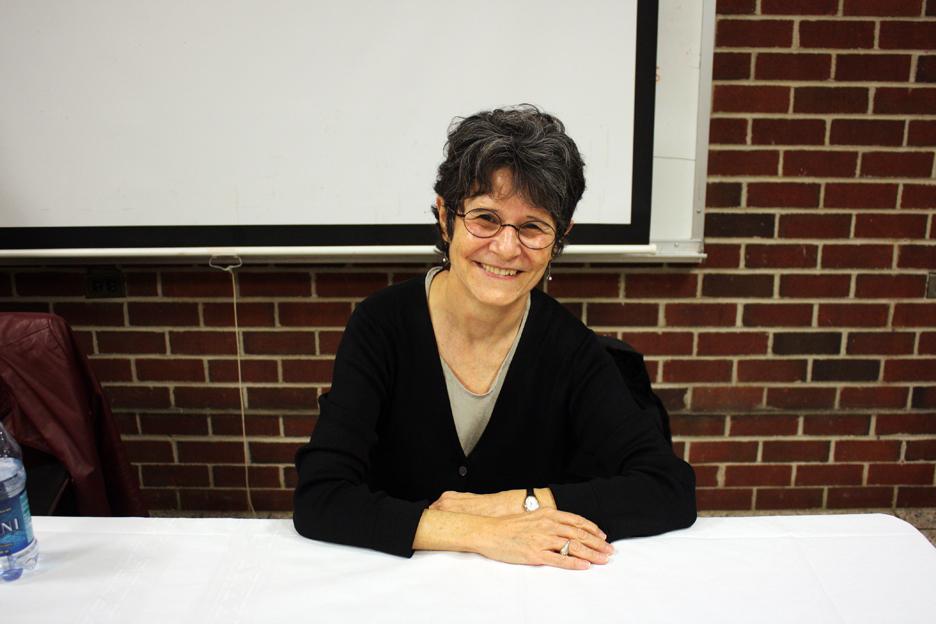 Published: November 20, 2008
Fordham College at Lincoln Center's (FCLC) Writing Wednesdays series hosted food critic, columnist and author Laura Shapiro for a seminar called "Writing About Food" on Nov. 12.
Petite and articulate, Shapiro explained her fusion of feminism and food by referencing her first job as a newspaper reporter for the alternative press in Boston.  Shapiro described this period of her life as "very exciting," due to her direct involvement with the women's rights movement, which was in full swing during the 1970's, advocating for social equality and closing the wage gap between the sexes. The work environment was very liberal and encouraged learning through experimentation with different forms of writing.
Shapiro's transition into food writing wasn't deliberate. "When I started, people didn't have food writing as their ultimate goal," she said.
When Shapiro set out searching for a famous, flawed woman to write a biography about, she stumbled upon Fannie Farmer, the late director of the Boston Cooking School. Farmer had promoted science-based home cooking, which included numbers, charts and intricate measurements. The movement ultimately sucked most of the enjoyment out of cooking.
"She was famous for all the wrong reasons," Shapiro said.
Shapiro realized there wasn't enough material on Farmer to constitute an entire book, but her discovery encouraged her to continue studying women's relationship with food at the beginning of the 20th century, which ultimately spawned her first book, "Perfection Salad: Women and Cooking at the Turn of the Century."
Her gig as a dance critic for New York Magazine evolved into the newly-created position of food critic when editors learned that Shapiro had published a food-oriented book. Much of Shapiro's expertise was gained on the job, as she hadn't begun as a food connoisseur.
s"It's embarrassing to say how much I learned," Shapiro said.
Despite her initial ambivalence, Shapiro took to her newly-assigned food niche and ran with it. She has gone on to contribute to Gourmet.com, Newsweek, Slate and the Boston Globe in addition to authoring two more books, "Something from the Oven: Reinventing Dinner in 1950s America" and, most recently, a biography of Julia Child.
The award-winning food critic emphasized the tremendous popularity that food writing has gained since the beginning of her career.
"It's thrilling to see how the field has evolved," Shapiro said. She mentioned that a plethora of subfields have emerged from a field that was once virtually non-existent. One of these subfields is the food memoir, which, through their extreme popularity, shows that "food is at the center of our consciousness—politically, morally and culturally."
Shapiro encouraged young writers to pursue a career in food writing.
"Everybody has a story," she said. "Everyone can contribute to food writing because it's a field that's currently 'ripe for the picking.'"
Shapiro ended her discussion with a Q&A segment with attending students and faculty. She grazed the topics of health food, the relationship between food and femininity and the investment of women's politics in food, but when asked about the most interesting thing that has happened to food in the last 50 years, she reverted to the opposite sex.
"The most important thing that has happened is that men have begun to do it," Shapiro said. She described the phenomenon of men increasingly cooking in the home and the movement away from the assumption that women are expected to cook for their families.
Shapiro's discussion ended leaving all attendants inspired and a bit hungry, but the girls felt most empowered, ready to demand a meal from their domesticated male partners when they got home.