Black Friday? Try Black Month!
Shoppers Get Lucky as a Once-a-Year Tradition Is Transformed into a Month-long Sale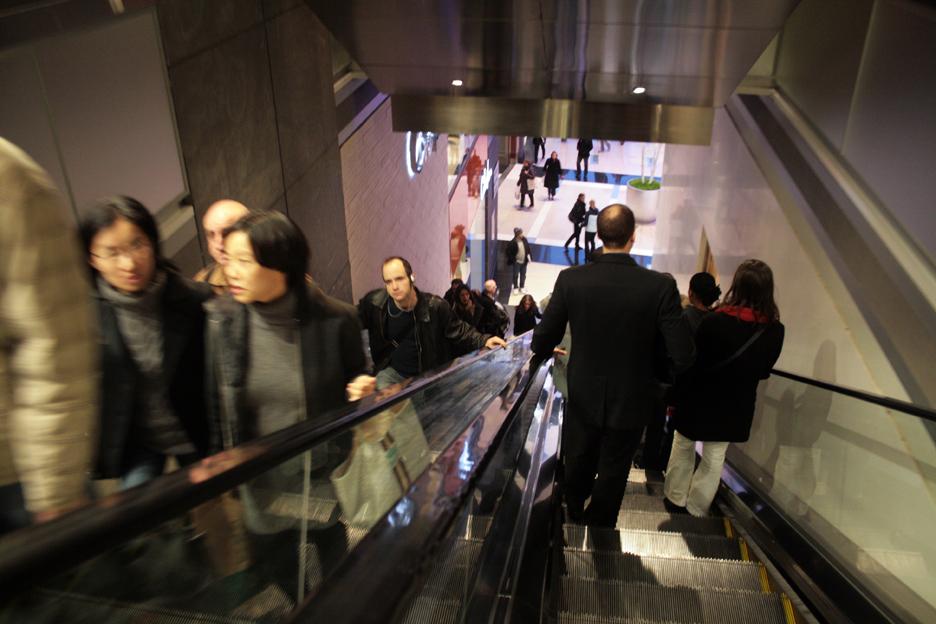 Published: November 20, 2008
Everyone has seen them—the massive posters that loom in store windows, shouting promises of drastically reduced prices. Surely there must be a mistake. Black Friday doesn't occur until Nov. 28, so why are sales already creeping into our favorite stores? It turns out that 2008 is a year of momentous change in more ways than one. Along with the election of the first African-American president, the recession has rendered Black Friday obsolete.
"Retail stores face dark days ahead," said Janis Barry, associate professor of economics. "With the exception of major discounters such as Wal-Mart, expect sales to fall dramatically in the next quarter."
Stores are expecting major losses, which is why, in the face of dire economic times, they are forced to offer Black Friday deals for the whole month of November. If that's not music to a college student's ears, what is?
As the holiday season swiftly approaches, many stores still haven't sold all of their "back-to-school" merchandise, which leaves them with the threat of a major profit loss. It turns out that all levels of retail are suffering, from the high-end stores like Nordstrom, whose sales were down 15.5 percent in October, to low-end stores like Kohl's, which suffered a 4.8 percent loss. People in every socio-economic class have decided to keep their wallets closed and stop shopping.
The deals that we anxiously wait for on Black Friday are already being offered, which is a huge relief for those who cringe at the thought of waking before the crack of dawn to stand like zombies in mile-long lines, only to trample and claw their way through merchandise the minute the store opens.
"I have stayed away from Black Friday in the past because my mom always told me that the lines are crazy and the malls are just way too crowded," said Jillian Wax, FCLC '10.
Stores are now instating a month full of Black Fridays, which takes the stress and urgency out of cramming all your Christmas shopping into one day. Wal-Mart and K-Mart are holding a series of "Pre-Black Friday Sales," which started as early as Nov. 8. Other stores such as Toys-R-Us and Old Navy are slipping in two-day sales sporadically throughout the month in an attempt to sell more merchandise. Even pricier stores like JCrew, Bloomingdales and Saks Fifth Avenue are having several two-or three-day sales as everyone gears up for Black Friday. Stores are no longer kicking back and counting every million with self-satisfied chuckles.
"Last month's report on large chain department sales indicated the only department store making a reasonable profit was Wal-Mart," said Fred Campano, associate professor of economics. "My guess is that this has sent a message to the other department stores that this year the consumer is more frugal and will buy, but only if she/he can get a bargain."
For once, the consumer has the upper hand. The ambush of sales seems to be getting consumers back to the stores as students excitedly prepare to unlock the deadbolt from their wallets.
"I love department stores, so Bloomingdales is on the top of my list," Wax said.
"I'm going to keep stopping in Macy's. It always puts me in the Christmas spirit, and they always have great sales," said Danielle Page, FCLC '10. "I definitely think, throughout this month, they will put different things on sale, so I'm going to be sure to stop by a couple times."
The truth is that the recession is having a major impact on the way people shop—a transformation that may never return to the old days of impulse buys and the notorious one-day sales before Christmas.
"I have been very conservative with my money ever since the crisis," Wax said. "I have really tried to be conscious of not buying full-priced things that I don't need. It's going to be hard to find gifts for everyone while trying not to go into debt, and the sales will help cushion the blow. I will probably get my shopping done beforehand, but if I have anything left, then I will try shopping on Black Friday to get even bigger discounts."
Even if the recession is resolved and our economy restored, will consumers, pampered with the luxury of shopping month-long sales, be willing to return to the days of 3 a.m. catfights for their limited supply item? Only time will tell. But for now, consumers should definitely be taking advantage of their exalted
position.