FCLC Featured in Saturday Night Live Digital Short
In Short Filmed at Fordham, Andy Samberg and Crew Don Dreadlocks to Poke Fun at Rastafarianism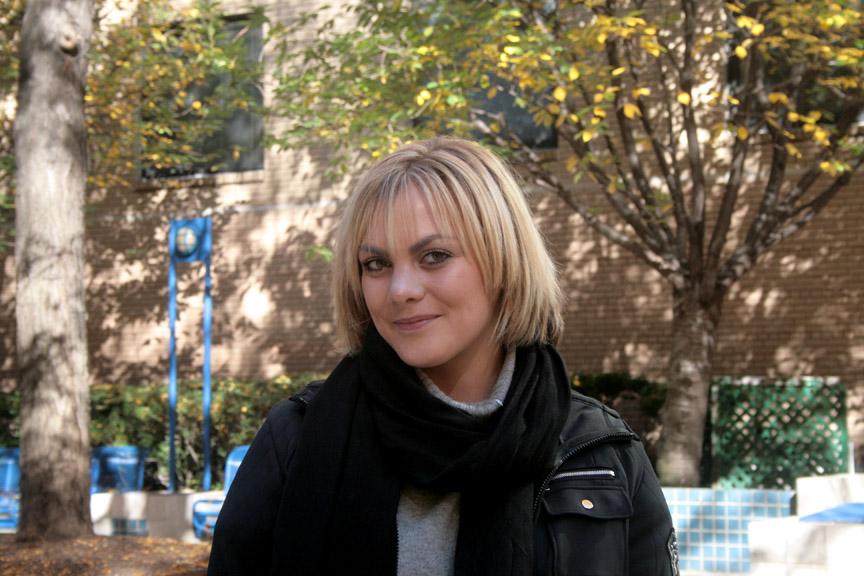 Published: November 13, 2008
If you happened to watch "Saturday Night Live" ("SNL") a few weeks ago, you probably noticed some familiar backdrops—the tiered seats of Lowenstein's third floor, the quiet green of the plaza and everyone's favorite mauve doors in McMahon—in the featured digital short. The short, entitled "Ras Trent," based on a comically stereotypical, watered-down perception of Rastafarianism, was largely filmed at Fordham College at Lincoln Center (FCLC) in addition to other spots around the Hell's Kitchen area.
Filmed on Fri., Oct. 24 and aired on Sat., Oct. 25, the digital short features "SNL" cast members Andy Samberg, Kristen Wiig and Casey Wilson and includes a slew of Fordham's own students as extras in the classroom and "shanty" dorm scenes. The parameters of the filming – why and how SNL decided to film at FCLC – are more than a bit hazy. Part of the controversy, it seems, is the result of "SNL" filming the short at the last minute. It is not clear who at FCLC was involved with bringing "SNL" to the campus. Because of this, many students involved in the filming declined to comment to the Observer on the record.
Students in the classroom scene—who were pretending to be in the middle of taking a midterm—recited the verse, "Are you there Jah?  It's me, Ras Trent," multiple times, recalling the Judy Blume novel about girls and puberty, "Are You There God? It's Me, Margaret."
"It happened so fast, and then they were gone, and we had to go back to classroom projects," said Jes Campbell, FCLC '08. For Campbell, it was a "whirlwind" experience, taking up about 15 to 20 minutes of class time. On pretending to be taking a midterm during the filming, she said, "I was randomly writing down phrases like, 'I can't understand the lyrics,' 'This song isn't that funny' [and] 'I hope I'm in the shot.'"
One FCLC student, who wishes to remain anonymous, said the cast and crew "were all very nice and friendly, just like normal people, but funnier than you and me."
After a first viewing, "Ras Trent" may simply seem funny or even slightly moronic, but if you transcribe the lyrics (or at least, if you look online to find the transcribed lyrics), you will notice that this "SNL" digital short required more than just a bit of research.
How does one go about understanding the meaning behind the words in "Ras Trent?" Well, the shortest cut available—albeit one that may yield some misinformation—is through online dictionaries pertaining to Rastafarian and Jamaican Patois terms and references. With verses like "Oh fire 'pon Babylon," you'd have to know that "Babylon" is a reference to a crooked "system" or corrupt government for the words to have any meaning. When Samberg's character calls himself a "rude boy," Samberg is actually saying he is a "tough guy" or even a criminal. The term "bald-head," used twice in the digital short, refers not to a person lacking hair, but to a person that works for the system—for "Babylon"—and doesn't wear dreadlocks. The song even includes a few historical references, mentioning Haile Selassie I (also known as Jah, Ras Tafari and God incarnate in the Rastafarian movement), the Emperor of Ethiopia from 1930 to 1974.
"Ras Trent's" combination of facts, deliberate misinterpretation and humor allows the audience to have a laugh while simultaneously acknowledging the stereotypes behind the lyrics. With the FCLC campus functioning as the setting for the video, Fordham students can get an extra kick out of watching it, and if you happen to be familiar with "SNL's" digital shorts—which include the popular "I Ran So Far" and "Lazy Sunday"—it isn't hard to recognize how much of a comedic honor it is to be added to this roster of segments.