How To Save Money During an Economic Crisis
Getting the Best Deals on Everything from Broadway Shows to Music Downloads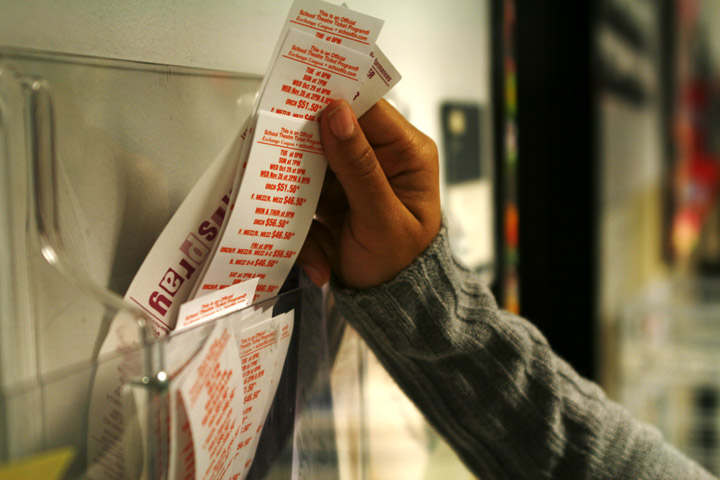 Published: November 13, 2008
Many Fordham students are beginning to feel the effects of the current national recession. Wallets are getting lighter and jobs are getting tougher to find; however, the economic climate isn't going to stop the entertainment world from turning. In these last months of the year, many industries are releasing a large assortment of goods for consumers to buy, watch, play and listen to. Even though Fordham students may have less money available this year, it doesn't mean they have to miss out on this season's big releases. Here are some ways students can have a fun but cheap fall season.
Movies
With tickets costing around $12 and popcorn costing half as much, going to the movies is increasingly becoming a special occasion instead of a casual outing. However, through the Office of Residential Life (Res Life), students can find themselves going to the movies for only $5. Res Life sells $5 passes that will let any Fordham student see any movie at any AMC Loews theater, including IMAX films. These tickets can be purchased at the Residence Hall Association (RHA) office, but there's only a limited supply available.
Another way to get free tickets that isn't related to Fordham is through special screenings. Occasionally, outside of AMC Loews Lincoln Square theater, a representative from a movie studio will be handing out flyers for an early screening of an upcoming release. All that's needed to go to these screenings is to show up at the allotted time and place with the flyer. While this is a great way to view movies for free, the representatives show up randomly during the day, so it's more difficult to locate them. Fortunately, the Office of Student Leadership and Community Development (OSL&CD) occasionally has these kinds of flyers. They can be found in Lowenstein 408.
Music
While CDs aren't as costly as the movies, there are still ways to shave a few dollars off the price. Amazon.com unveiled a new service this year called Amazon MP3. Amazon MP3 offers a vast catalogue of music available for download as MP3s. While this may seem very similar to iTunes, Amazon MP3 offers some great deals on the site for music lovers. For example, the new Snow Patrol album, "A Hundred Million Suns," can be bought for only $3.99, much cheaper than the iTunes price of $9.99. The Web site also has daily specials that let customers buy albums for as little as $1.99.
Theater
The economic recession will likely cause problems for those who are fans of theatre given the very expensive cost of tickets. Luckily, there's student rush. Many Broadway shows have some form of student rush tickets available. These tickets are sold to students at the box office the day of the show. The tickets cost only around $20 to $25, much cheaper than the usual ticket price that can range from $50 to $200. While there is usually a limit to how many tickets students can get, if they manage to get them at all, most students would agree that it's still worth it. It's also possible to pick up coupons for discount tickets to both Broadway and off-Broadway shows outside OSL&CD.
Comic Books
While comic books are relatively inexpensive, a large number are released every week or so. However, there are some deals that exist in this entertainment genre as well. Forbidden Planet, a comic book store found a block away from Union Square, gives discounts to anyone with a student ID. Another way to save money here is to wait for the release of a comic book series in one collection. For example, DC's seven-part series, "Infinite Crisis" was released as a complete graphic novel for a little more than $20. Each one of these comics separately costs about $4, making the total for the seven-part series $28 if purchased separately. Waiting for the collected edition almost always leads to a better deal for the customer.
Comic book fans might also want to look into signing up for an account with Midtown Comics, which has locations near both Times Square and Grand Central Station. Customers with an account will get $20 off their next purchase for every $100 they spend.
Video Games
The current generation of games for the Xbox 360, Playstation 3 and Nintendo Wii usually costs about $50 to $60 per new release. So even though it's tough to save money on the actual purchase, making a smart buy is almost as good. In the months before a video game goes on sale, many companies release a demo to the online marketplace of the relevant consoles. These demos can be downloaded for free and offer gamers a taste of what the game is like. While it's true that demos don't offer the full gaming experience, it still helps gamers determine if they're willing to spend their money on the game.
Students can also save money by getting an account at the Web site Gamefly. For $15 a month, gamers can rent a videogame and keep it for as long as they want before sending it back only to receive the next game on their online list. They can rent as many games per month as they wish but can only borrow one game at a time. While $15 per month may seem steep at first, four months of gaming through Gamefly would be equal to the cost of one videogame.
Books
For those fans of reading, Borders offers a free rewards card that can be picked up at any branch or signed up for online. The Borders rewards card can earn customers a $20 gift card after they register their card at Borders.com. The Fordham University bookstore is another place to look for bargain. In the trade section, there's a shelf full of books costing under $10. Other shelves in the trade section display books that have between 20 percent and 30 percent off the full price. Finally, Fordham has an extensive library that could fulfill many students' needs.