The Jets Were Right to Move on From Rex Ryan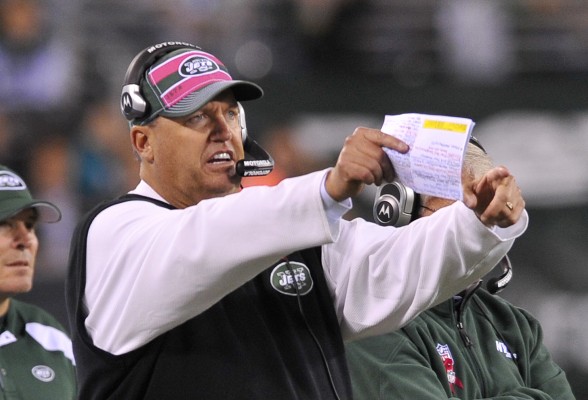 New York Jets fans may be upset after the firing of their beloved coach, but he and the franchise needed to move forward without one another.
Jets fans have a lot of reasons to love and miss former coach Rex Ryan. Ryan not only led the team to back to back AFC championship games in his first two years as head coach or crafted dominating defensive units out of  scraps, journeymen and the occasionally Darrelle Revis or Muhammad Wilkerson-esque superstar. More importantly, he created a team identity for a franchise that was consistently in the shadows of division rival the New England Patriots and the team they share a stadium with, the New York Giants. Ryan refused to "kiss the rings" of Patriot's leader Bill Belichick or let his team be seen as the second best in the area. He brought a swagger to the Jets and reinvigorated a fan base and a franchise. That being said, his dismissal was the correct decision.
Jets fans normally point the finger toward the the roster as to why the team failed to make the playoffs in the last four years of Ryan's tenure as head coach. General managers Mike Tannenbaum and John Idzik never built a strong team. Both men decided that older veterans such as Chris Johnson, Plaxico Burress or Michael Vick were organizational fits despite their declining skills and large contracts. However, it was Ryan and his staff who failed to cultivate and maximize the talent of these admittedly flawed players.
Ryan may be a defensive mastermind–and that might not even be an exaggeration–, but he is a disaster in terms of developing offensive schemes and players to fit that scheme. At first, the coach and his staff favored a run heavy offense, which was ugly but at the very least effective. With a stellar offensive line led by players like Nick Mangold and D'Brickashaw Ferguson the Jets were able to turn mediocre rushers like Thomas Jones into productive players. The same can't be said for the passing game. The Jets brought in a number of star wide receivers, most notably Braylon Edwards and Santonio Holmes with the hope that their presence would allow the team a more dynamic passing offense. Both Edwards and Holmes failed to live up to the large contracts they were handed and the abundance of draft picks the team gave up to acquire them. No matter how many talented wide receivers the Jets acquire, the real flaw will always be Ryan's issues with developing quarterbacks and putting them in a position to succeed.
Mark Sanchez and Geno Smith were each at one point considered to be the quarterback of the future for the Jets. Both are talented, but both were ruined by Ryan and his failure to develop them. Ryan never seemed to put enough trust in either quarterback, which led to countless quarterback controversies involving backups like Tim Tebow and Michael Vick. Ryan made his quarterbacks throw too much, leading to countless interceptions and incomplete passes. Ryan failed these players and that is why he had to go.
In the NFL, one needs a serviceable quarterback and passing offense to succeed. A team doesn't have to employ an Andrew Luck or Tom Brady, but the ability to throw the ball down field is ever more important. Ryan failed to harness this ability within his team and that, above all, is why he had to go. The coach moves on to Buffalo, a team with a tremendous defense that will be even better under his tutelage. However, we should all be worried for wide receiver Sammy Watkins and whoever has to throw him the ball.