How Far Can Matt Harvey Take the Mets?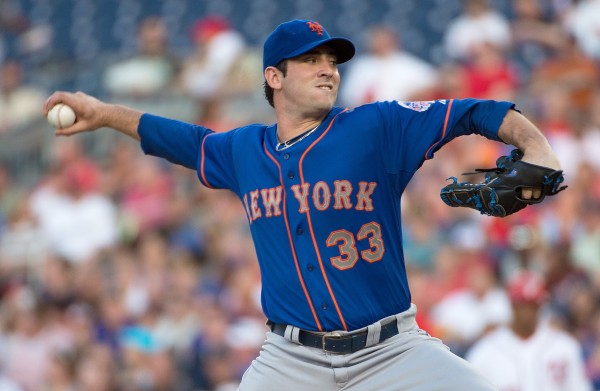 Matt Harvey, ace pitcher for the New York Mets, is finally going to return soon. The team made due without him for the entire 2014 season because he was out for Tommy John surgery. For those who do not know, that is a surgery common among major league pitchers which replaces a ligament in your elbow with a ligament from elsewhere in your body. Sports surgeons have become so skilled with this particular procedure that pitchers come back from it even better than they were before.
In 2013, Harvey's most recent season, the team's overall pitching statistics were pretty standard. The starting lineup consisted of Dillon Gee, Matt Harvey, Jon Niese, Jeremy Hefner, Zack Wheeler and Shaun Marcum. These six pitchers averaged each other out to an ERA (earned run average) of 3.75, 138.1 innings pitched, 38.3 walks and 113.5 strikeouts. 
In 2014, however, the teams statistics showed overall improvement. The team held on to Jon Niese, Zack Wheeler and Dillon Gee while gaining Bartolo Colon and Jacob DeGrom. Perhaps the improvement is because the team went from six to five starting pitchers, allowing them more playing time to better their individual statistics. The combined ERA dropped .24 to 3.54. They pitched 32.2 more innings for an average of 170.3, and they averaged 29.3 strikeouts with 142.8. The only number that was negatively impacted was walks increasing to 48.
As Matt Harvey is a huge talent for the Mets, the natural inclination would be to assume that the team's pitching statistics suffered a terrible blow when he was out last season. Looking at the statistical comparison, that seems false. Not necessarily because of Matt Harvey, but the starting pitchers improved overall from 2013 to 2014. 
It is certainly worth noting that Matt Harvey had the lowest ERA and most strikeouts of the Mets starters in 2013 as well as the second-most innings pitched and second-least walks. Harvey was probably the best pitcher the Mets had and was being held down a bit by the other members of the bullpen, but one man cannot make an entire pitching staff. 
If Harvey's statistics were averaged into the 2014 numbers, the ERA would drop to 2.95. Innings pitched would leap to 205.9. Walks would drop to 45.1. Strikeouts would jump to 150.8. These are the numbers I'll be working with moving forward.
The next thing to consider when weighing Harvey's effect on the Mets' ability to make playoffs for the 2015 season is what the pitching statistics look like for the teams that made the cut in 2014: Kansas City Royals, Oakland Athletics, Baltimore Orioles, Detroit Tigers, Los Angeles Angels, Washington Nationals, San Francisco Giants, Los Angeles Dodgers, St. Louis Cardinals and Pittsburgh Pirates. These teams all averaged to a 3.39 ERA, 168.3 innings pitched, 45.9 walks and 137.7 strikeouts.
Now, how do the projected statistics for the 2015 Mets stack up against these playoff teams? The Mets' hypothesized ERA would be .44 below, innings pitched would be 37.6 more, walks would be .8 lower and strikeouts would be 13.1 above. All of these are points in the Mets' favor. 
From a pitching-based standpoint, and barring any injury, the Mets have a great chance at making playoffs this year. With Matt Harvey back and better than ever (presumably), the starting pitchers should make life at Citi Field a whole lot easier. Although, before anyone starts placing bets or making promises, starting pitchers cannot be the only thing expected to take a team to the World Series. The Mets have issues in other areas, and those will also need to be addressed if the team hopes to have a pennant in their future. A pitcher cannot win if his defense has holes and his batting lineup cannot hit. Overall, Mets fans should approach this season with a cautious optimism and Sandy Alderson should continue making such tremendous improvements in his team.