"Deflategate" and the Scandals That Define the Patriots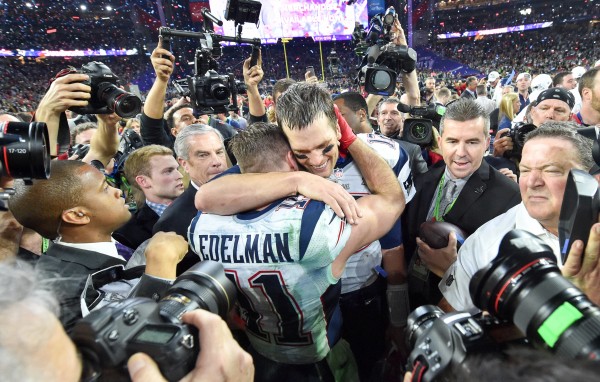 In the final minute of Super Bowl XLIX, the New England Patriots deflated the Seattle Seahawks' hopes of repeating as NFL champion with a goal line interception. Much has been made of the controversial, and needlessly risky, play call of passing at the one-yard line with victory seemingly in-hand for the Seahawks. Despite having the NFL league-leading rusher in Marshawn Lynch, Pete Carroll called a passing play, perhaps thinking that the Patriots would not see it coming. However, they clearly did. While the final play created a furor in Seattle, lingering accusations against Patriots hover over New England.
With the exception of the Seahawks' final play choice, the impact of "Deflategate" has dominated the post-Super Bowl coverage. Many question the legacy of the Tom Brady-Bill Belichick era Patriots, as they are involved in yet another scandal involving alleged cheating. After someone in the Patriots organization deflated 11 of their 12 footballs, Belichick and Brady were questioned, and of course, neither accepted the blame. This new scandal simply revived old allegations against the Pats, like the 2007 "Spygate" scandal that saw the Patriots filming the signals of the New York Jets' defensive coaches.
In light of past and present allegations of cheating, the current question among sports fans and pundits is whether or not the Patriots legacy has been tarnished by these accusations of deceit? New England is one of the premiere teams in the NFL and are therefore the target of scrutiny. In addition, fans' perception of the team as cheaters only makes it easier to dislike the Patriots. Despite their accomplishments as a fine team, history will remember them as a dishonest group and unworthy of tribute. While their underhandedness does not match other infamous scandals, such as the Black Sox of 1919, the mere allegations do tarnish the legacy of the Patriots. 
If you are a winning team like New England, you need a pristine record to avoid public scrutiny, and the Brady-Belichick teams are not spotless. They will go down in the history books as an excellent team, but there may be an asterisk that will refer to their scandalous misadventures. People will remember Belichick, more so than Brady, as a good coach with a questionable reputation. He can get inducted into the Hall of Fame, but there will still be some lingering questions about his character. Public perception is a large part of any major organization, and the Patriots do not have a squeaky-clean image outside of New England.
I believe that in the history books, much like any other topic, you will see the good and the bad of the New England Patriots. You will see their four Super Bowl championships and their MVP quarterback Tom Brady, but you will also see the questions regarding their sportsmanship. They will be seen as a great team, but the way they play the game will be scrutinized for years to come.