For Sophomore Brian Wolfe, There Are No Rules and No Limits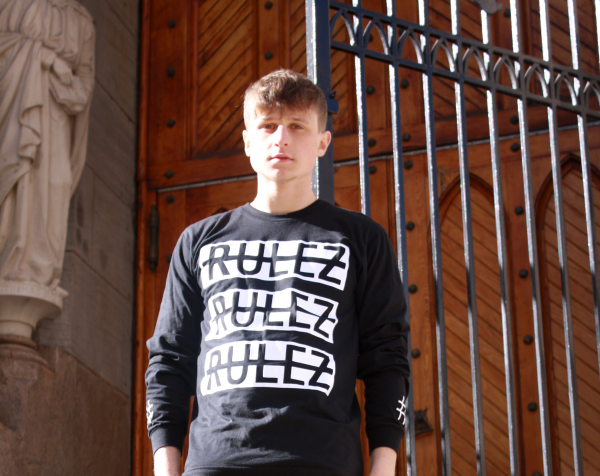 Hang on for a minute...we're trying to find some more stories you might like.
By YIANA MATTHEWS
Staff Writer
Published: February 11, 2015
When I first meet Brian Wolfe, Fordham College at Lincoln Center (FCLC) '17, for our interview, he's sitting back in his chair, relaxed and 10 minutes early. He appears considerably collected for someone who runs on "four, on a good night, five and a half" hours of sleep daily, as he later tells me. Wolfe, 19, is a full-time economics major atFCLC in addition to being the founder of street-style clothing brand NO RULEZ NY and a budding socialite. The Brooklyn native counts PR mogul Jonathan Cheban and actor Jake T. Austin as close friends (as well as brand ambassadors), so it's no surprise that he credits his celebrity following to "a lot of networking. A lot of dinners. Even when I'm out having fun, there's business being done." 
But for Wolfe, his job of overseeing operations at NO RULEZ NY isn't much of a "job" at all. "My work is also my fun. This is what I want to do. You could call it work, but I'm really just pursuing my passion. The minute your work stops being enjoyable, you should just quit what you're doing. In a way, my time is always free, but it's not. Does that make sense?"  
NO RULEZ NY is a small, Brooklyn-based apparel and accessories company formed in 2013 that still works with a small team of graphic designers, webmasters and a handful of interns.
I ask Wolfe what the quintessential NO RULEZ NY guy is like. "He's cool, he's chill, and he sees the need to stay away from his comfort zone. He doesn't try hard to fit in, he just embraces himself as a person instead. He realizes that the world is limitless- the world is completely his for the taking."
NO RULEZ NY was originally known as Royal Triumph, however a spring summer line within the original collection called "NO RULEZ" proved to be a hit with customers and inspired the name change and implementation of the NO RULEZ logos and designs to comprise the full collection. "It sold like crazy, and I realized the name embodied our brand's ideology better," Wolfe said.
 His idea to create a line of t-shirts came to him while he was working in retail, in a shoe store, which he reflects on with a scowl. "I didn't like it. I wanted to be my own boss, be an entrepreneur."
As the brand preaches, there are no limitations, a message that is clearly intrinsic to Wolfe, who didn't decide to go to college and then open a business as most do- he began designing as a senior in high school.
Wolfe recognizes that he had no proper training in the art of t-shirt designing, but over the first few months of forming his brand, he has become a self-taught expert. "I had no idea what I was doing- I had no idea what Photoshop was, I didn't know how to use anything. So I basically spent months on the Internet, researching things like how successful brands had succeeded and how manufacturing works, and then I came up with a logo myself. Most people go to school for screen-printing … I had a Google education."
Wolfe's start in the fashion world was considerably backwards. The idea was born out of his passion for entrepreneurship, and his love for fashion came later. "I've always liked fashion and have worked on evolving my personal aesthetic, but my real obsession with fashion only began about five months into the brand. It was only then that I really began to understand trends and style and how I could make them my own." 
Wolfe is no novice to the fashion scene these days. We briefly discuss the shows he's planning to see during Fashion Week, and I ask him which designers inspire him the most.
"Alexander Wang and Helmut Lang, above all, for sure. Did you hear that Wang's starting to design furniture? I saw it on Instagram today- how cool is that?" Wolfe's eyes light up with excitement as he assesses Wang's new work like a seasoned expert in the field. The fashion rookie Wolfe once was is clearly long gone.
It's hard to believe Wolfe has any time for himself between juggling a full-time job and well as being a full-time student, but he assures me he makes the time.
"We all get stressed and overloaded, we're human … but I'm doing what I want to do. I still hang out with my friends as much as possible. I've been playing the piano for 14 years. I like to watch a good movie. I like to read a good book. It's a little lame, but Dan Brown is really fun for me. I'm a history nerd."
The future looks bright for NO RULEZ NY, as it has already gained a cult following among young adults and celebrities alike, including football players, Victor Cruz, Johnny Manziel and girlfriend Colleen Crowley, Tyler Sash and Gabriel Day-Lewis, son of Daniel Day-Lewis, to name a few. So what's next for Wolfe? "Acting, for sure. I'm getting into that soon. Finishing school, I appreciate a good education and being well-rounded. Continuing to do what I've been doing, obviously. Playing with some different materials, definitely denim and accessories. We plan on building a full-on empire. It's a lot of work, but I'm crazy and I love it."