Grey Is the New Red this Valentine's Day
This Valentine's Day, audiences nationwide will be viewing the anticipated erotic movie, "Fifty Shades of Grey," starring actors Jamie Dornan and Dakota Johnson. With the novel selling more than 100 million copies worldwide, Deadline reported that the upcoming film expects to bring in about $60 million over the Valentine's and President's Day weekend alone. For some students at Fordham College at Lincoln Center (FCLC), this Universal Pictures and Focus Features co-production film is the perfect Valentine's treat regardless of whether you're in love, out of love or waving the single's flag high.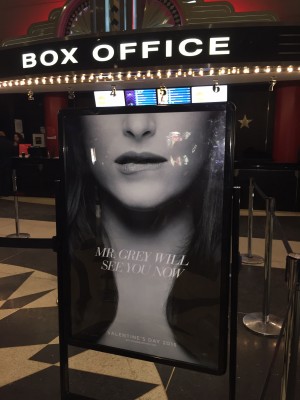 Fans all over the country may find themselves turning 50 shades of red on Valentine's Day. According to Courtney Spears, FCLC '16, "My friend and I are going to see the movie, because I think it will be the thing everyone is going to be talking about the next week. I think the marketing for it to come out on Valentine's Day is genius." 
However, some students speculate the success of the fiction-to-film love story.  "I'm not sure if the movie will be as popular as the book because women could buy the book on their tablet and not let anyone know they were reading the erotic novel," Nicole Nerup, FCLC '16, said. "It may not be as effective on film because pornography for women is meant to be in text." 
Students also question whether the film will include the scenes that give the story detail. "After having read the book and hearing how many scenes will be cut from the movie, I am a little disappointed," Blair Aaryn, FCLC '16, said. 
According to Adjunct Professor of Communications and Media Studies Heidi C. Bordogna, "I haven't read the books, but from what I understand, 'Fifty Shades' seems like more of a 'safe fantasy' which could end up being watered down. The film, 'Secretary,' has been talked about as being more realistic than 'Fifty Shades,' so it'll be interesting to find out how it ends up being delivered."
The film managed to slide by with just an R-rating. It was British director Sam Taylor-Johnson's determination and attention to detail that kept the "Fifty Shades" film away from the NC-17 rating. According the article, 'Jamie Dornan on Not Going Full Frontal in 'Fifty Shades of Grey,' Being a Feminist' on Hollywood Reporter, Dornan, who plays Christian Grey in the film, announced early in production that he would not be showing everything in the film. Even though fans were hoping to see everything, they will still be getting their fill of Mr. Grey on Valentine's Day.
"Instead of a woman with unrealistic features, [we'll see] Mr. Grey as a super attractive, super wealthy man who's ready to 'get down' whenever," Nerup said.
In reports from the Huffington Post, there were also fan complaints when Dornan was cast as Mr. Grey. "They could've chosen a hotter Mr. Grey like Sean O'Pry or Matt Bomer," Daniel Salas, FCLC '16, said.  
In a statement released by E News, Johnson, who plays Ana Steele in the film, hopes to be an advocate for women to look up to as someone who is not afraid to express herself like her character, Ana, from the trilogy. The upcoming film will bring in many more fans who haven't read the books and provide them with that opportunity for courage and self esteem.
It seems as though Johnson will influence many young women with her role. "The book 'Fifty Shades' is a piece considered as women's erotica, as is the movie, and I personally do not watch porn, but I support the right for women to indulge in fantasy and erotica just like men," Aaryn said.
Universal Pictures bought the rights to the entire trilogy. If it turns out to gain a large fan base like the "Twilight" saga, then it is sure to be very successful for years to come. Do you think "Fifty Shades" could be a Valentine's tradition in theaters in the future?