Subway to Stage: Student Choreographs for Global Harmony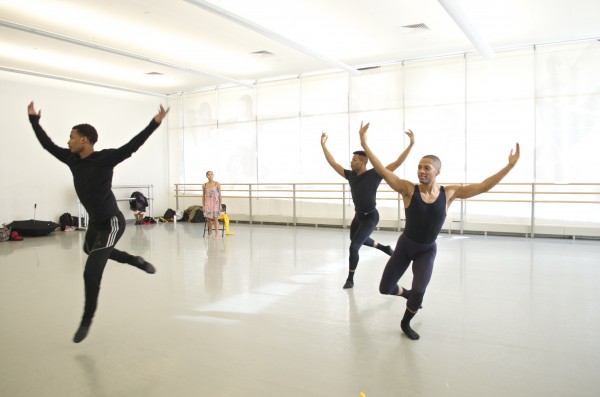 On Feb. 11, Alvin Ailey's most recent annual show, Global Harmony, had dancers and choreographers from the professional division bring in many of world's cultures to life through the art of music and movement. One of the choreographers from the BFA/Fordham Ailey program, Robyn Ayers, Fordham College at Lincoln Center (FCLC) '16, wanted the audience to see the everyday chaos of riding New York City's subway through dance.
According to Ayers, the whole inspiration for the piece came from her daily commute on the D-train from Lincoln Center to Rose Hill.  "Last summer, I worked at the library at Lincoln Center full-time, but as a student worker, I was assigned housing up at Rose Hill. I found that it was actually cheaper to take the train than the Ram Van back and forth, so I rode the train at 7 a.m. and then again at 5:30 p.m. during rush hour. It was always really hectic, with everyone pushing and shoving," Ayers said.
On her commute, Ayers noticed the different reactions of people who weren't accustomed to riding the subway. "There were always people help a map, with a very confused look on their face. There were also some people who just stopped and looked around, and realized that they are on the wrong train or the wrong side of the platform," she said. "I [had] been picking up on the vibe of stations and trains throughout the summer."
Ayers discovered a song that summed up her commute on the D-train, and thus formulated the idea for the choreography of her piece. "After listening to this one playlist, I came across a song that really fit the energy I came across on the train station. Then I came up with the idea: what if I translated this idea into dance, and what would that look like – what if I translated the attitude of a tourist into different dance movements," she said.
Ayers decided to use a John Powell score from the film "Night and Day" in her choreography. "Once I found that song, it dictated the 'when, where and why' of the choreography. Afterwards, I had a friend help me edit in some additional subway and crowd sounds into different spots of the music, so it could be a little bit more self explanatory to the audience." 
When working with the dancers, Ayers said that coming up with the choreography involved a lot of testing. "There was a lot of experimentation in regards to making the piece. This is my first time working with such a large group on a big scale project, so I was very fortunate to have such an intelligent cast. They told me when things didn't seem to make sense," she said. 
Shaina Oppenheimer, FCLC '17, a dancer in Ayers' piece, said that it was a fulfilling experience to work with a peer on her choreographed piece. "As a dancer, it is a great experience to work with your peer choreographer; when it's student choreography rather than a professional, you feel a little bit more of the process as normally." 
According to Oppenheimer, Ayers encouraged the dancers to focus on the hectic patterns of New York City's transit system. "It is about a girl who can't get to where she needs to be, and how everyone else on the subway is focused except for her. It plays into the chaos and patterns of the subway," she said. "Our piece is light and happy, and it pokes fun at something that we take part in everyday." 
When audiences watched the performance, Ayers hoped that all saw how everyday experiences were exhibited through dance. "I want them to say to themselves, 'Hey, this is something that happens to me everyday on the subway!' I want [the audience] to have fun with it," she said.