Law Classrooms Available for Club Use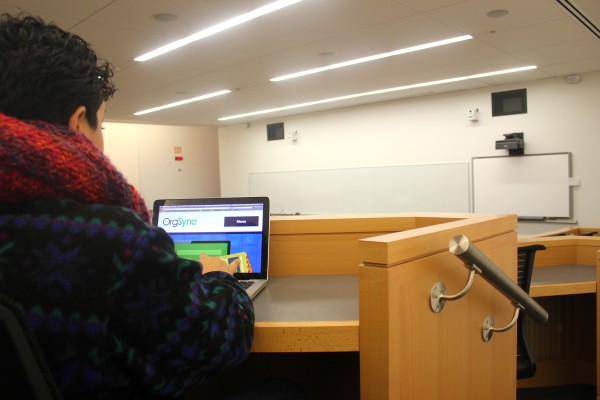 Despite the addition of seven new student clubs last semester, the lack of programming spaces for clubs at Fordham College at Lincoln Center (FCLC) is set to ease this semester with help from the Law School. If there is a lack of space for any official student club event following 5:30 p.m., club leaders are able to reserve a classroom in the Law School building for a small meeting or event, according to Dr. Dorothy Wenzel, director of the Office of Student Leadership and Community Development (OSLCD).
The reservation system is an improvement on an older reservation system, rather than an active move toward finding additional spaces. "We [now] have a system called 'Two-Five-Live,' where any administrator in the University can log on and reserve a room … now that everybody in the University is on this online system, we [administrators] can go in and see if anything is available," Wenzel.
This system replaces a system called 'R25' from the same online vendor, "which the law school did not have access to [previously]," Wenzel continued, "We never availed ourselves of asking [for rooms], because before it was sort of a waste of time." According to Wenzel, the Fordham Law School previously ran on a different electronic reservation system than the undergraduate school, so there was no way to know of a room's availability save "bombarding them with emails to see if this or that date would work," she said. 
Christina Frankovic, assistant director for programming at Fordham University, agreed that it was a better system, She said, "the previous operating system was based on your desktop, this new system is based online so you can access it from anywhere … there hasn't been any real issues, because it's much better than the previous system ['R25']."
Georgina Owolabi, FCLC '16 and vice president of the Black Student Alliance (BSA), believes that this will be "a benefit to clubs wanting to hold events," she said. "Plus I think that it'll help integrate the Fordham community with the law school as well." 
OSLCD is currently only focusing on events that do not have food, as this is another difficult field of policy to navigate. "The official policy is similar to the policy of Lowenstein in which is food isn't allowed in classrooms," Wenzel said. "The [law] classrooms would be more for small meetings and talks."
Maya Van Peebles, FCLC '15, treasurer of Deaf Education and Sign Language Club (DEASL) said, "It's a great idea, because the classrooms in the law school are so much nicer and larger than the small rooms we have here. They'd be really good for talks and events."
While the intention of this change is to provide space for club events taking place at night, very large spaces such as the Constantino and Bateman Conference Rooms are technically available for reservation. "Those rooms are available for any department in the university to reserve, though in my experience … clubs shouldn't get their hopes up," Wenzel said.
Wenzel compared the usage of the second floor law conference rooms to the rules imposed on holding events in the 12th floor lounge of the Lowenstein building, "It has to be a level of club event that warrants the use of this nice big space." She said, "There are club events that could warrant that, but there aren't any [spring] dates where they're available right now."
These new reservation options, which include floors two through eight in the Fordham Law School building will most likely come into real use after March. "Literally, when we get to those six weeks after spring break, clubs are routinely trying to get an event when there are no available spaces," Wenzel said. 
Wenzel concluded that this new policy will be an extension of the current policy on classrooms after 5:30 p.m. "Enrollment blanketly says there's no space when there is some space … and a couple of nights we can find an option to help with the 'night crunch' later in the semester," she said.