Fordham Falls 48-13 on Homecoming
Loss Drops the Rams to 0-3 in Patriot League Play, Ends Chances for Repeat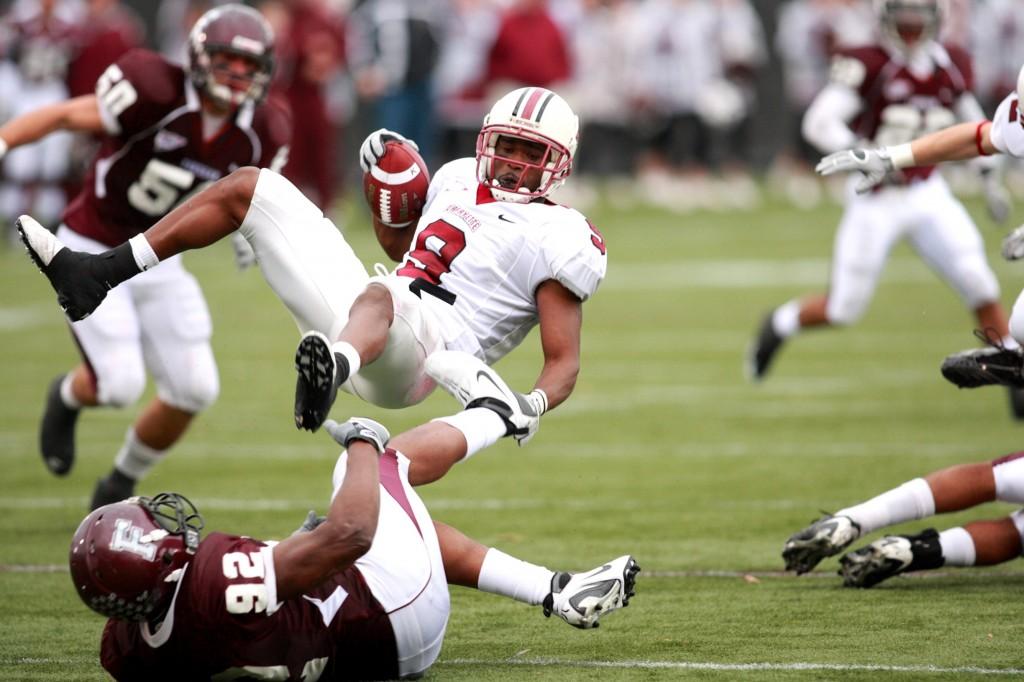 Published: October 30, 2008
Looking to define the 2008 Fordham University football season in a nutshell? Try the third quarter of the Homecoming game against the Lafayette Leopards on Oct. 25.
Fordham marches 77 yards on six plays, capping the drive with a 14-yard touchdown from quarterback John Skelton, CBA '10, to Clayton Busch, FCRH '11. But 12 seconds later, Lafayette's Greg Stripe is catching his breath in the end zone after returning the ensuing kickoff 80 yards for a score, 48-13 in favor of the visitors.
Goodbye, Patriot League title.
With the most recent loss, the Rams drop to 0-3 in Patriot League play and essentially forfeit their defense of their 2007 league championship.
Discouragingly, it seems the Rams find a new way to dig themselves into a hole every week. Against Colgate on Sept. 27, Jordan Scott built on his all-time Patriot League rushing title with 272 yards and four TDs. The game's next leading rusher was Colgate's quarterback, Greg Sullivan, who pitched in with 125 yards of his own. Sullivan completed four passes over 60 minutes and Fordham still lost 31-24.
The next week at Lehigh, the Rams allowed a scant 120 rushing yards but let up 330 through the air, many coming on an arsenal of trick plays. Skelton, for his part, threw for 265 yards and one touchdown. But interceptions spelled the difference; none from Lehigh, two from Skelton, resulting in 10 points.
The Homecoming debacle was the result of missed opportunities and miscues. The Rams converted just three of 14 third down chances and were 0-2 on fourth down. Head coach Tom Masella's squad also racked up nine penalties for a devastating 205 yards.
The problem with this team has nothing to do with X's and O's or lackluster effort. It's just impossible to tell which Rams team is going to show up. Three times this season Fordham has followed a victory with a loss, a trend that begin after the Rams stormed out of the gates with a 16-0 blanking of Rhode Island and then allowed three second half turnovers in a loss at Dayton.But there are many pieces of this team that work. Despite running back Xavier Martin's, FCRH '11, flashes of brilliance—155 yards and four scores at Columbia on Sept. 20—the focal point of the offense is Skelton. He's thrown for at least 200 yards in every game this year, good for second in the Patriot League. This is all the more impressive given the horrendous pass protection—13 sacks—and shaky receiver core. These two problems are often one in the same, as too often Masella attempts to spread the field with four receivers, hanging the offensive line out to dry and leaving his quarterback to face
the pressure.
Masella may not admit it, but its time to start playing for next year. In all likelihood, Skelton will be calling the signals again in 2009 and a large portion of the lineup will be returning. This includes the defensive core of linebacker Andre Delaire, FCRH '11, linebacker James Crockett, FCRH '10, and defensive back Isiejah Allen, FCRH '10. Maybe another year of experience will produce consistency on both sides of the ball in '09, but mixing things up the rest of the way in '08 is worth a try, especially against easily beatable opponents like Marist and Georgetown.
"We need to do a lot of soul searching, because right now it's not pretty," Masella said after the Lafayette loss. Maybe the Rams only need to search in the unused pages of the playbook. Either way, something needs to change.