Counterpoint: Why Kobe is the Knicks' Best Solution
The Knicks are 4-18 and going nowhere fast. In the midst of their 54-win season two years ago, it seemed as if the Knicks had a chance to beat any opponent. Now it seems as if there's a legitimate shot that they can lose to any team and no one can help. Enter Kobe Bryant.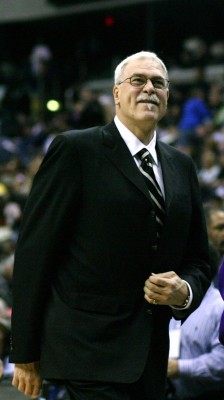 It isn't often that a team has the opportunity to acquire a player of Bryant's caliber. He recently became the first player in NBA history to score 30,000 points and tally over 6,000 assists. He knows the triangle offense extremely well, something Head Coach Derek Fisher and team President Phil Jackson are pushing extremely hard and has won several championships running it. Unless Michael Jordan or Shaquille O'Neal come out of retirement, Kobe is the best option for the triangle offense. 
For years now, the Knicks have sold the fan base on the idea of clearing cap space and waiting for key free agents to become available. It happened in 2010 with LeBron James, Dwyane Wade and Chris Bosh, and then later with Chris Paul and Dwight Howard. The common theme with all of these players is that they elected to sign elsewhere as free agents. Even free agents who weren't on a superstar level, such as Pau Gasol, gave the Big Apple the cold shoulder as he headed to the Windy City to join the Bulls. 
The Knicks' waiting game is extremely problematic because the minds of many decision-makers in Knicks management are filled with delusional thoughts that make the Knicks seem to be a more attractive destination than they really are. In reality, they are a franchise that hasn't won a championship since 1973 and has just won just one playoff series since 2000. 
The worst part is that they're doing it again. The only players under contract for next season are Carmelo Anthony and Tim Hardaway Jr. However, J.R. Smith, if he isn't traded, will have a player option that he will undoubtedly exercise. Iman Shumpert and Quincy Acy are restricted free agents, giving the Knicks the chance to match any offer that is made to them. Realistically, there is a shot that Hardaway, Shumpert and Smith are all traded, giving the Knicks a one-man roster next season and a fresh start.
Many fear that dealing for Bryant would eat into their future cap space. Rajon Rondo and Marc Gasol headline the 2015 free agent class, and right now, Kevin Durant is expected to be available in the summer of 2016. Bryant is due to make $25 million next season, which, when combined with Anthony's salary, will combine for $48 million of the Knicks' cap space. 
If you think the Knicks will be able to sign Rondo or Gasol and they will be key contributors, then adding Bryant wouldn't make much sense. Still, Rondo and Gasol will likely demand max contracts – and at that point, are they better fits than Bryant, who currently leads the NBA in scoring with 25 points per game? 
Pairing Bryant and Anthony together would give the Knicks two of the most lethal scorers in the league. Both would require double teams, and create more looks for teammates when they aren't putting the ball in the basket themselves. 
Furthermore, they would make the Knicks watchable. Right now, they are a one-man team that looks inadequate on both sides of the court. Although most indications are that the Lakers have no interest in trading Bryant, they are currently 5-16 as well and are looking for a high draft pick and a clean rebuild. Dealing Kobe would likely give them a better draft pick and more cap flexibility, even though parting ways with the star of the team for 18 seasons would be difficult. If Bryant becomes available, the Knicks should jump on the opportunity.