Undergraduates Banned from Maloney Library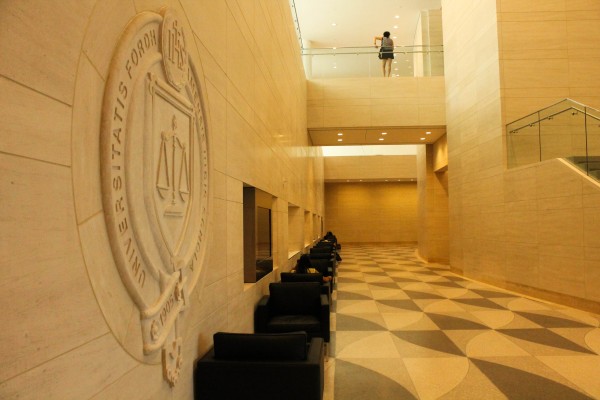 Undergraduates at Fordham College at Lincoln Center's (FCLC) campus were banned from the Law School Library on Nov. 24. The T.J. and Nancy Maloney Library is currently exclusive to members of the Fordham University School of Law (LAW) until after winter break.
"The [Law School] administration has its reasons for the restriction of access to law students," Dean of Students at FCLC, Keith Eldredge, said. "In all likelihood, the plan would be to implement this [restriction] at every [Fordham Law School] exam period going forward," Eldredge continued. "After exams end, the library would go back to full use for anybody in the community."
As of Dec. 1, Eldredge made the official announcement about alternative study spaces opening up to undergraduates effective Dec. 10. The email announcement accentuated Quinn Library as the undergraduate study space, including McKeon 2-01A being designated a study annex starting Dec. 2 open through out finals. Additional annex locations include McMahon 109, the former Faculty Dining Hall now known as PL100, and Schmeltzer Dining Hall, more commonly known as Slice of Life, The Grille At 62nd and Sammie's, has now extended its hours during finals to make up for the late hours of the now off-limits Jazzman's Café. 
According to Eldredge, law students will not be barred from Quinn Library like undergraduates have been restricted from Maloney.
Noise disruption in Maloney appeared to be the main complaint of the law students. "Primarily complaints were about noise levels, though there were also complaints about alcohol. On one occasion, there was an excessive amount of alcohol found in a study room," Eldredge said.
As Maloney is situated in the same building as McKeon Hall, it is many freshmens' preferred study space. According to Megan Crane, FCLC '18, it is affectionately known to her and others as the "Lawbrary."  Crane said,"I relied so much on it to study because it's such a quiet space … It kept me so focused."
Crane had heard rumors of law students getting annoyed with undergraduate students for using their library. "But I don't understand why they would ban us if it's helping us get our work done," she said.
Dillon Reebok, Gabelli School of Business at Lincoln Center (GSBLC) '18, agreed with Crane. "I think it's ridiculous because it's also one of our dining areas because of Jazzman's [Café]." Jazzman's Cafe is located on the second floor of Maloney, and is the only dining option open Sunday afternoons, from 12 p.m. until 9 p.m. Reebok, however, wasn't concerned about a potential lack of study space, "but it's more of a nuisance that we can't than an actual concern."
However, the law students are concerned about space and sound issues. Evan King, LAW '15, said, "it's difficult to even get a seat." King continued, "If I go up there, I need to be able to sit down immediately, and I'll probably be there for 12 hours [studying]."
He continued, "After being an undergrad and going through the same set of undergrad finals, being in law school, it's a different game."
"Quinn Library is available as a resource more geared toward [undergraduate] classes and studies," King also said. "I don't really see why a law student would ever need to go get materials from Quinn [Library] … The quiet place to study in a library setting, both places meet that need."
In an email interview, Michael Martin, dean of the Fordham Law School, said, "I'm very pleased that the new building has allowed the Law School to be more integrated into the life of all students at Fordham's Lincoln Center campus.
"At the same time, we have to ensure that the Law Library continues to meet the needs of law students in providing a quiet place for their focused study in preparation for and during exam periods. Therefore, I made the decision to limit access [to] non-law students during exam periods," Martin continued.
Law students seem to approve of the ban, as they feel their study space is "much quieter," Melissa Fabi, LAW '16, said. She continued, "Undergrads tend to talk more, it breaks your focus; they're rowdy and laughing with their friends and there are a lot of them … it's really disruptive toward us." When asked about the current state of Maloney Library, Fabi added, "It's absolutely quieter, you can actually study there now and I think [the ban] should be year-round." Kiran Gill, LAW '16, agreed with Fabi,  "We're starting to form a petition to make the ban year-round because it feels so disruptive to have [undergraduates] present." 
Though the ban is now set for undergraduates, law students are still allowed access to Quinn Library. "For 1L [First year] legal research classes, they ask you to find older laws there [in Quinn]," Gill said. "But for regular classes, everything you need is in the Law Library, and for journals, everything you need is in the Law Library."
Undergraduates, especially those who are not freshmen feel this restricts them even more from the new building. Miriam Ambrosino, FCLC '17, said, "I think it's a great thing that our campus has these new spaces, and banning the law library nullifies that this year is a new year for Fordham students … it just seems like the whole new building is off-limits to us." 
Hunter Lang, FCLC '17, also used Maloney Library, and agreed with Ambrosino's point that there is no access for upperclass students in McKeon Hall as a whole. "The only place I've really been in the new building is the law library, and now I can't go there," she said.