Best Coast to Headline Third Annual WinterFest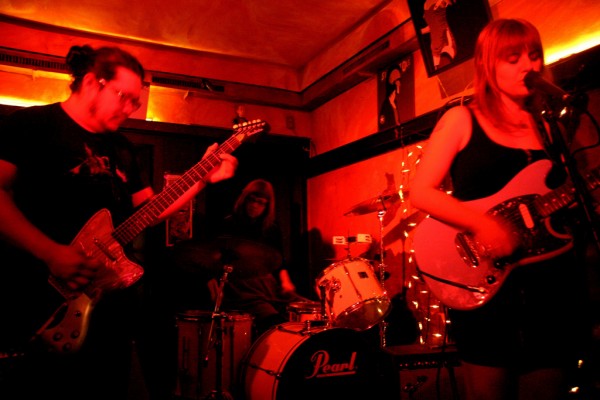 Additional Reporting by Ian Schaefer and Connor Mannion.
Best Coast, an American rock duo, will headline the third annual WinterFest Concert at Fordham College at Lincoln Center (FCLC) on Friday, Jan. 23, 2015, the WinterFest Concert committee announced today during the Winterfest Artist Release Party.
The event, which took place in the Student Lounge, followed the United Student Government (USG) Tree Lighting on the Robert Moses Plaza.
Molly Hellauer, FCLC '16 and Chair of WinterFest Concert Committee, discussed how the committee chose Best Coast. "We start our search by looking at artists, who fit in our budget, and once we have a shortlist of four to 7 seven, we poll the FCLC community. Then we make a decision among the committee on who would be the best performers for the FCLC community," she said.
"I know that we were really leaning toward Best Coast," committee member Emma Lemar, FCLC'15, said "It's really exciting we could get them because I feel even if you don't know them; their concert will be really fun and have a lot of energy."
Best Coast was formed in California in 2009, and consists of songwriter, vocalist and guitarist Bethany Cosentino and guitarist and multi-instrumentalist Bobb Bruno. Best Coast's first studio album, "Crazy for You," reached #36 on the charts when it was released in 2010. Their second and latest studio album, "The Only Place," has reached #24.
Students at the release party had a variety of reactions. Leighton Magoon, FCLC'17, expressed his excitement at getting to know a new band. "Last year, I had never heard of Dr. Dog before they performed and when I went to WinterFest, I was really happy with the performance. It seemed like from what the consensus was, the reaction was pretty good, and I'm looking forward to it," he said. 
Kelveen Fabian, FCLC '17, agreed with Magoon. "I've never heard of Best Coast, but from what I've heard it sounded pretty good so I'm pretty excited. I like to explore new music," he said. 
Andrew Donchak, FCLC '18, was impressed with the committee's excitement. "It's exciting. I initially had my doubts about the whole event, but after tonight, I'm really pumped for the whole thing. It's going to be fun."
With the concert less than two months, advertising and promoting the event are next on the agenda for the concert committee. "We're going to start the push for advertising, get the name of the band out there and get students to know the date and most importantly, know who's coming and get excited. Tickets start the first week of classes at 4pm on the Plaza and we're selling tickets straight through to the 22nd," Hellauer said.