Carry That Weight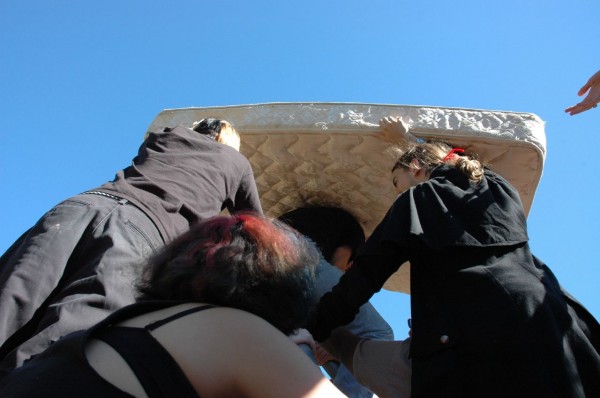 While many of us are still planning our schedules for next semester, trying to make everything fit, Columbia University senior Emma Sulkowicz is figuring out how she'll get an extra-long twin mattress with her everywhere she goes on campus. Sulkowicz has been carrying a duplicate of her dorm mattress with her on Columbia's campus since the beginning of the year, in an extremely powerful piece of performance art entitled "Carry That Weight." In her sophomore year, she says, a fellow Columbia student raped her, and a university investigation found him "not responsible." She plans to continue carrying the mattress until her assailant is expelled, or until she graduates in May, if that comes first. On Oct. 29, students held solidarity protests at colleges across the country, including at Fordham's Rose Hill campus, carrying their own mattresses or pillows and calling for an end to campus sexual assault.
Large, one-time events like the solidarity protests are important. They get the attention of the press, open up the movement to newcomers and demonstrate the extent of both the problem and the desire for change. But like the pillows some students carried, these events are more decorative, less weighty. In the end, change will be made with patient, often invisible work between administrators and the students who commit to staying involved.
Students who participated in the solidarity protests or who have followed Sulkowicz's story in the media shouldn't let that be the end of their actions. They can reach out to relevant campus groups who have started to engage with administrators (At Fordham, In Strength I Stand [ISIS] or its Rose Hill counterpart, Women's Empowerment, would be good places to start). We also can and should contact administrators directly with questions and suggestions about the sexual assault policy. Small, concrete steps, like proposing a revised definition of consent or new material to add to CORE programming, would help move the process forward. Solidarity protests send a big, passionate message and it is crucial to translate that message into specific changes in university policy. Without sustained engagement to continue this work, the messages of the solidarity protests could all too easily fade from our collective consciousness.
Sulkowicz's story came on a rising tide of attention on the problem of rape and sexual assault at colleges. In May, the U.S. Department of Education's Office of Civil Rights released a list of 55 colleges and universities being investigated for Title IX violations regarding their handing of sexual assault cases. The list has grown to 85 schools since then. Colleges have been in the spotlight for months as weaknesses in the judicial process for rape and sexual assault allegations are exposed and more student survivors add their voices to the storm.
All that attention has started to produce some results, which we should celebrate. Many colleges, including Dartmouth, Harvard, Princeton, the SUNY system and the Cal State system, have since made changes to their definitions of consent and sexual assault and to their judicial processes for handling allegations. Many more colleges have such changes underway. The nationwide "Carry That Weight" solidarity protests show that the momentum that led to these changes has not slowed yet, which is vital.
Now is the time for endurance. Sulkowicz is making her endurance visible, physical but a similar resolve is needed from everyone who wants to see a more just system for sexual assault survivors. Even when administrators are fully supportive of student demands for change, the process of changing university policies is never going to be a quick one, and it's important to keep the pressure on university administrations until they make the changes necessary. Let's commit now to these quiet, behind-the-scenes changes so that future students do not have to carry the weight of sexual assault.