Dorothy Day Goes to Washington, D.C.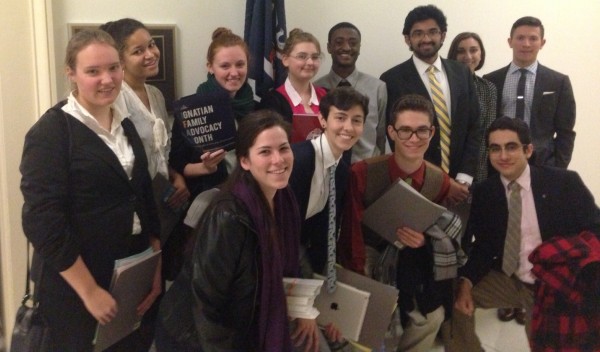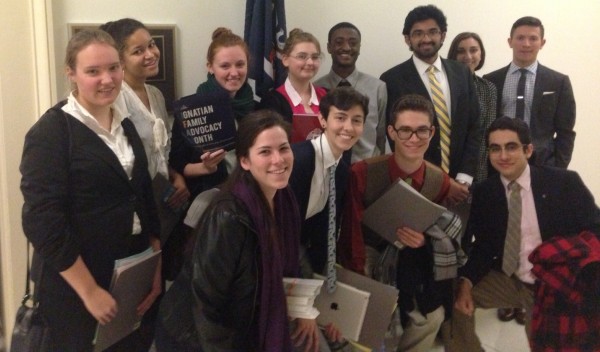 Sitting just beyond the glass wall doused in colorful block letters and team member baby photos, four Dorothy Day Center activists have eager, passionate expressions on their faces, ready to speak about this year's Ignatian Family Teach-In 2014 (IFT). IFT, a component of Ignatian week at the Fordham College at Lincoln Center (FCLC) and Rose Hill campus, is a Jesuit conference for students, which was held in Washington D.C on Nov. 15 through 17. Over 50 Lincoln Center and Rose Hill students representing Campus Ministry, Global Outreach (GO!) and the Dorothy Day Center for Service and Justice attended this year, along with six Fordham faculty members. 
Hunter Blas, FCLC '17 begins, "The Ignatian Family Teach-In is a conference run by the Ignatian Solidarity Network, a network of Jesuit institutions, both colleges and high schools, and Fordham is a member." She goes on to describe IFT's origin, memorializing the martyrdom of six Jesuit priests of El Salvador in response to U.S. Involvement at the University of Central America in San Salvador, El Salvador. This year marks the 25th Anniversary since the martyrdom. "We go to the IFT conference to represent Fordham and Dorothy Day because it is for service and justice, mission and ministry," Blas continued. Each year, the conference consists of breakout sessions and keynote speakers, discussing a particular theme chosen for that year. Additionally, students have the chance to lobby congress with their conclusions at the end of the conference. This year, the 2014 theme is "Uprooting Justice. Sowing Truth. Witnessing Transformation." The issues that were discussed and lobbied for included environmental rights, immigration and foreign policy in Central America. Speakers included Fordham's very own theology Professor, Michael Lee as well as two Fordham students, Scarly Rodriguez, FCRH '16 and Sarah Allison, FCRH '16. 
When asked why each member has chosen to attend IFT this year, each participant had a lot to say. Jalen Glenn, FCLC '16, said that he was inspired to attend IFT after he took a class on Latin America and the U.S. "I'm very interested in lobbying for a shift in foreign policy, and immigration reform is also a pretty important issue for me," Glenn said. Glenn also remarked that lobbying would be an interesting experience due to the recently established congress from early November 2014 elections. 
Blas chimed in once again and said that she chose to attend IFT for a second time. "IFT transformed my Fordham experience because it basically was my gateway to be involved with [the] Dorothy Day [Center]," Blas said. Blas passionately maintained that she built a community at the teach-in last year, and she learned a lot. "I became hooked on [the] Dorothy Day [Center] and social justice, and I made it a point to try to go all four of my years here!" Blas finished. 
Aakash Kumar, FCLC '17 burned with the same fervor and said that he is attending IFT this year after being inspired by a talk he attended at the Rose Hill Campus about the six Jesuit priests and two civilians that were killed in El Salvador in 1989 during the Salvadoran civil war. "They were all there for a specific duty, to fulfill their obligation to Christ—a form of liberation theology—I saw what they were doing at IFT is carrying out what they've done by learning about these issues and lobbying congress—carrying out their [the priest's] goals after their death," Kumar said. 
Finally, Rachel Ninomiya, FCLC '18, noted that this would be her first year attending the teach-in. "I'm really interested in the issues that are being discussed, things like environmental reform and immigration. I'm from California and I went to high school with a lot of kids from illegal backgrounds that had to go through the process of legalization—it's a cause I'm interested in lobbying for, for sure," Ninomiya said. 
All four of these student leaders got involved with Dorothy Day through its programs such as Urban Plunge and IFT. Students have spent the semester so far to raise funds for their trip and collect signatures in support of the changes they were calling for  to deliver to U.S. Representative Jerrold Nadler of New York's 10th District, who represents the area ofthe city which FCLC calls home.
After the conference, Glenn came to a poignant conclusion. "While there, I established connections with students from other Jesuit institutions by engaging in honest dialogues about social justice issues that we are passionate about. In addition, meeting with a member of Representative Jerrold Nadler's staff showed me that I can initiate the changes I want to see in the world," Glenn said. 
Returning inspired, the team is eager to to bring back with them the Ignatian values learned at IFT and introduce them to the Fordham Community. "I was empowered by how receptive the staffer was of not only my voice, but my peer's voices as well. I plan to bring the knowledge gained from these experiences back to Fordham so that I can continue to uproot the injustices that impact New York City," Glenn said.
"We haven't figured out what that's going to look like yet, but we have a basic conversation planned," Ninomiya said of the students' desire to introduce IFT values to the larger Fordham community. Students who visited believe that  IFT values of justice, human rights and policies will benefit the larger student body at Fordham, who represent future politicians, lawyers, doctors, journalists and leaders of society. 
After his experience at the conference, Kumar also agreed that IFT had changed his social perspective for the better. "I found that the power to make a change in the world, whether recognizing racism or men and women working together to solve gender inequality, rests in our hands, and that we are the ones who must carry the burden of the martyrs, even after IFT, through uprooting the injustices of our time, sewing the seeds of restoration and witnessing the eventual transformation of our love towards others," Kumar said.