Kenny Leon Appears on Randy Cohen's "Person, Place, Thing"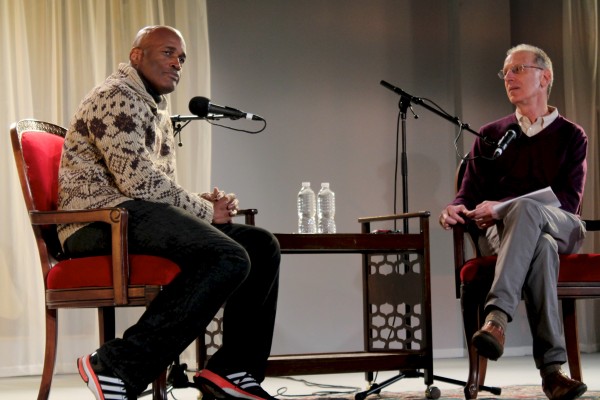 On Monday Nov. 17, Randy Cohen held a second live radio broadcast of "Person, Place, Thing" in Fordham College at Lincoln Center's (FCLC) Pope Auditorium. Denzel Washington Chair in Fordham Theatre Program, Kenny Leon, joined the Primetime Emmy-award winning radio host to give audiences an inside scoop on his person, place and thing. 
Leon, a Tony Award-winning Broadway and film director, is recognized for his work on Broadway and film "A Raisin in the Sun." He has worked with numerous Hollywood celebrities including Denzel Washington, Samuel L. Jackson, John Stamos and Morgan Freedman. He has also worked with the first Denzel Washington Chair in Fordham Theatre, Phylicia Rashad, in two films. 
Denzel Washington Endowed Chair in Fordham Theatre is a faculty position to which Denzel Washington, FCLC '77, made a $2 million endowment as well as an additional $250,000 for the Denzel Washington Endowed Scholarship for undergraduate students studying theatre at Fordham. 
As an actor and lover of the theatre himself, Leon expressed gratitude to be on the radio show program, "Person, Place, Thing," which was created and is hosted by Randy Cohen. This taping was a live broadcast Leon revealed his most memorable place, person and thing.
Leon's most memorable person is his mother. "My person is Annie Ruth. That's my mother. My mother was 15 years old when I was born." 
He explains that he was the oldest of two siblings and his mother, as a single parent, started working and left her children in the care of their grandmother. "She was going to make a living, as a single parent, and a way for us in life," Leon said. 
He explains that his mother was the last person who wanted him to act. "My mother and stepfather were making $10,000 a year," he said. Leon participated in a federal Upward Bound program that prepares students who are from low-income families for higher education which he explains had helped him.
Eventually, his mother gave him her blessing saying "that acting thing is okay" after seeing him in an advertisement. 
When Cohen asked Leon about his most memorable place, Leon said, "My place is Las Vegas." To which, the audience laughed. He explains that after telling some people that his memorable place is Las Vegas, people have told him "that's the gambling place." But he countered and said, "My wife and I have been going there and it is so incredible."
"You have to know how to do it. You have to go to Las Vegas and say: okay, I have two hours for gambling. Then, our budget is $500. So we head over to the penny slot machine. Now, when you go to the penny slot machine you have a good chance of winning."
Leon continues to explain how the Grand Canyon is another memorable place and how it offers a sense of spirituality. Cohen replied and said, "You are the only person who sees Las Vegas for nature."
Leon's valuable "thing" is a three wood golf club. "One day, I went out for a golf lesson and got my golf clubs and shoes and hit about two buckets of golf balls and hit one ball and was like, oh my God. I mean, up until that time sex was the closest thing to that feeling I got. Golf taught me everything that I need to know about life," Leon said.
"You're so upbeat," Cohen said. 
"I am an upbeat person. I'm above the ground. I was taught by my grandmother and mother that I have to figure out what my purpose is and to serve that purpose," Leon said. 
To conclude the program Leon stated "I want to give whatever I have and it is a joy every Monday [when he teaches his Fordham class] and I'm glad I agreed to the Denzel Washington Theatre Chair."