Tinder: Microcosm of What We Do in Life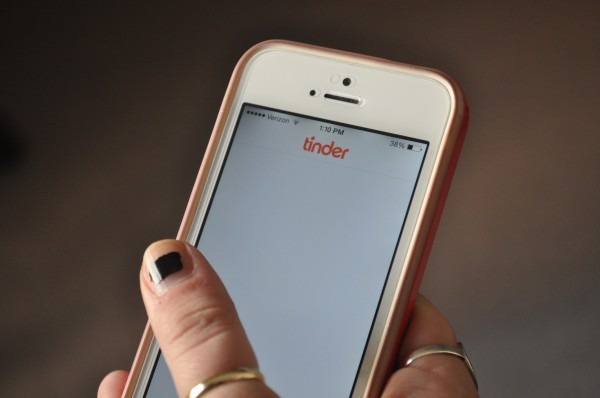 Websites like Facebook and Twitter have become integral parts of our generations' lives and as social media evolves, so does the way we communicate and receive information. This evolution has also changed how we date. With apps like Tinder, online dating is no longer taboo and has become accepted as normal in our generation. While Tinder specifically is often dismissed as superficial because of its matchmaking process based on appearance, it is simply a microcosm of what we do in real life. Despite allegations that we are lowering our standards, we are simply expanding our options.
Tinder is location-based and takes users' information from Facebook to create a profile, which consists of a few photos, a short bio, mutual friends and interests. The app presents photos of people who fall into the user's preferences (gender, age and distance) and the option to swipe right in affirmation or to swipe left in rejection. If two users swipe right to one another's photo, then they can chat and decide what to do from there. Yes, it is shallow to swipe right if you are satisfied with the level of attractiveness and to swipe left if you are not, but isn't that exactly what we do everyday? We choose whom we approach and whom we do not. We exchange information, learn more about the other and then decide what the relationship will entail. Tinder simply provides the opportunity for people who are unlikely to meet otherwise.
Whether or not Tinder is a trend, it is not changing how we are dating. There will always be the lucky few whose well-established friendships will turn into romantic relationships, and those who meet their soulmate by chance of fate. Everyone else will either go on Tinder or other alternative dating solutions to meet new people, decide to meet people the old fashioned way or wait and let life run its course. Regardless of the approach, once people meet, dating is the same. They make plans, they show up, they call one another, they plan another date and so forth. Tinder is simply an extension and an improvement of how we date. With the elimination of vulnerability, as users do not have to deal with rejection to the same extent, and the added reassurance of a mutual attraction, Tinder allows users to approach dating with more boldness. Therefore, despite varying intentions of Tinder users, skeptics of online dating should rejoice for those who have not prevailed with traditional dating, as they now have a low-stress and safe dating option that allows them to possess an extra level of confidence.
The argument that many Tinder users have questionable motives is irrelevant, as this is also an issue outside of Tinder. However, in any situation, if intentions are not mutual, then people can move on. Similarly, the idea that Tinder adds vulnerability instead of eradicating it is also extraneous. With increased pressure to have a photo that captivates people, and the desire to receive as many matches as possible, Tinder can be detrimental to self-esteem. However, users need to be confident and patient, just as they need to be outside of Tinder.
The bottom line is that people have the right to find love in whatever way they choose, and if they decide to utilize technology, all the power to them. The goal of Tinder is to introduce two matches and to provide them the opportunity of communication. Restaurants, small talk, flirting, flowers and any other dating clichés can follow. Real-life interaction and human connections are not being thrown out the window. In fact, Tinder does the opposite, and while there are no available statistics or success rates (yet), Tinder continues to introduce people who have no intention of swiping right or left again.