Comedian Mike Birbiglia's "Sleepwalk With Me" Off-Broadway Months After FCLC Performance
Published: October 30, 2008
Each night, comedian Mike Birbiglia has to sleep inside a sleeping bag with mittens on his hands. Why? You'll just have to go and see "Sleepwalk With Me," a new comedy being performed off-Broadway that Birbiglia both wrote and stars in, to find out. With stories about bears, love and a Hooters girl with a lop-sided chest, the show ultimately details how Birbiglia's experiences with a severe sleepwalking disorder "almost killed him."
Birbiglia, a New York-based comedian, has had three Comedy Central specials, two albums and numerous appearances on talk shows and at festivals around the country.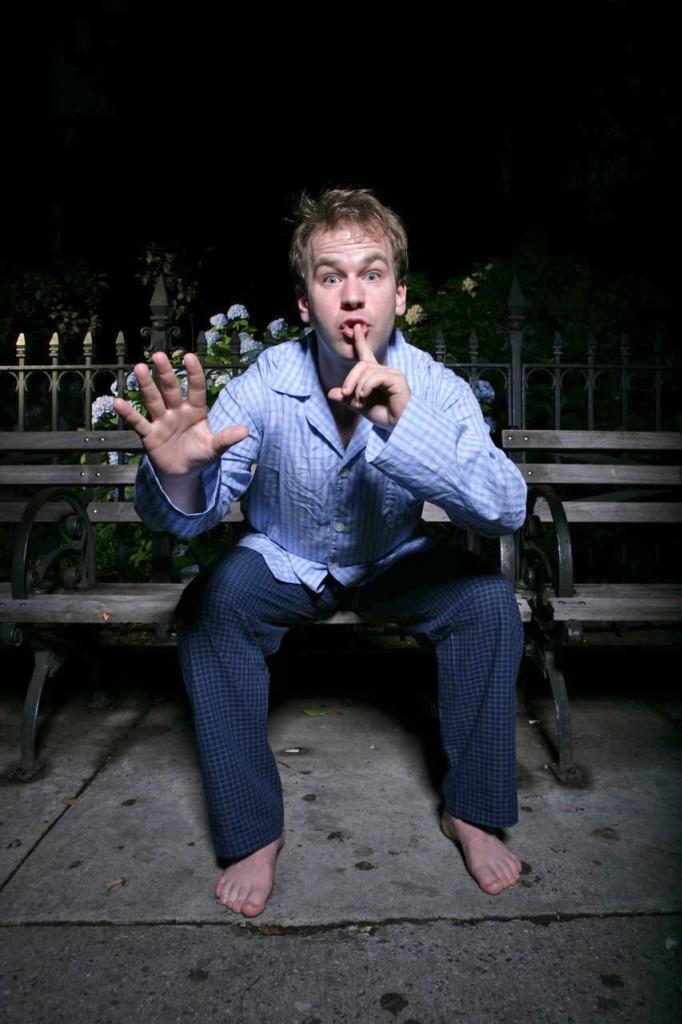 Observer: When did you first start coming up with the idea for "Sleepwalk With Me"?
Mike Birbiglia: I was a playwriting and screenwriting major in college, and I started writing this play about sleepwalking and this relationship that I was in. It was kind of an off-beat romantic comedy mixed with sleepwalking, and over time, it evolved into a one-man play. So I basically started doing the one-man show in comedy clubs, colleges and theatres. Then I started working with a director, Seth Barrish. He started to help me sculpt ["Sleepwalk With Me"] into something more. As a result, it's a stand-up piece, and it's also a theatre piece. It's kind of this odd hybrid, where some people come and they say, "Oh, it's a play"; and then other people say, "Oh, no, it's not a play. It's stand-up. It's very funny." I don't care what people call it—just that they have a fun experience seeing it.
Observer: So you always basically had the idea of performing it in a theatre setting, as opposed to just strictly being stand-up?
MB: That was always my thought. This is kind of my New York theatre debut, and it's so much more involved than I'd ever imagined. I'd shot a pilot for CBS this past spring, based on my act. It was called "The Untitled Mike Birbiglia Project." I thought that was very involved, and it turns out this is just as involved, if not more.
Observer: And how does the off-Broadway show differ from your usual stand-up routine?
MB: It's difficult to explain. In some ways, people have to see it. My MySpace and Facebook friends who message me or comment about it have all said that it's the funniest show they've ever seen me do. Some people have an experience that's above and beyond that—some people have an emotional response to the show because it's very truthful, and I'm trying to be as honest as I can with myself and with the audience. That's kind of what the show is about. At worst, it's a funny show [laughs]. At best, it's a little something extra.
Observer: So why did you want to workshop "Sleepwalk With Me" in a university setting, as you did at FCLC last year?
MB: Well, I want the show ultimately to play to every age group in a sense. High school and college students and people in their 20s tend to watch Comedy Central, and people in different age groups maybe have heard me on "This American Life" or have seen me on Conan, but I wanted the show to resonate with people of all age groups. I did a bunch of college shows to see what was connecting with people and what wasn't, and the Fordham show was great. Actually, it was in this little room—I don't know what the room is called.
Observer: It was the Student Lounge.
MB: Yes! And I loved it. I mean, what was funny about showing it in that lounge was that in terms of the theme of the show, it kind of has a camp-fire feel to it, like, "Everyone gather around, I'm going to tell you a story." And that was the perfect place for it in a sense because people were sitting up on the sides and up on the windowsill. It was perfect, actually.
Observer: So how much has the show evolved since you workshopped it here at FCLC?
MB: Oh, well, since February it's evolved a lot. Some of the stories are the same, some are different, but the whole show is moving toward this  story at the end that's kind of this ultimate terrifying moment in my life with a sleepwalking incident—that I don't want to give away for people who haven't seen the show.
Observer: How did your show garner the attention of a stage-great like Nathan Lane, one of the producers of the show?
MB: Well, he knew me as a stand-up, and so he came to see me at Caroline's on Broadway in March. It was very fortunate for me because I was doing four nights, four different shows. He happened to come the night that I was performing "Sleepwalk With Me." Then, the next day, he actually sent a note to Caroline's saying how much he enjoyed the show, and he really seemed to understand what I was getting at. I asked him this summer if he'd consider presenting the show, and he said, "Yes." Then he asked, "Do you think it'll help?" And I said, "Well, considering that you're a legend and I'm a nobody, I think, yeah, that would probably help." He came the other night and gave us some really helpful notes. My brother Joe pointed this out the other day, that getting notes from someone like Nathan Lane on your show is like Derek Jeter showing up to your college baseball practice [laughs] and showing you batting tips.
Observer: I've seen the show a couple of times now, and I'm just wondering, why did you decide to include certain personal experiences, particularly those about Abby [Birbiglia's former girlfriend] and your cancer scare?
MB: Well, the show thematically is a lot about denial and how we all have these things in our lives that we don't address. The cancer scare is an example of me dealing with something. I was talking to the doctor about the cancer thing recently, and I said, "I went to a doctor for this but I didn't go to a doctor for the sleepwalking for many years, and I was in denial about it." And she said, "Well that's very common with men—that men won't go to a doctor unless something's not going up or there's blood coming out." And I said, "That's exactly it." In terms of the Abby stuff, that story is a lot about the degree to which we'll go when avoiding the truth of the situation. You know, it's also a funny story [laughs]. Secretly living together is probably my favorite part—I don't know if you know that story.
Observer: Yes, with the bedroom door that you'd cover with a tapestry when your parents came to visit.
MB: Yes, and that's totally true. I think that, early on, when I would tell that story, it didn't get that much of a laugh because I don't think that people necessarily believed me; but then, over time, I've gotten so comfortable with telling it that people are like, "Oh, he's not making this up." And then it gets a bigger laugh because it's so insane that we actually hid a bedroom in a house.
Observer: Do you ever get tired of telling your story over and over again?
MB: The short answer's "yes." The long answer is: it's always interesting to try and tell people the story in a little bit of a different way; that's subtly different every night. There were a lot of times when I was on tour that I would say the same jokes in kind of the same way every night, but now, being in this same theatre space, it's given me the opportunity to say, "What if I said it like this or this, what if I added this detail?" I have a new understanding of the story myself actually.
Observer: In a bit of a different direction, I'm just personally wondering, what is it like to live with a sleepwalking disorder like yours?
MB: Well, it's not ideal [laughs]. It's not the best thing, but there are much worse things that could have happened to me, and so I count my blessings in that sense. I also find that by talking about it, the show kind of enables and forces me to face that situation every day.
Observer: What's your life like off the stage?
MB: Well, [laughs], this week my wife convinced me to go to this exercise class—this pilates-yoga hybrid. I went to four of those this week, so I'm working on my core. I play guitar a lot. A few years ago, I wrote "Guitar Guy At the Party" and "The Oatmeal Song," and I'm trying to write a few more songs. I'm just trying to enjoy New York as much as possible. I walk everywhere—you know, I'll walk from the theatre, which is on Bleecker Street and Lafayette, to where I live on the Upper West Side regularly.
Observer: Do you ever feel that, as a comedian, you're constantly expected to be funny, and if so, does it ever get annoying for you?
MB: Yeah, definitely [laughs]. There's definitely some expectation of that. Fortunately, I talk a lot in my act about making awkward situations more awkward and about not being so funny off stage. I think that that helps. In some ways, it's a good social lubricant, a good forewarning that I'm not going to be hilarious off stage. I might be too sleepy to be hilarious off stage, that might be part of it.
Observer: What do you hope to do after the show?
MB: That's a good question. Well, we're going to shoot the show as a concert film or as a TV special, and then, I'd like to make some films. That was always my goal, to make films kind of in the vein of Woody Allen, Mike White or Cameron Crowe—you know, people who merge comedy and drama in a way that's compelling but just as funny as other comedies. So that's kind of my goal.
With "Sleepwalk With Me," Birbiglia is finally gaining more attention and public praise. And although he's come a long way from being the young boy who dreamed of opening a pizza restaurant where only third graders could hang out, Birbiglia hasn't forgotten the golden rule of comedy—that what is crazy, tragic and serious in real life can be undeniably hilarious on stage.
The Campus Activities Board (CAB) is sponsoring a trip for students, as part of Falltopia, to see Birbiglia's show on Sat., Nov. 8 at 8 p.m. Students can obtain tickets from CAB for $10.
"Sleepwalk With Me" is being performed at the Bleecker Street Theatre on 45 Bleecker St. The show is currently in previews. The official opening night is Nov. 11. Tickets are on sale through Jan. 18. Shows are Wed.-Fri. at 8 p.m., Sat. at 8 p.m. and 10 p.m., and Sun. at 4 p.m. and 7 p.m. See www.telecharge.com for exceptions, added dates and how to get Student Rush tickets. For more information about the show, visit www.SleepwalkWithMike.com.