Why We Shouldn't Blame Eli Manning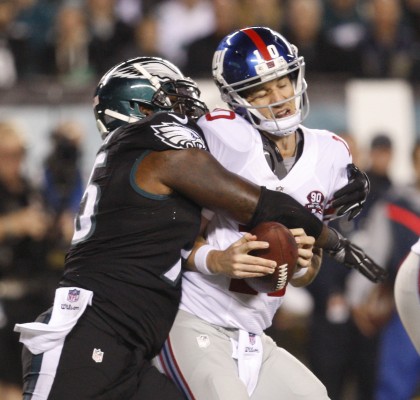 The season has been challenging thus far for the 3-4 New York Giants, and these struggles have led some to ask if it is time for the team to move on from two-time Super Bowl MVP quarterback Eli Manning. But, there are several reasons why an attempt to find a new QB would be premature.
The truth is that Manning has improved after coming off one of, if not the, worst year of his career. Even though the Giants are one game under .500, Manning has fit the new "West Coast-style" offense created by new offensive coordinator Ben McAdoo. Following the 2013 campaign in which he threw a career-high 27 interceptions to only 18 touchdowns, Eli has fared much better up to this point in the season. He has thrown only five interceptions and has thrown for 14 touchdowns and 1,573 yards through the first seven games of this season. It is important to point out that Manning has been putting up solid numbers while the entire team encounters the growing pains of the adjustment to a new offensive system. 
Also important to note is that Victor Cruz, a key wide receiver in the Giants offense for the past five years, sustained a season-ending knee injury in the Giants' week six loss to the Philadelphia Eagles. Along with the departure of other former star Hakeem Nicks to the Indianapolis Colts, the Giants are not particularly deep at the receiver position. As a result of this deficiency, the team has run the ball on offense far more than the system would dictate. This is particularly strange, as McAdoo's system should be emphasizing the passing game over running the ball. While the team is ranked 24th in passing yards this year, that is not to be seen as a reflection of Manning's performance. 
Some have called for Manning to replaced, but the question is: by whom? Ryan Nassib is currently the backup under center in his sophomore campaign, and he is not ready to start at the moment. So should the Giants draft or trade for a new quarterback? Manning is not a liability so neither of these is an advisable course of action for the foreseeable future.
Thus far in Big Blue's 2014 season, inconsistency has been the issue on defense and offense. The Giants rank 25th and 22nd in opponent passing yards and rushing yards respectively. the Giants' struggles lay more on the defensive end of the ball. The team has been struggling this season, but replacing Eli Manning will not solve all of the Giants' problems.