S.A.G.E.S. Goes Public: Behind the Scenes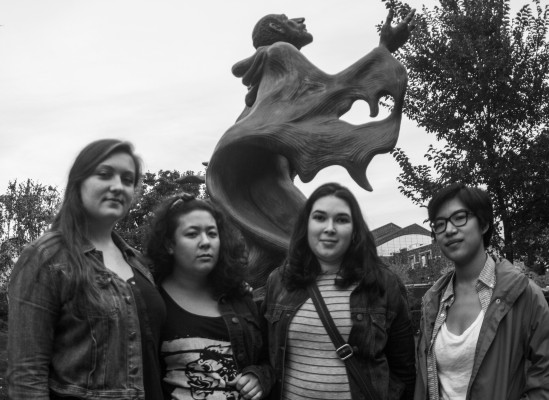 The automatic sliding doors of Hughes Hall open up and Wilmarie Cintron-Muniz, College at Rose Hill (FCRH) '15, walks along the lobby until we see each other. I am sitting next to some Gabelli students working together on a project. The refuse of the day's edition of the Financial Times sits between us, and we both pick at it between discussions about midterms and what we are doing for the coming Halloweekend. As we wait for the other members of the conversation to arrive, she tells me her family is visiting for Family Weekend, and she is planning a scavenger hunt for her little brother.
With modern furniture and young business professionals milling around the lounge in suits and ties, the setting doesn't seem in harmony with the conversation we are about to have.
Cintron-Muniz is one of the core members of the Students for Sex and Gender Equality and Safety (S.A.G.E.S.) Coalition, a group on campus that has so-far operated anonymously in its fight for sex-positivity and safety on campus. I have been in contact with the group for a couple of weeks, having first met Cintron-Muniz at Ram Town, where she and other S.A.G.E.S. members had been collecting signatures on their petition. Now, on Oct. 29, they are discussing what it means to go public and just how they are going to do it.
As the rest of the group trickles in, we find that the noise in the lounge is becoming too much, or maybe that the distance between our congregation and the financiers' group study at the next table is a little too close for comfort. It is a beautiful day for late October and we move outside, from the clinical interior of the business building.
I naively ask who the leader of the movement is. "Or is this an Occupy Wall Street type of thing?"
Rachel Field, FCRH '15, laugh and tells me, while it isn't Occupy Wall Street, there is no "leader," but rather some people who are more involved then others. We sit at the circular table outside of Hughes with some of the "core" members of the coalition at Rose Hill. Field, who evokes a Rosie the Riveter style with a red patterned headscarf, sits to my left, Cintron-Muniz to her left, Alexandra Leen, FCRH '16, to her left, and Beth Chang, FCRH '15, to my right.
We begin with the origin story of S.A.G.E.S. Field says she has been an activist for six years, working with such groups as Women Organized to Resist and Defend (W.O.R.D.) and Act Now to Stop War and End Racism (A.N.S.W.E.R.). "I was talking over the summer with a bunch of my W.O.R.D. comrades and we were just talking about Hobby Lobby and everything that was going on with Hobby Lobby," she says. One of the women makes a noise of disgust. "Don't even get me started," Field says.
"[W.O.R.D. had organized] a protest and only about ten people showed up," Field says. "We were really disappointed. These are huge issues that are really affecting us, so how is it that only ten people showed up? And it got me thinking about how Hobby Lobby is related to what is going on here at Fordham and it got the wheels going. 'You know what, change starts from our communities.'"
The S.A.G.E.S. movement, then, is a very real reaction not only to the traditional value-influenced policies of Fordham but also the present political climate.
"This moment in time is very specific," Cintron-Muniz adds. "We are closer than ever before of the possibility of Roe v. Wade being overturned. I think that there have just been a lot of things building up over the past five or ten years that have been specifically targeted against women being able to access birth control, women being able to access healthcare and, in general, a lot of things with access and just our basic safety and health. Not just at Fordham, I'm talking about country-wide movement to limit women's decision-making ability."
"I feel like campus right now is ready for this to happen," Leen says. She mentions the findings of the Office of Postsecondary Education of the U.S. Department of Education which said Fordham led Jesuit schools in on-campus sexual assault claims filed between 2010 and 2012. "[The administration was] trying to figure out what to do, where to start, if something like this happened, how to help the person this happened to. And I don't understand how they can do that without promoting sex positivity and promoting birth control and condoms and basically general information about sex."
This is one of their main points of contention; the lack of a basic dialogue, both when it comes to sex and sexual education and safety as well as the problems they, as a renegade club not approved by the Office of Student Leadership and Community Development partaking in "guerrilla activism," as one Ram columnist wrote.
"Dean [of Students at Rose Hill Christopher] Rodgers talks a lot about the culture of campus, how we are the agents of cultural change on campus, because we create the culture here," Cintron-Muniz says. "We are trying to build a culture that includes sex-positivity, includes people being able to make decisions for themselves, and having the tools to be able to make all the possible decisions that they could make, that are healthy in positive ways. And we can't create that culture if it is outlawed on campus, essentially."
Earlier that day, Dean Rodgers had canceled a meeting with S.A.G.E.S. At the time of our group interview, he or his office had not rescheduled.
A major issue with the Fordham administration for the members of S.A.G.E.S. is their seemingly long list of assumptions.
"There is an assumption by some of the deans that everybody just knows sex and knows how to take care of that," Leen says. "And when you are recruiting from such a huge base of schools that are just like Fordham, that have had rules like this, some people have had no health education. We are in college now and if there were ever a time to do it, then it would be now, to learn about sex."
Another assumption is the students' willingness to reflect on these larger issues internally. "I think that there is an assumption that we can just talk about this amongst ourselves and obviously some people did do that and some people are ready for that and some people are super self-studied or are in classrooms where they are discussing these types of things," Cintron-Muniz says, but for others, we have to make the conversation, she argues, "If we are going to be proactive about these things, it is super important because people get hurt because of these things, because they don't know what consent is, because they don't know how to put on a condom right."
But making conversation and causing cultural change isn't easily accomplished, and being an anonymous group doesn't help. Aside from petitioning around campus, weekly meetings and posting fliers not approved by the Office of Student Leadership and Community Development  around campus, the campaign has really been one fought on the web, through a Facebook page, a Change.org petition, a Twitter account and a Tumblr site.
"As an organizer for so long," Field says, "one thing I'll tell you is that you can't organize on the Internet. You can't organize on a blog. You can't organize without having conversations with people, face-to-face. When we have face-to-face conversations, we build a movement."
"We are also real people. Coming forward, the stories we tell are not abstract. They are not something that Dean Rodgers can write-off as some sort of willy, nilly, frilly thing," Field says. "It is something that happened to somebody, it is a real issue that is in your face and you need to deal with it. It is not just me, my story, my personal story. It's every personal story, of everybody in S.A.G.E.S. and all of their friends and everyone they know and they bring that to the table and it becomes real when people realize there is a name to a face and there is an experience to the face."
The consensus seems to be, at least for the four women at the table, that going public can only strengthen their cause.
Field also hopes that it will allow them to stop operating in the shadows. "I think going public is really the big moment in which we say 'We are here to stay.' S.A.G.E.S. is not something that will go away. It's not something you can push away. It's not something you can stop. It is something that will keep going because there is such a huge power base behind us. It's 1,000 student signatures.
The sun has just about set and the Bronx night chill is setting in. The DJ playing the contemporary hits is packing his stuff up as the rest of Campus Activity Board starts packing up the tables and activities set up alongside Edward's Parade. Over by the McGinley Center, students prepare for a vigil for victims of police brutality. We begin to wrap up our conversation so the activists at our table can attend the event.
"I think that people will definitely try to stop us and it will be easier for them to try when they know who we are," Leen, the only member at the table who won't be graduating in May, says before I turn the recorder off. "I don't think that is going to stop us, though."
They've finalized their plan to go public. The date and time are set; Nov. 3, 12:30 p.m.
It's 12:15 p.m. on Nov. 3.
"I don't want to have to call people," Rachel Field, Fordham College at Rose Hill (FCRH) '15, said as a group of S.A.G.E.S. members met in front of Cunniffe House, "but this is important and they should be here."
The group of about five students at 12:15 p.m. on Nov. 3 doubled to about 10 before they had decided to enter the administration's building to deliver their petition, calling for several changes to Fordham's policies on sexual health resources and education, free speech policies and trans student treatment, to Fordham President Rev. Joseph M. McShane.
"We are representing the 1,100 students who signed our petition," Field said, leading the group into the building.
Once inside, they found a huge set of double doors.
They knocked.
And then they knocked again.
"I guess he's not going to be here. Let's begin the taping," Field said, ripping a piece of tape off with her teeth.
"Does anybody have scissors?" another protester asked.
Halfway through posting all sheets of the petition on the double doors, a security supervisor arrived. He allowed the protesters to finish.
"If you put it in the middle like that, it'll rip when you open the door," the security supervisor said as protesters were figuring out where to put the letter addressed to McShane which demanded a meeting between him and members of S.A.G.E.S. before Nov. 7.
"If we don't get a response back by Friday, we are going to escalate the situation," Field said. "When students speak, they must be heard, and if we aren't going to be heard, then that's what it is going to have to be."
This escalation refers specifically to a Nov. 20 rally, "which will be called off if our demands are met," Field said. They are planning on inviting organizations to Fordham for a protest; prospective guests include Women Organized to Resist and Defend (W.O.R.D.), Act Now to Stop War and End Racism (A.N.S.W.E.R.) Coalition and the Latina Institute.
W.O.R.D. has organized a letter writing campaign.
The protestors left Cunniffe house about five minutes after entering, preparing to host a speak-out to get students on campus involved in their cause.
Assistant Vice President of Public Safety John Carroll was alerted of the situation and was called to the scene. Once he arrived, he asked to speak with an organizer.
"He was like, 'I can bring that to Father McShane if you want,'" Field said, retelling her interaction with Carroll. "If you want to go take it down, you can. That's crazy. This is a f*cking police state."
"Well, what happened is that Rachel asked that the petition be delivered to Father McShane, and I will make sure that happens for her," Carroll said. "One of my supervisors went to get the petition, and I'll make sure Father McShane gets it."
While S.A.G.E.S. members were asked to move their protest from the middle of the street for their own safety, the administration and the office of public safety had no intentions of stopping their protest. Despite this, the group was followed by two security supervisors during their speak-out.
"The students … united … will never be defeated," Field began chanting on her way to McGinley Center  as other S.A.G.E.S. members answered her call-and-response.
Once organized in a circle in front of McGinley, other S.A.G.E.S. members, fresh out of class, joined the rally, each telling a personal story about why they support S.A.G.E.S.
"I support S.A.G.E.S. because women's health is human health," one student, Sophia, said.
"I support the S.A.G.E.S. coalition because sexual health is a human f*cking right," Monica Cruz, FCRH '16, said. "I support the S.A.G.E.S. coalition because religion is not more important than my health."
"Fordham recognizes that there is–and should be– a diversity of opinion on matters of faith at a Catholic university, especially a Jesuit one," Bob Howe, senior director of communications, said in a written statement when asked for an official response from the administration.
"We are nonetheless committed to the teachings of the Church, and as a part of our mission, we model those teachings for our students, including those on contraception. In this we seek to strike a balance between individual conscience–our students are free to possess and use any form of birth control they choose–and endorsing behaviors that run counter to Church teachings."
"For this reason," the statement continues, "Fordham neither distributes, nor permits distribution of contraceptives. The only exception to this policy is the prescription of birth control pills for medical reason unrelated to contraception."
During the protest, Field challenges this idea.
"I suffer from ovarian cysts. And because of Fordham's policies, I had to get surgery for a hernia that was caused by ovarian cyst ruptures," Field said. "I had repeatedly asked Fordham to give me contraceptives, with a medical letter, and was denied."