Aaron Rhyne: Making His Way Up to Award-Winning Projection Designer
"I think a lot of shows I directed at Fordham gave me a strong base for storytelling that I always apply in my work now," Aaron Rhyne, Fordham College at Lincoln Center (FCLC)   '02, said, when looking back at college. Skills he learned from Fordham Theatre Program have helped Rhyne become the award-winning video and projection designer he is today.
After graduating from Fordham, Rhyne went on to become the video art and projection designer for a number of television and Broadway shows, as well as regional theaters and dance festivals, around the world. Rhyne is currently the projection designer for "A Gentleman's Guide to Love and Murder," in which he won the Drama Desk Award for Outstanding Projection Designer.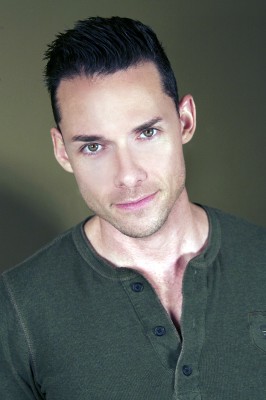 Hailing from Denver, Colorado, Rhyne had always aspired to come to New York City for college and attend a theater program. According to Rhyne, Fordham's Theatre program was the right fit. "When I visited Fordham, I really liked the feel of the program," Rhyne said. "I liked the faculty; they all seemed to really care about what the students were doing. As a student at Fordham, you get to hands dirty and do a lot. I was doing shows all the time – I was acting, directing, designing. I did everything, many, many times. You graduate with a ton of experience, and it sets you up for the opportunity to work in the business if you want to do so."
According to Rhyne, his favorite project at Fordham was directing Tennessee William's "Cat on a Hot Tin Roof." "We had a very abstract show, and we didn't use props," he said. "It was wild and fun and great to learn how to tell a classic story in a different way. In a way, this production relates to the story telling I do now in video projection."
Although Rhyne focused on a directing concentration at Fordham, he decided to try something completely new. "Career wise, I ultimately ended up going into projection-design; essentially, I design video based sets. There certainly wasn't a projection design program at Fordham or anywhere else," Rhyne said. "When I started working in the business, I had the opportunity to play around with video and design work. I was able to teach myself a lot of that and learn along the way; I eventually made a business from video projection design. I think a lot of the shows I directed [at Fordham] gave me a strong base for storytelling that I always apply in my work now."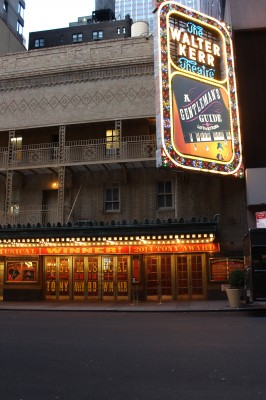 After receiving advice from Morgan Jenness, adjunct professor of theatre at FCLC, Rhyne decided to try out video projection design. "A year outside of school, I ran into Morgan Jenness, who was one of my professors at Fordham. At the time, she told me that she just saw a production that used a lot of video; [Jenness] recommended that I go work for Big Art Group, which is the company that put up the show. I reached out and later got to work on video projections for them."
"We worked on a bunch of shows downtown at theaters like P.S. 122, where all the plays were video based," Rhye said. "I really loved it, and it was my first experience doing video work. I worked with that company for two years, and once that finished, I went off on my own and started doing it."
In 2011, Rhyne gained more experience when working on his first Broadway musical "Bonnie and Clyde." "The set was made up of some old, wood flat walls which moved around, and I projected different backgrounds and photographs. It was really beautiful," he said. "While the show didn't do that well and run that long, I got a lot of attention from it. Working on 'Bonnie and Clyde' led me to do the next broadway show that is running: 'A Gentleman's Guide to Love and Murder.'"
Rhyne started working on "A Gentleman's Guide to Love and Murder" three years before it hit Broadway. "I worked on the small production of the play in Connecticut first, and we spent time developing what it should look like. After Connecticut, the show did well, so we moved it to a theater in San Diego to further explore what the show should look like, because we thought we had a chance to get it to Broadway. Afterwards, the run in San Diego went really well, so we had the opportunity to move it to New York."
According to Rhyne, he enjoyed putting together the whimsical graphics and projections for "A Gentleman's Guide to Love and Murder." "The play is a unit set, and the video background changes with each scene. Each of the musical numbers is a ridiculous staging of a murder. The most fun thing for me is showing the silly ways of how each character is murdered in each scene," he said. "It can be as ridiculous as people falling off buildings, getting stung by bees – there are all kinds of crazy things."
Rhyne currently has a lot of future projects for the upcoming year. "The same creative team in 'A Gentlemen's Guide' is working on a big opera in Los Angeles in January. The opera is called 'Ghosts of Versailles.' We are also going to tour 'A Gentleman's Guide' around the country next year. I additionally have another big project with Disney coming up next year," he said. "This is a busy year ahead."
For anyone looking to work in theatre or any other business, Rhyne encourages students to hone in on their talents. "I graduated and tried to figure out my niche in the theatre industry. Later on, I found out that projections was what I did really well. I went for it, put everything into it, worked really hard and never looked back," he said. "Whether you want to work in theatre or any kind of business, you want to find something that you do really well and become the best at it."