Robert Miraldi Wins Sperber Award for Hersh Biography
On Wednesday, Nov. 19, retired journalist and author Robert Miraldi will add another accolade to his mantle as winner of the 2014 Ann M. Sperber Award for "Seymour Hersh: Scoop Artist," a biography on the Polk and Pulitzer Prize-Winning investigative journalist. 
The Sperber Award is given in honor of Ann Sperber, author of "Murrow: His Life and Times." The award was established to promote and encourage other biographical works that focus on a media professional and has been presented annually by Fordham's Communication and Media Studies Department for the past decade.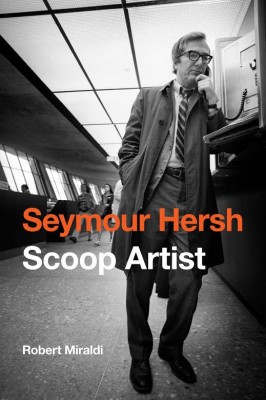 "Seymour Hersh: Scoop Artist" is a "probing and provocative investigation of this country's premier investigative journalist," Brian Rose, acting director of the Sperber Award and professor of communication and media studies, said in a statement. 
News that Miraldi had won the Sperber Award came as he was in an airport in France, as he was about to board the plane. "I see in my email a note from Brian Rose from the communications department saying, 'Congrats you have won …' I couldn't tell if it was spam or if I had really won something," he said. 
Miraldi was thrilled when he heard the news.  "What excites me first off is affirmation that it is a good book, but it's a great list that it becomes part of," Miraldi said. "There are truly some terrific biographies and Hersh belongs on that list, his life and his career belong on that list."
Winning the award has a special meaning for Miraldi, who had a working relationship with Sperber, which began when Miraldi was writing his first book in 1991. "She had done a biography on Edward R. Murrow, and I was working on a chapter of a book that dealt with him," he said. "I can't remember if I wrote to her or talked to her on the phone, but she helped me with Murrow and told me where the archives might be, what I might find." 
Miraldi was always interested in the history of journalism, even when he himself was a reporter. After having written and researched about investigative journalists at the turn of the century, "it seemed logical to me to write about the person who was the best, most prolific and most effective of the current breed of investigative reporters and that was Seymour Hersh," he said. "I've had my eye on Hersh for a long time."
"I'm working as a full-time newspaper reporter beginning in 1972, and of course Watergate comes in 1974 and I begin to follow Hersh's scoops and stories," Miraldi said. 
Hersh, though not a household name like other journalists of the time, was an investigative reporter whose work have shaped American public policy, including his expose on the massacre at the village of My Lai in Vietnam to the prison scandal at Abu Ghraib in Iraq and his work during the Watergate scandal.  "I was originally thinking of doing a book on Watergate, it's seems like a lot of that has been written, but no one has written Sey Hersh's biography," Miraldi said. 
Writing the biography took almost a decade to complete, due to the large volume of books, articles and stories that Hersh had published. "I unearthed all his work that I could find. That was an incredible amount of material. This is a book about his work and you can't write about somebody's work unless you read the work," Miraldi said. "I found hundred and hundreds of articles" from the Hersh's time at the Associated Press, New Yorker and New York Times. 
Before Miraldi began writing, he wrote a letter to Hersh to let him know that he was writing a biography about him.  "The first thing Hersh said was 'I'm not dead!,'" Miraldi said. "He gave me interviews over time, we exchanged a lot of emails and he never stood in my way with research, except to his family." 
"I just followed the work. After you do that, you start to call people. I'm an old reporter – I know how to work the phones," Miraldi said. In addition to Hersh's body of work, Miraldi "interviewed a lot of people who worked with Hersh, people who loved him and people who hated him." Miraldi spoke to Bob Woodward, one of the original two reporters who unearthed the Watergate scandal, and Ben Bradlee, Hersh's editor at the Wall Street Post. 
Because of the volume of work that Miraldi had to tackle, he wrote the book one chapter at a time. "I kept dealing with one big chapter after another and before you know it, you have a 475-page book," Miraldi said. 
Though Miraldi knew the work that Hersh had put forth, he had no idea that he would uncover such a fascinating American figure. "He's irreverent, he curses like crazy – just like an old hard newsroom guy," Miraldi said. "People who never in the world would talk to a reporter would talk to Sey Hersh. He has this ability to be charming, to convince people. On the other hand, he can be brutal, threaten them in order to get them to talk. He had multiple approaches in order to get the story." 
Although reporting was his first love, Miraldi always felt that he "had one foot in the newsroom and one foot in the library." Research was always his passion, and after having spent nine years as a reporter for the Staten Island Advance, Miraldi turned down an offer to join the Wall Street Journal's Washington bureau in order to return to the classroom. "The newsroom is a very confining place. Ideologically, you have to stick to certain rules, objectivity, confining in terms of space, confining in terms of style. I was looking to break out, write longer things, so academics and being an author seemed like a comparable place to be."
"I've missed the newsroom my whole life," Miraldi said. "I still miss the newsroom but I never regretted the choice I made to go back to the classroom and back to the library."
 Miraldi is very interested in the changing landscape of the world of journalism. "Journalism is obviously in chaos and the middle of tremendous change – it is very exciting to be able to tell stories in a digital fashion," Miraldi said. "Our reach is suddenly much, much more while circulation has gone down. Our ability to tweet our stories, put them on Facebook has much larger audiences but nonetheless, the legacy media has really shrunk back and it's rather daunting." Though many in the industry have shown concern over recent changes in how content is distributed, however Miraldi doesn't think this is necessarily a bad thing. "I see it as the glass if half full." 
Though writing this book was a large undertaking for Miraldi, he felt "it paid off a lot and it all came together. The Sperber Award is a nice culmination for me."