Inside FCLC's ROTC Program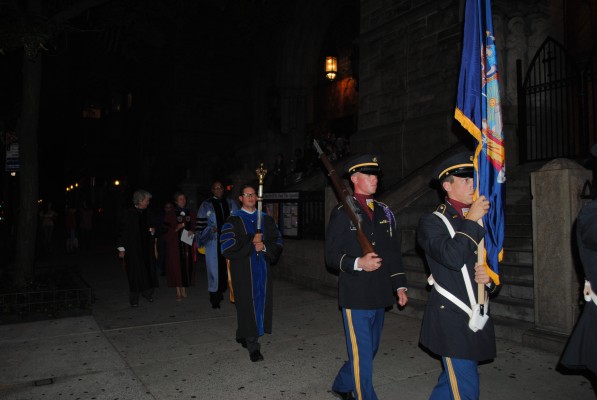 At 9 a.m. on Friday mornings, young men and women in Army fatigues trickle onto the Fordham College at Lincoln Center (FCLC) plaza, gradually forming a small group and dropping the laughs to stand at attention. Exercise and drills are part of their weekly cadet responsibilities.
The Fordham University Army Reserve Officers' Training Corps Program (ROTC) was established at Fordham in the late 1840's. 
According to U.S. Army Master Sergeant and Fordham University Senior Military Instructor David Paradis, most of the Cadets that meet at FCLC are not Lincoln Center students. "All the students there are actually not Fordham kids. As a matter of fact, most of them are from other schools like New York University and Columbia, a whole host of schools in Manhattan," he said. 
The Fordham Ram Battalion page lists prestigious alumni of the Fordham ROTC program, which  include Major General James R. O'Beirne, a Medal of Honor recipient who helped track down President Abraham Lincoln's assassins and helped establish the Fordham ROTC program, and former Secretary of State Colin Powell. At its peak of participation in 1948, the number of cadets grew to 925. Today, that number is a memory, with the program comprising about 130 cadets total; 45 to 50 at Rose Hill, 30 to 37 meeting at Lincoln Center and the rest at Marist College. 
The ROTC program does not rely on school administration to provide connections to other colleges and instead utilizes its own resources. In this case, none of its participants go to school at the campus where they practice, Lincoln Center.
Although many students might think that the rumored scholarships are the main benefit of the program, Paradis explained that the Army has now capped the number of Cadets the program can contract with every year. He said, "The majority [do not] have scholarships, but [the scholarships] are available." 
"Right now the number [of students] is dwindling because the Army is downsizing, so unfortunately there is not as much scholarship money available. The Army just doesn't need as many officers as before." He added, "The good side of that is that we get to be a little more selective about the people that we put in the program. Now it's about quality."
A Cadet's quality is determined by his or her maintenance of physical fitness, academic dedication and how useful the Army perceives him or her to be. The cadets' responsibilities include physical training at least three times a week, special events, and six hours weekly split between labs and classroom military instruction. Paradis described their classes as "very basic military leadership," and clarified that they do not involve specific areas of military theater.
However, the ROTC program always puts academics before training. According to Paradis, students are urged to spend as much time as they need to keep their grades up. Cadets are allowed to pursue a double major, and students in the fields of science, technology, engineering and mathematics (STEM) are especially sought after, currently. "It benefits the Army and it benefits the student," Paradis said. 
Paradis noted that only about half of the Cadets are set to go on to serve in active duty. The others will go into the Army National Guard and the Army Reserve and will only spend one day a month in service. 
He emphasized that ROTC training will prepare students for more than just military situations: "When you get here, it's not necessarily going to be just walking around in circles, pretending to shoot at people … most of it is actually leadership, things they can use in a business sense, things they can use with their academics." He also said that stressing the development of critical thinking is key and will put Fordham Cadets ahead of the pack when they graduate into the Army's ranks.
According to Paradis, even though students in the program graduate with the rank of Second Lieutenant, "the focus is making sure that they are well-rounded individuals when they're done here, being members of the community, being productive citizens."