Songs This Campaign Season Are Out Of Tune
Published: October 30, 2008
With Election Day right around the corner, Senators John McCain and Barack Obama have pulled out all the stops in their attempts to gain voters.  While many campaign ads are the ones people have come to expect, some song selections have hit a sour note with their artists.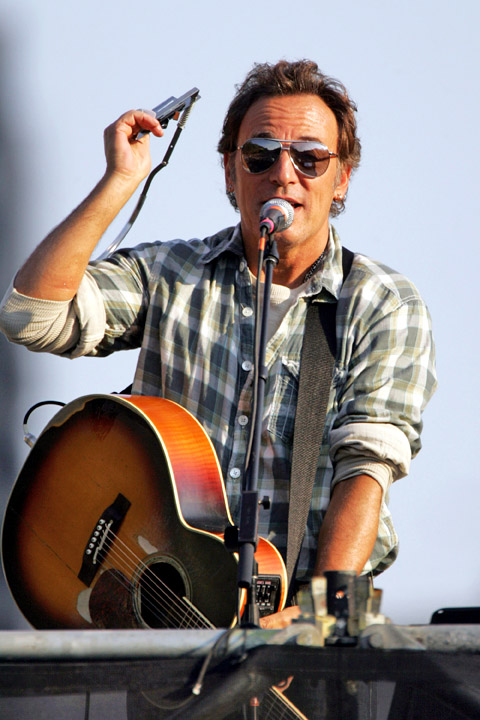 While both McCain and Obama have received objections from musical artists, the McCain campaign has felt the majority of the complaints. His campaign has been criticized by a spectrum of musicians, from John Mellencamp to the Foo Fighters. Since many artists are against big business, show support for a decrease in censorship and are pro-environment, they tend to lean left politically and clash with McCain's views.
Even though many artists are liberals, the support for Obama during this election year appears higher than the level of support for previous nominees. Several songs have been written about Obama, including "Yes We Can" by will.i.am of the Black Eyed Peas, according to the Associated Press.
The first protest of McCain's song use occurred before he even clinched the Republican presidential nomination on March 4. John Mellencamp's representatives contacted the McCain campaign in February 2008 and asked them to stop playing "Our Country" and "Pink Houses," according to Rollingstone.com. Mellencamp, being a Democrat, had been supporting John Edwards, who was also using a few of his songs at the time.
In September, Heart's Ann and Nancy Wilson e-mailed a statement to Entertainment Weekly after their well-known single "Barracuda" was used at the Republican National Convention in support of Governor Sarah Palin. The statement said, "Sarah Palin's views and values in no way represent us as American women. We ask that our song 'Barracuda' no longer be used to promote her image. The song 'Barracuda' was written in the late '70s as a scathing rant against the soulless, corporate nature of the music business, particularly for women." The song was used as a reference to Palin's nickname "Sarah Barracuda" from her days as an aggressive basketball player in high school.
In the past two months, there have been several more protests over McCain's song use. Rollingstone.com reported that both Van Halen and Jon Bon Jovi have protested against the McCain campaign using their songs. "Right Now" by Van Halen and "Who Says You Can't Go Home" by Bon Jovi have been used at rallies for the McCain/Palin ticket.
The McCain camp finally responded to the multiple protests from the musicians after guitarist Dave Grohl attacked McCain's use of "My Hero" by the Foo Fighters.  McCain/Palin spokesman Brian Rogers said, "The McCain/Palin campaign respects copyright. Accordingly, this campaign has obtained and paid for licenses from performing rights organizations, giving us permission to play millions of different songs, including 'My Hero,'" according to the Associated Press. The campaign has stopped using Mellencamp's songs, but it has continued to use both "My Hero" and "Barracuda" at campaign rallies.
While many artists have simply released statements asking McCain to stop using their songs, some performers have been more inventive in expressing their displeasure.
The McCain campaign used a snippet of Jackson Browne's "Running on Empty" in an advertisement attacking Obama's views on gas conservation. The Democratic Browne responded by filing a lawsuit against McCain and the Republican Party. Even though the McCain campaign pulled the ad, the lawsuit is still pending. According to Browne's lawyer, a response to the suit will be released by the end of October.
Another artist who is actively protesting the use of her song by McCain is Gretchen Peters, whose country hit "Independence Day" was used at a rally for Sarah Palin. "They are co-opting the song, completely overlooking the context and message and using it to promote a candidate who would set women's rights back decades," Peters told Rollingstone.com. Instead of just making statements, however, Peters is donating all the royalties she's receiving for the song use to Planned Parenthood, an organization lobbying for pro-choice legislation. She's also asking people to make donations to the group under the name "Sarah Palin."
While many artists are against the McCain camp's use of their songs, it doesn't mean there haven't been complaints on the other side.  According to Associated Press, soul singer Sam Moore sent a cease and desist letter to the Obama campaign for its use of "Hold On, I'm Comin'," a song from Moore's days as part of the Sam & Dave duo. Unlike many artists who are backing Obama and are against McCain's song use, Moore has not revealed whom he is supporting. "I reserve my right to determine who I will support when and if I choose to do so," he said. "My vote is a very private matter between myself and the ballot box."
Even though there has been a high level of objections during this year's presidential race, artists have protested song use in past elections as well. One of the most well-known examples is Ronald Reagan's use of "Born in the U.S.A." by Bruce Springsteen, a lifelong Democrat.  The use of the song was also inappropriate, as it is an anti-Vietnam War song, not the patriotic anthem its title implies.