USG and Students 'Carry That Weight'
On Wednesday, Oct. 29, at 2:00 p.m., Fordham students convened on the front lawn of the McGinley Center at Fordham College at Rose Hill (FCRH), as about 30 survivors and allies spoke out to share personal stories regarding sexual and domestic violence. This was part of a nationwide event, called Carry That Weight, created by several organizations to stand in solidarity with survivors.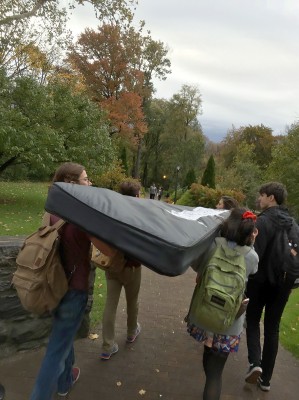 Fordham's United Student Government (USG) Sexual Misconduct Task Force hosted the event where participants carried mattresses and pillows around throughout the day to mimic Emma Sulkowicz, a survivor and Columbia University student who developed the performance art to carry her mattress until her perpetrator is no longer on campus. As a visual arts major, she began this practice as a method of performance art representing her disapproval of Columbia administration's handling of her reported case of sexual assault.
Event organizer and ally Genevieve McNamara, FCRH '17, said USG's intentions are:"We want more support for survivors on campus, ideally with a rape crisis/gender equity center. We want to minimize the number of times a survivor has to re-tell and be re-traumatized by their story. We want a way for people to report assaults anonymously so that we can have a better knowledge of assault numbers."
McNamara also offered suggestions on rewriting the current sexual education policies the university requires: "We want mandatory consent education outside of CORE programming for freshmen, and we want that education to be comprehensive and acknowledge the breadth of situations in which assault can occur. We want the administration to acknowledge that assault doesn't only happen in the context of drinking and stop putting the onus of assault on the so-called hookup culture." The phrase "hookup culture" has been interpreted as the general sense among young adults that sexual relationships can be treated lightly, instead of as serious commitments.
Students who participated in the event shared a common goal: to see reform in the current system of enforcing Title IX, a portion of the United States Education Amendments of 1972 that guarantees gender equality. Specifically, they want to see this legislation be used as it was originally intended to protect students from gender bias.
Many participants described the energy on the front lawn that day as "powerful." Tim Livingston, FCRH '16, put it, "to watch my friends and classmates helping and supporting each other was inspiring- it made me want to be a better ally to survivors of sexual assault. It took a lot of courage [to speak out] and for that, I admire them greatly."
As for reform of the enforcement of Title IX, participants had many opinions on how cases of reported rape should be handled. Livingston said, "it's important to me that administration does as much as it can to support survivors, and I think that starts with taking accusations of sexual violence as seriously as possible, which, to me, means working to eliminate the mindset of 'victim blaming' or second guessing decisions that survivors may or may not have made."  Victim blaming refers to the notion that victims of sexual assault are somehow responsible for their own attacks.
"I also think that punishments for sexual violence should be public and severe," Livingston continued. "There should be no illusion that one might 'get away with' sexual violence for whatever reason."