Fordham Members Attends 19th Annual Police Brutality Protest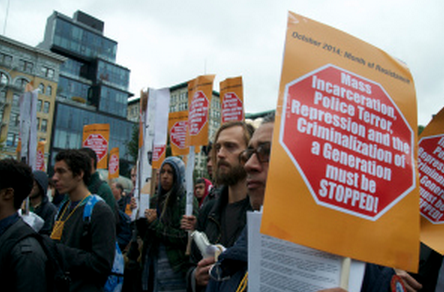 On Oct. 22, several hundred protestors gathered in Union Square at about 1 p.m. for the 19th Annual National Day of Protest to Stop Police Brutality, Repression and the Criminalization of a Generation which culminated in Times Square. Among them, were approximately 1o members of the Fordham community, from both Fordham College at Lincoln Center (FCLC) and Fordham College at Rose Hill (FCRH).
Carl Dix, a representative of the Revolutionary Communist Party and the co-founder of the Stop Mass Incarceration Network which sponsored the event, said to the crowd, "This is what we must do for all the victims of the police. The ones who have been murdered, who have been stolen from their families and loved ones and warehoused in prison, for the young sisters and brothers who have been criminalized."
Zann Ballsun-Simms, FCLC '16, said, "I'm here because police brutality has become a huge issue and it has always been a huge issue. We need to come out here and advocate for a change."
"Men and women of color are being disproportionately incarcerated," Ballsun-Simms said.
While some faculty attended the protest, they declined to comment for the Observer.
Many protesters were angry and emotional over what they called the "criminalization of a generation." This is also known as, mass incarceration, the idea that minorities are incarcerated at higher rate than their white counter parts. According to the Bureau of Justice Statistics, black men were more than six times as likely as white men to be incarcerated in 2010.
One mother, who preferred not be named, held a picture of her son Joshua and his life-long friend Domenic.
"They were targeted as gang members," she said. "[The police] took pictures off of their Facebooks to prove that they were gang members through only hand signs. There was nothing dangerous about the pictures," the mother, born and raised in the Bronx, explained. "There was no criminal activity according to the judge," she continued.
"The police are criminalizing young men of color, demonizing them, and this has been going on for a long time. They are cutting children off before they get a chance to live," she said.
Some protesters reduced the police to murderers. Another emotional mother said to the crowd, "They only criminals I see are dressed in blue."
John Carroll, associate vice president of public safety, was in the NYPD between 29 and 30 years. At the vigil for victims of police brutality held earlier this week at Fordham College at Rose Hill, Carroll told the Observer, "The NYPD is an organization of 40,000 sworn members. It is a wonderful organization, probably the most efficient and effective law enforcement organization in the world."
"Certainly there are problems within any organization with a staff that massive," he continued.
Carroll said, "I don't think anybody in the NYPD would ever look to countenance any type of violence to anybody."
"Having said that, the police are in a unique position of having to be the people that come between chaos and a law abiding society. It's difficult for them, they are in between that process," he explained.
Eric Garner and Michael Brown were two of the many names reiterated by protesters as victims of police brutality. Garner was the 48 year-old father who went into cardiac arrest while being arrested by the New York Police Department (NYPD) on July 19th. Brown was the 18 year-old that was allegedly shot execution style by Officer Wilson in Ferguson, Missouri on Aug. 9. 
The exact number of people killed by police each year seems to be unclear. According to ProPublica, an independent, non-profit newsroom that produces investigative journalism self-described as in the "public interest," federal data from 2010 to 2012 show that blacks, age 15 to 19, were killed at a rate of 31.17 per million, while just 1.47 per million white males in that age range died by police action. The Washington Post reported, the Department of Justice (DOJ) does not have a comprehensive database or record of police shootings. The number of justifiable homicides reported is around 400 each year reported by only 750 law enforcement agencies out of more than 17,000 agencies. Justifiable homicide is the killing of a person without evil or criminal intent which often protects police officers involved in fatal shootings from convictions.
As the crowd continued to gather in Union Square, a large question seemed to be whether the protest would be able to culminate in Time Square.
Carl Dix, said, "We have said we are going to take this message into Times Square and the NYPD said, 'Well you can't do that because of traffic and safety concerns.'"
To march in a street, you must obtain a permit from the Police Department according to the New York Civil Liberties Union.
"Safety demands that we march into Times Square," Dix continued. Police put up traffic barricades for the protesters once they reached their destination.
"We are human beings and we have a right to deliver a message. We have the responsibility to deliver a message that this sh*t must stop," Dix said.