Why Michael Vick Should Start for the Jets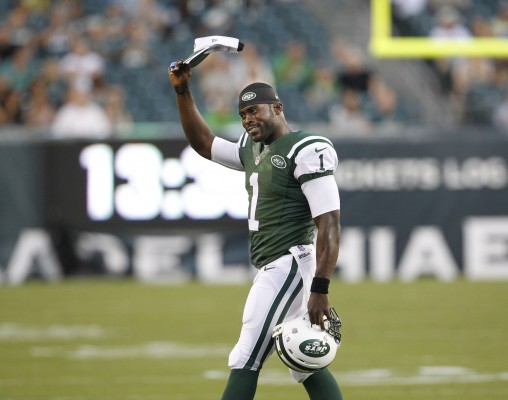 Even when Geno Smith plays his cleanest, most encouraging game of the season, it still isn't good enough to get a win.
After a 10-yard touchdown pass to tightend Jeff Cumberland, the New York Jets pulled within two points of the New England Patriots with 2 minutes 30 seconds left to play during the Oct. 16 game featuring the two rival teams. Down 27 to 25, the Jets went for the two-point conversion, only to see Smith recklessly sail a pass over tight end Jace Amaro's head. That's the story of the Jets' season: close, but not close enough. 
After their heartbreaking loss to the Patriots, the Jets fell to one and six, and all but declared their 2014 season over. They are four games behind New England in the division, and even though the really difficult part of their schedule is over, the chances of them winning a wild card are extremely slim. 
The only option for Head Coach Rex Ryan is to pull Smith and start Michael Vick on Oct. 26 against the Buffalo Bills.  
In all honesty, it's unclear if next year's starting quarterback is currently on the roster, but it's virtually impossible for Vick to be as bad as Smith. If the Jets make the switch at quarterback, the worst case scenario is that they lose a lot more games and get a high draft pick where they should seriously consider selecting a quarterback. The best case scenario is that Vick comes in after having a week and a half of practice with the first-team offense and sparks the team to some victories. Maybe he can even make the Jets a watchable team or do the impossible and save Ryan's job.
The Jets can't worry about how Smith will handle being benched either. He's a grown man, and if he wants to pout about it, he doesn't belong in the NFL anyway. They can't coddle him the way they did former quarterback Mark Sanchez because that ultimately enables an environment of complacency, and the Jets sorely need Smith to get better. Maybe a benching will light a fire under him. 
Smith can blame anything he wants on the Jets one and six start. He can point to their brutal schedule or the media, but he really should be pointing the finger at himself. After all, the team he plays for just lost a crucial game in which they rushed for 218 yards and doubled the Patriots' time of possession. You can't set up your quarterback better for a victory, so if he can't get the job done, the job shouldn't be his anymore.  
Vick might not be the Jets' savior, but he's worth a shot. Things really can't get worse for Gang Green, but the team could make a change and possibly save their season.