A Geno Smith Benching Would Not Fix the Jets
There are many, many problems surrounding the New York Jets, but their starting quarterback Geno Smith's performance is neither the biggest nor most pressing issue. Keep in mind that Smith is still only a second-year player, and he requires further development. This period of mediocrity is exactly what Smith needs to get the tools and experience to become a solid NFL quarterback. The Jets must first assemble a team around their young prospect before they can be expected to seriously compete in the their division.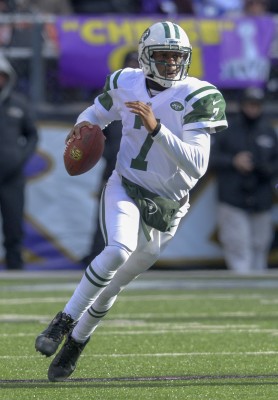 Part of Smith's problem is the fact that he has no receiving targets. The free-agent signee Eric Decker was supposed to be the answer to these receiver woes, but he has been the victim of nagging hamstring issues. This lack of receivers would go a long way toward explaining why the Jets' passing attack is ranked 32 in the league. Regarding the passing offense, the biggest criticism of Smith has been the number of turnovers he has committed. Through the first seven games of the season, Smith has completed seven touchdowns, as compared to seven interceptions and six fumbles. However, perhaps there is light at the end of the tunnel as Geno threw for a touchdown with no interceptions in the Jets' narrow 27-25 loss to the rival New England Patriots on Oct. 16.  Even more hope comes in the form of the team trading for electric wide receiver Percy Harvin.
Under defensive-minded Head Coach Rex Ryan, the Jets' offensive scheme is partially to blame for the Smith's struggles. In regards to their red zone offense, the team has ranked in the cellar of the NFL for the last few years in total scoring and percentage. This was exemplified during the game against Patriots on Thursday Night Football, when the Jets' offense converted just two red zone touchdowns compared to four field goals in the loss.
For Smith to reach the next level, he needs to run the ball more. He has the ability to scramble and get out of the pocket, and he is forced to because the Jets' Offensive Line is offensively bad. Smith is ranked 56th in rushing yards in the NFL and fourth among quarterbacks. Smith has 139 yards in 34 attempts, but he needs to run more because of the team's putrid passing offense. The team is significantly better in the running department; they are ranked eighth in the league.
Smith is still very much a work in progress, but he should continue to quarterback the Jets. Michael Vick is not the answer because the problems of the offense go beyond quarterback. Until more time is spent building an efficient passing attack to complement the running offense, Smith is the least of the Jets' problems.