New Expectations for Fordham Men's Basketball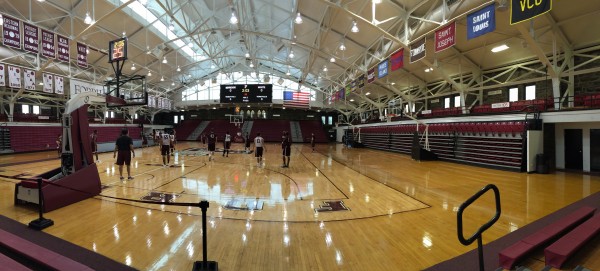 Across the nation, college basketball programs are diligently working to prepare for their "chance to dance" during March Madness. In the Bronx, Coach Tom Pecora and the Fordham Rams are simply yearning for the opportunity to prove that they indeed can play with perennial powerhouses within NCAA basketball. 
It has been seven seasons since Fordham has finished with a winning record and 22 seasons since the Rams have reached the NCAA tournament. However, this lack of success is not to be taken as a reflection of this year's team. 
Pecora is now entering his fifth season as the leader of Fordham Men's Basketball program. His job has been a steady uphill battle as he was given the position after a season in which the Rams won only two games during the entire season. Pecora strongly believes that this year will finally mark the beginning of what he has been trying to build: "not just a winning year, but a program with long term success." 
After five years, Pecora is now confident that he has "adjusted the personnel and moved the talent level to where it needs to be." Last year, he recruited not only one of the strongest recruiting classes in Fordham history but also one of the top Atlantic-10 recruiting classes in general. This year, Pecora adds even more talent and depth to this up-and-coming Fordham Rams squad. 
The 2014-15 Rams return a number of key players. Guard Jon Severe, Fordham College Rose Hill (FCRH) '17, who set a freshman record with 536 points and averaged 17.3 points per game last year, is joined by guard, Mandell Thomas, FCRH '16, who lead the team with 45 steals and averaged 11.9 points per game. The back court also returns guard, Bryan Smith, FCRH '15, who averaged 7.3 points per game and 4.3 rebounds per game. Center Ryan Canty, FCRH '15, looks to build on his successful junior season in which he finished second on the team in rebounding and grabbed 19 rebounds during a massive win against the George Mason Patriots in the A-10 Tournament at the Barclays Center. The front court also sees the return of forward Ryan Rhoomes, FCRH '16, who led the team with 6.9 rebounds per game and 28 blocks as well as adding 6.3 points per game. 
The Rams welcome five true freshmen: Nemanja Zarkovic, FCRH '18, Zaire Thompson, FCRH '18, Eric Paschall, FCRH '18, Christian Sengfelder, FCRH '18, and Dekeba Battee-Aston, FCRH '18. Guards Zarkovic and Thompson are welcome additions to the Rams' back court which is in desperate need of a true pass first point guard. Paschall and Sengfelder are versatile forwards that are expected to wear down opponents all over the court. Not to mention, the Rams are excited to showcase last year's redshirt freshmen, forward Manny Suarez, FCRH '18 and guard Antwoine Anderson, FCRH '18. 
Despite the young team, Pecora is both excited and poised to bring success to Rose Hill. Speaking of team leaders, Pecora said, "Look at our seniors Bryan Smith and Ryan Canty. Don't forget to keep an eye out for [Jon] Severe and [Christian] Sengfelder though." 
These Rams are hungry to prove their worth. Fordham opens their season against NYIT on Nov. 14 at 8 p.m. in the Rose Hill Gym.